Hello everyone! How are you on this fine grey day? I'm really tired at the moment and cannot wait for a weeks break very soon (although, it's not really a break, as I'm gonna' be verrrrry busy!), and also I have to sleep next door to a 3 week year old baby (eeeee!) so I guess this tiredness will get worse… oh. Anyway! This is a 'If I Could I Would' wishlist, basically meaning, if I had the money to waste on very expensive beanies, these are the ones I would pick (and other stuff)… enjoy!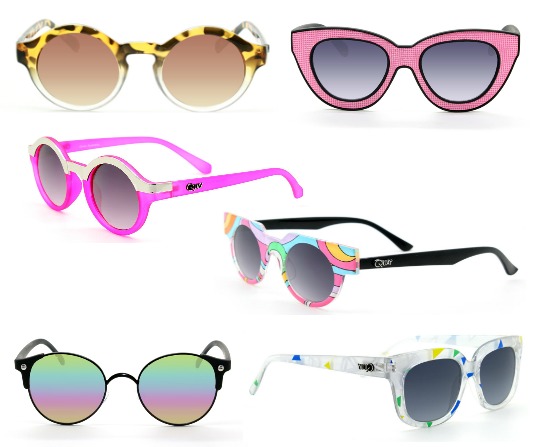 Annabelle//Bat//Pink Harvest//Yellowbric//Ivy//Mancini From £23.69 – £24.99
Quay Eyeware – I found this amazzzzzzing glasses brand via ARK clothing, and oh wow, I have fallen in love. SO NICE. My favourites are the 'Pink Harvest' pair. I love round sunglasses and these are bright pink sooo….? They're not like £300+ obviously, but I do have quite a few sunglasses, so they aren't really needed, but 'If I Could, I Would'… haha!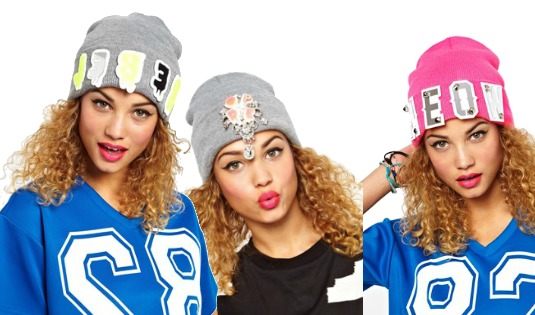 Rebel £60.00//Dope Jewel £150.00//Meow £30.00
Funky Bling Beanies – Upon searching 'funky' into ASOS (as you do), I came across these beanies. Now, I am sure you could DIY them some how (anyone have any ideas?), but they are pretty cool. I don't think I could ever quite commit to owning a £150 beanie really… or a £60 one… or a £30 one… but, they are pretty cool! My favourite is the REBEL one. I feel like the jewel one could get in your face bit too much, and the MEOW one is a bit bright for everyday wear. If I did ever by one of these, I would probably have to invest in a cat free safe so that 1, no threads are pulled, and 2, I don't ever lose (or wear) it.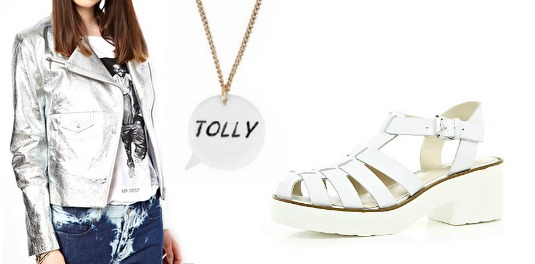 Jacket £184.50//Necklace £30.00//Sandals £55.00
Holographic Jacket – Do I need to explain? It's metallic AND a biker, AND a leather jacket. It's a tad pricey to splurge on, but it would be a good investment, non? Eleventh Paris always reminds me of The Hunger Games because I had a poster of the guy who acts as the fashion designer (you with me?) – Eeep! 2nd movie is out soon! YAY! – so yah.
Tatty Devine Necklace – First of all, do we like my editing skills? Putting 'Tolly' on the necklace? Yup. Secondly, how cute? I first saw this necklace on Olivia Purvis (What Olivia Did) – obviously not with Tolly on – and I just think they are really cool! I probably wouldn't have my name, but I dunno'. Maybe?
Gladiator Sandals – I LOVE THESE SO SO MUCH. I've seen them loads, but I just want them. Like seriously, If I Could I DEFINITELY Would! They're chunky, but simple, retro but cool. Ahhh, one can dream. These would be good in A/W too with nice tights and all, and amazing in Summer. Whyeeeee! Gah, I WILL have them one day. I WILL!
I know not all of these were ridiculously expensive, but it's not always fun looking at things which are wayyy out of your price range. I mean, who here would spend £150 on a beanie? I hope you liked this post! If you want to see more things which are on my wishlist, check out my wishlist page here! I'm sorry I haven't updated it recently, I will!
Lots of Love… Tolly Dolly Posh xx