It is officially 2015… scary! This can only mean one thing! It's time to do a good ol' bit of soppy reflection and share with you my New Year's resolutions. I never really used to do them, but after last year (2014… it went way too quick), I have decided to carry on setting goals, however big or small. So, let's get on with it…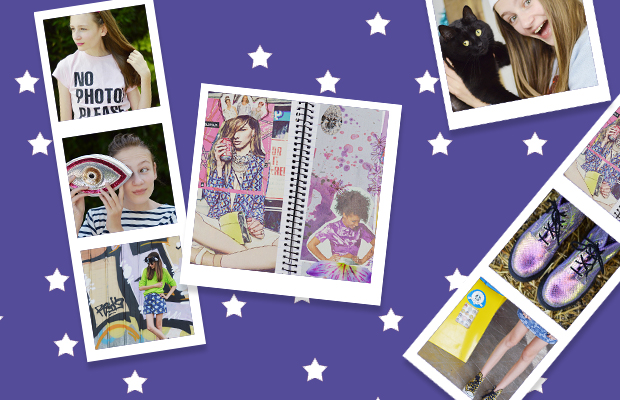 ~ REFLECTION ~
2014 was pretty darn good. At the start of the year I had some big dreams and ambitions, and I am so happy to say that I am pretty sure that I achieved every single one… we'll exclude the personal ones for now… 😛
Firstly I decided to set myself a goal of working with brands on product collaborations and by golly gosh was that a big thing to write down. I was in a recent Twitter chat about New Year's resolutions, and I think somebody was actually quite shocked that I managed to do it without a plan of action. But here I am now with a professional design contract with a brand (Mooi en Lief). Sometime soon I will have a collection of socks and tights with my name on them. Pretty darn cool. Read more about that here if you are interested!
Next up I really wanted to do some more fashion design work. I'm not going  to say I have done that fully, but I would say it probably ties in with my previous goal. I have learnt quite a lot on what it takes to create a collection, and am pretty proud of that. I have a whole portfolio book full of designs, research and goodness know's what that I didn't even know you had to do! Stepping stones can be as big as you want them to be.
Create unique and interesting blog topics was my final goal, and I think this is down to you guys to judge. I would say I have achieved it. I think my posts have generally got better as I have grown. For me, the second half of 2014 was probably full of some of my best ever content, and I am not sorry, at all for saying that. Plus, look at my blog now. All professional with a swanky new design and layout… 🙂 YAY! You can read some of my favourite posts of last year, here!
~ RESOLUTIONS ~
I'm still not certain what I want to achieve this year. I feel like it will be a proper crack down year where I'll just be doing a lot of stuff. Who knows what that stuff maybe, but let's just hope it's good. I obviously want my Mooi en Lief by Tolly Dolly Posh collaboration to go down well, and for you guys to love it, but other than that I'm okay with everything now. If my blog carries on growing then that's brilliant! If I keep learning new things then that's fantastic!
But to make some of you happy and to write down a proper bloggy goal, I think I'd like to work with brands for a longer time than just the odd post. Because brands, PRs and designers have set campaigns and schedules to work alongside, it's really hard to work with them on different projects all the time. I'd love to collaborate with some of my favourites in different ways whether it be on my blog or off. I want to really work with people and gain experience. So there, there's a goal for you! Oh and I also want to get back on that thing called YouTube. Yeah… I'm working on it!
Farewell 2014. You were a good year, but let's see if 2015 can be even better!
LET'S DO THIS. Lots of Love… Tolly Dolly Posh xx