Sound the alarm bells! These pictures weren't taken on my drive way! Hooray! Prepare yourself for a very rare treat of a colourful backdrop, and the very first glimpse of summer! Yay! Okay, in all seriousness I really am excited for these photos. My family might not be too happy I dragged them around trying to find somewhere to take them but I am! 😀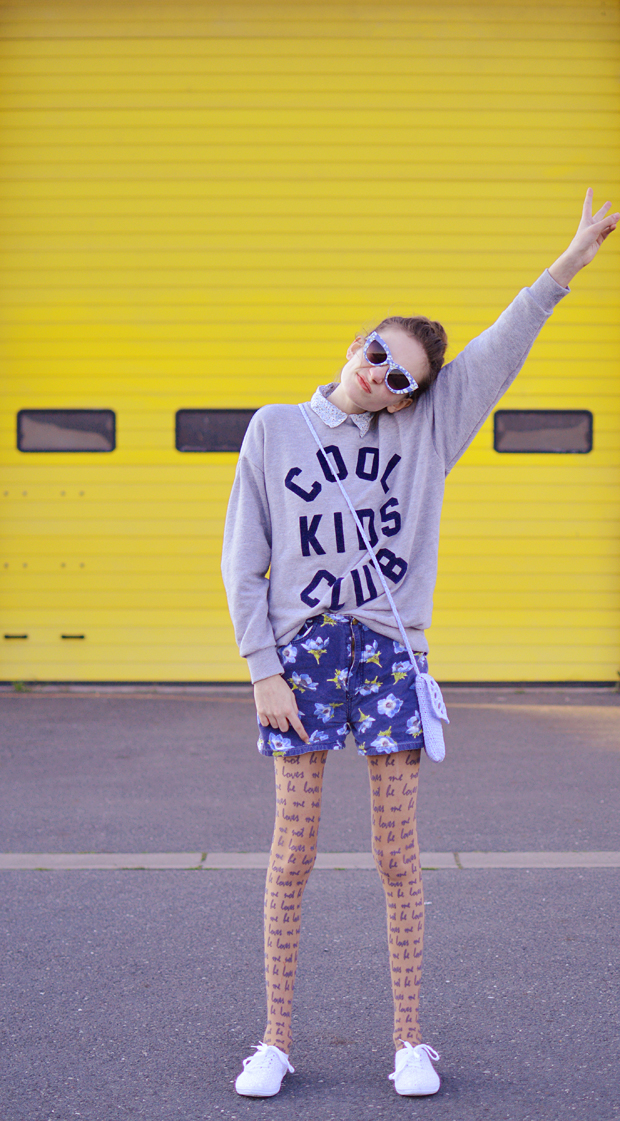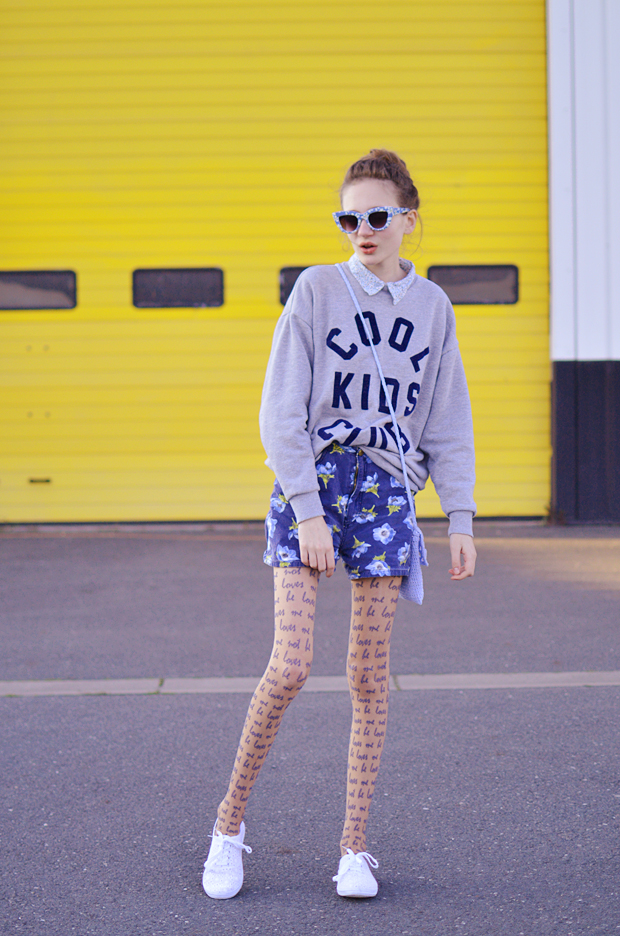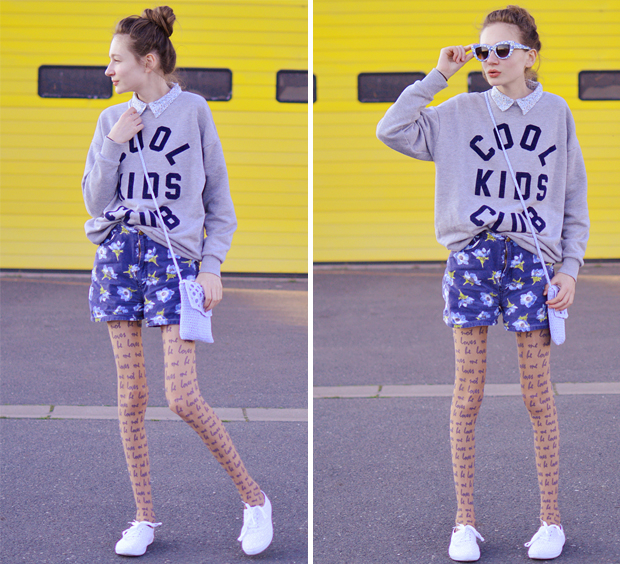 ---
WHAT I WORE: Cool Kids Club Jumper (ASOS) // Floral Blouse (Jumble Sale) // KENZO Shorts (Jumble Sale) // Blue Crochet Bag (Jumble Sale) // He Loves Me Tights £15.00 (Jonathan Aston @ MyTights.com)* // White Flats (Random Shop)
---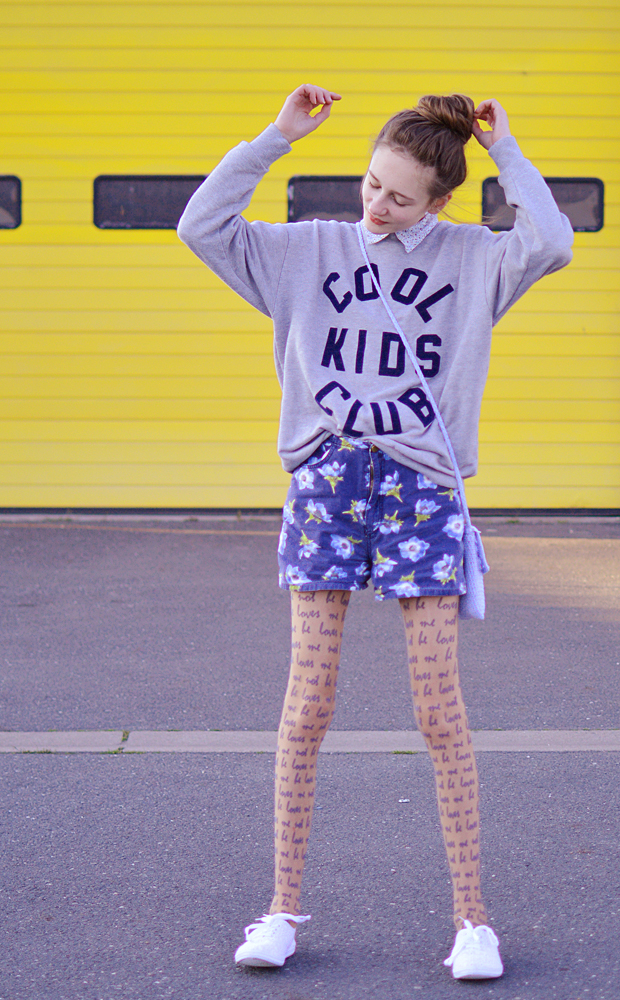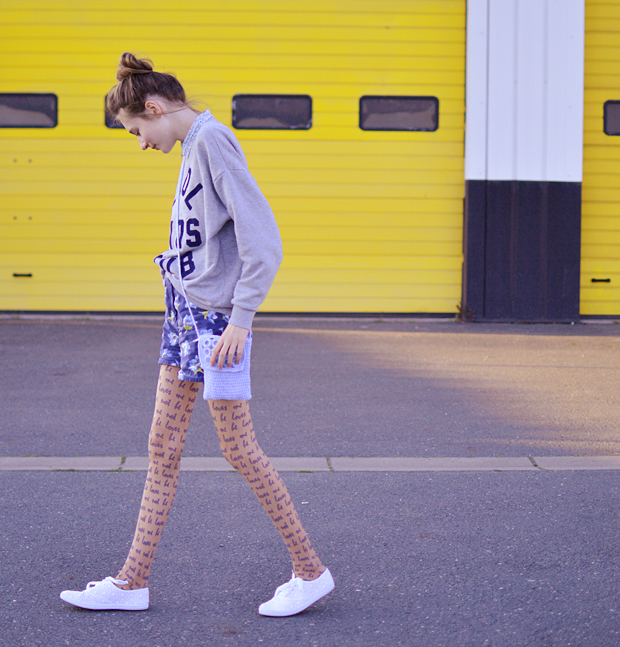 When the sun comes out, I come out. For some reason it's like my inner stylist pops out as soon as I can leave the house without a jacket, and I'm so glad. I really did think I'd lost my mojo for picking out cool outfits but I think today's pickings are quite good. I would say that what I'm wearing isn't to everyone's taste but I'm okay with that. Speaking of being okay with that, would you mind clicking off after this post and filling out a quick survey I'm doing for some research? Tah!
I recently received these bizarre yet super funky Jonathan Aston tights from MyTights.com, and I knew I had to show them off in full form, so I went with my KENZO shorts (probably my favourite ever jumble sale buy) on top. I then added my cool (kids club) jumper 😉 I think the mix of 2 floral prints and 2 bold slogans is an interesting combination… what do you think?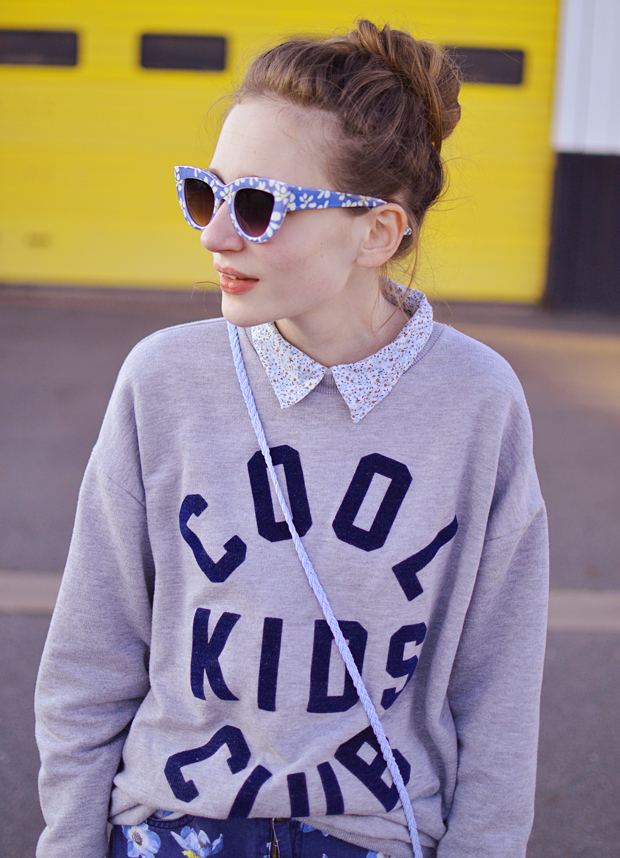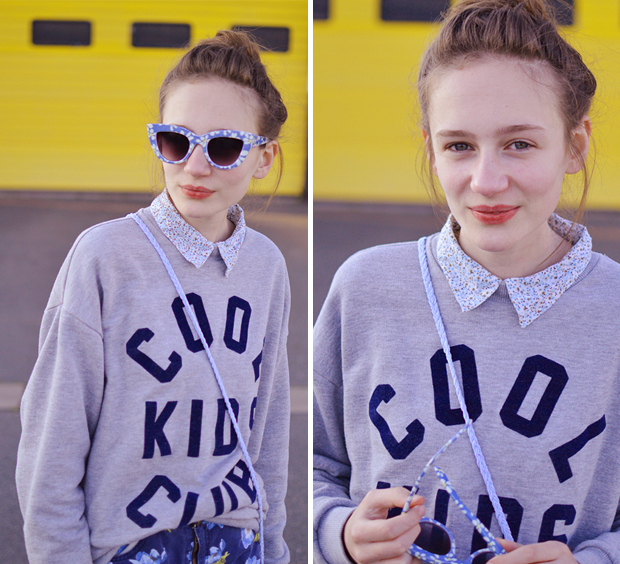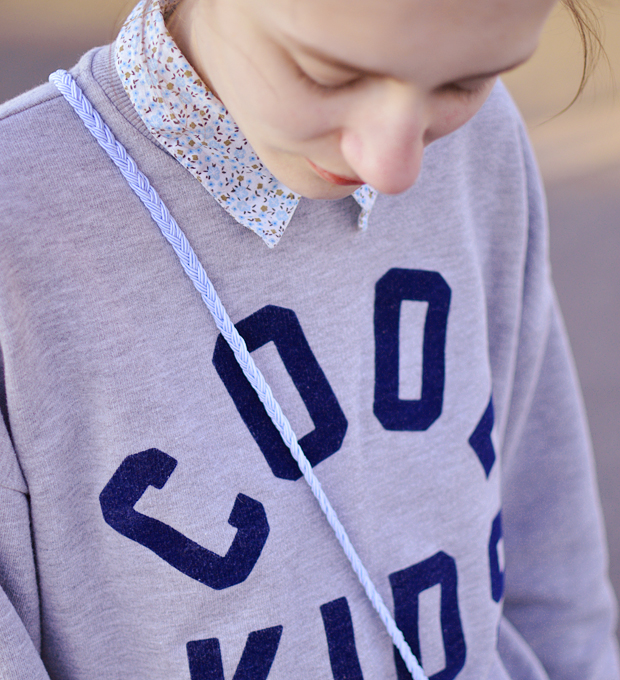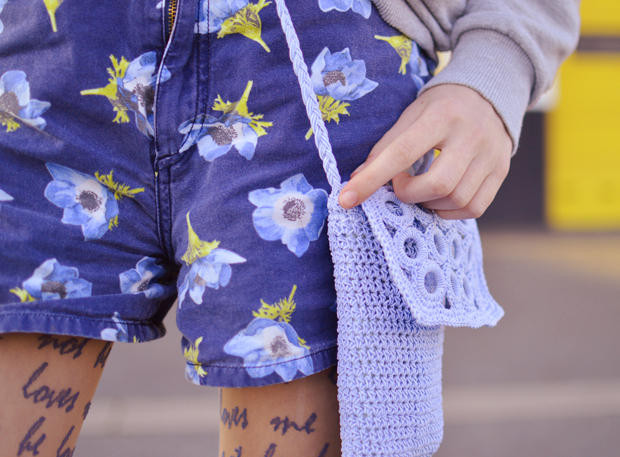 This outfit shows that I'm obsessed with blue. It's probably my favourite colour because it's bold, versatile and suits every mood I'm in. My wardrobe seems to be full of blue floral prints and it just seemed to work in this outfit. It's also told me that I need to go to some more jumble sales because they seriously do have hidden treasures. I mean… look at my shorts?! I'm pretty certain they were only €1.00!
My sunglasses are freakin' awesome too. The shape is growing on me and the print is too. Of course just like my jumper, they're from ASOS; Ahh, I love ASOS… I mean I LOVE ASOS.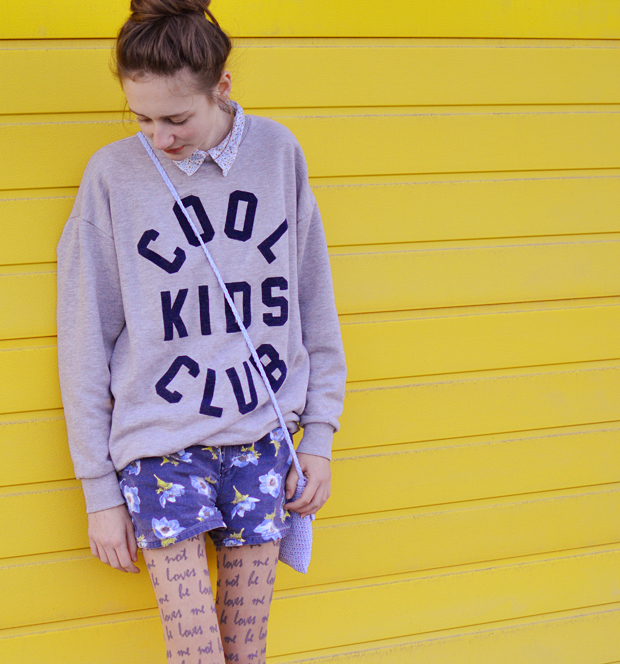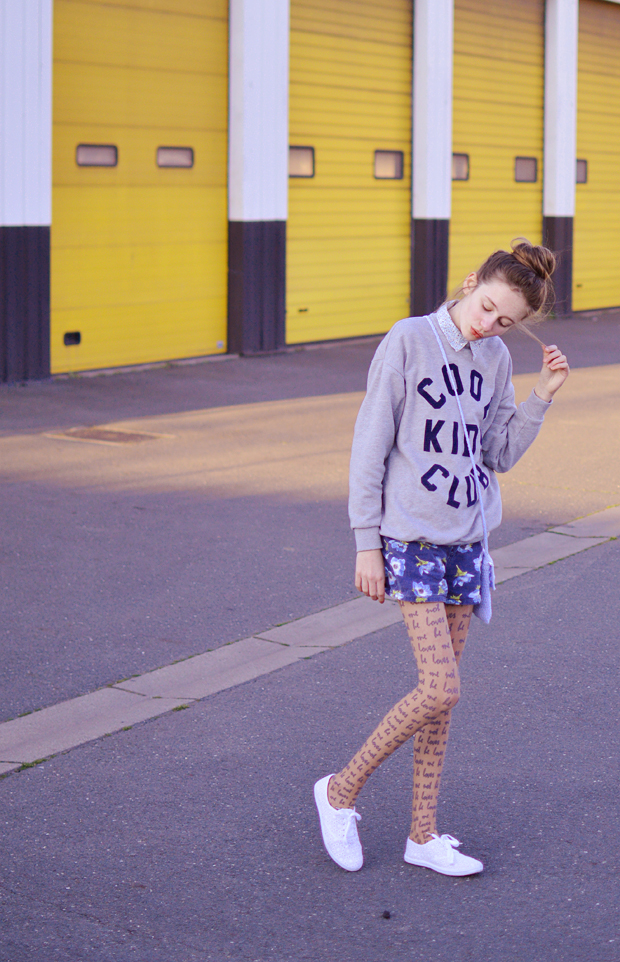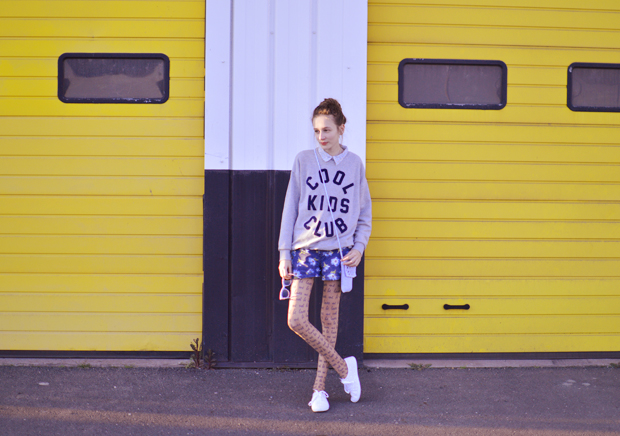 So I suppose I should celebrate this jumble of an outfit! It's full of rediscovered jems, interesting tights (that I'm also learning to love) and shorts which give out those spring/summer vibes. Here's to making up outfits in the form of late night doodles and to posing infront of brightly coloured doors. Roll on the summer! 😀
Lots of Love… Tolly Dolly Posh xx