I've had a bit of writer's block over the past week or so. I'm full of ideas but the words don't seem to make much sense when I get my fingers to a keyboard. Showing you my recent outfits is always a good way to inspire me though because I love putting the photos together so much, and the response I get is always somewhat motivational. I've been apart from the majority of my wardrobe for over six months now but they are finally back with me and I'm excited to style up some new looks with what I've gathered since then. You might remember these DIY jeans…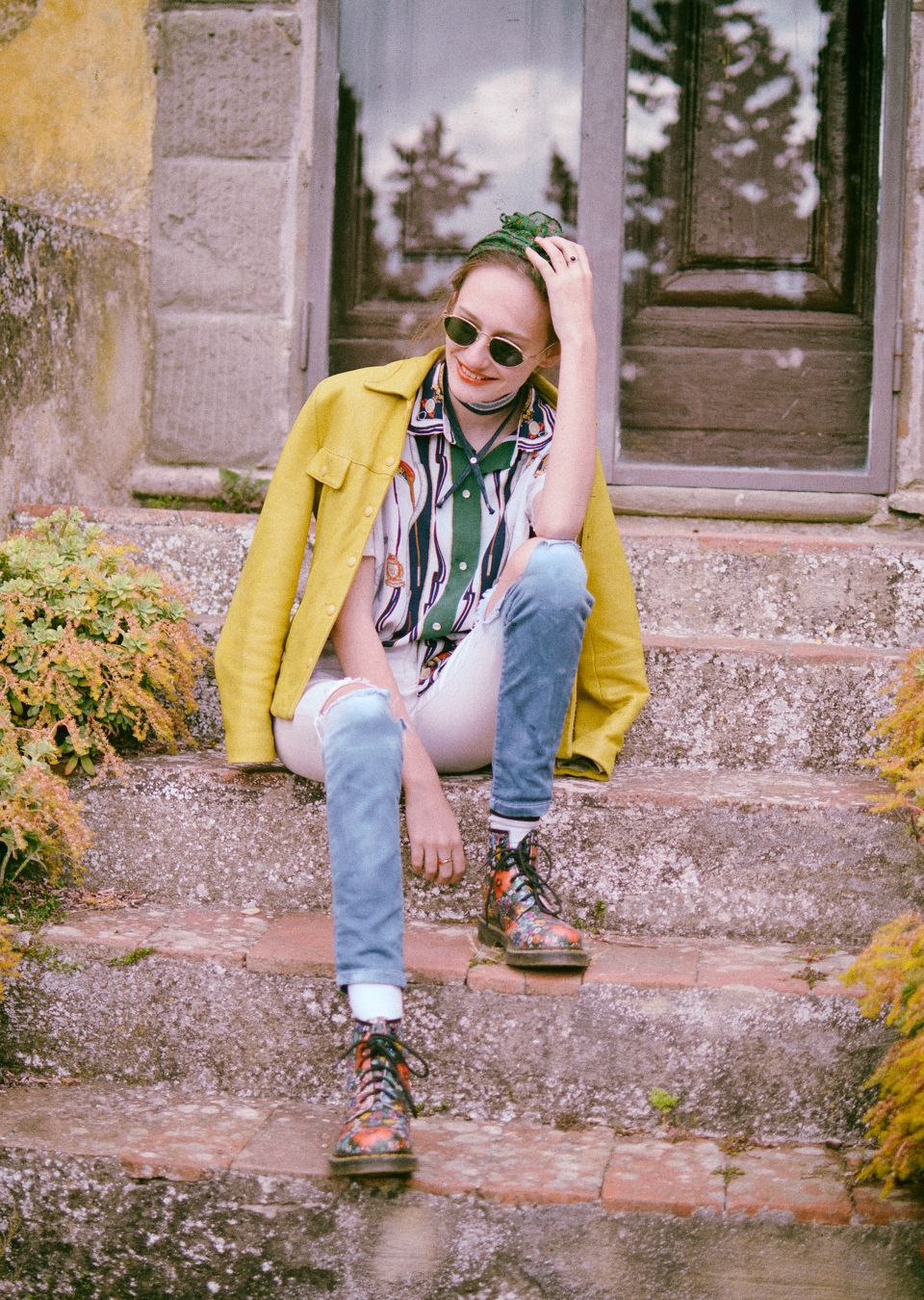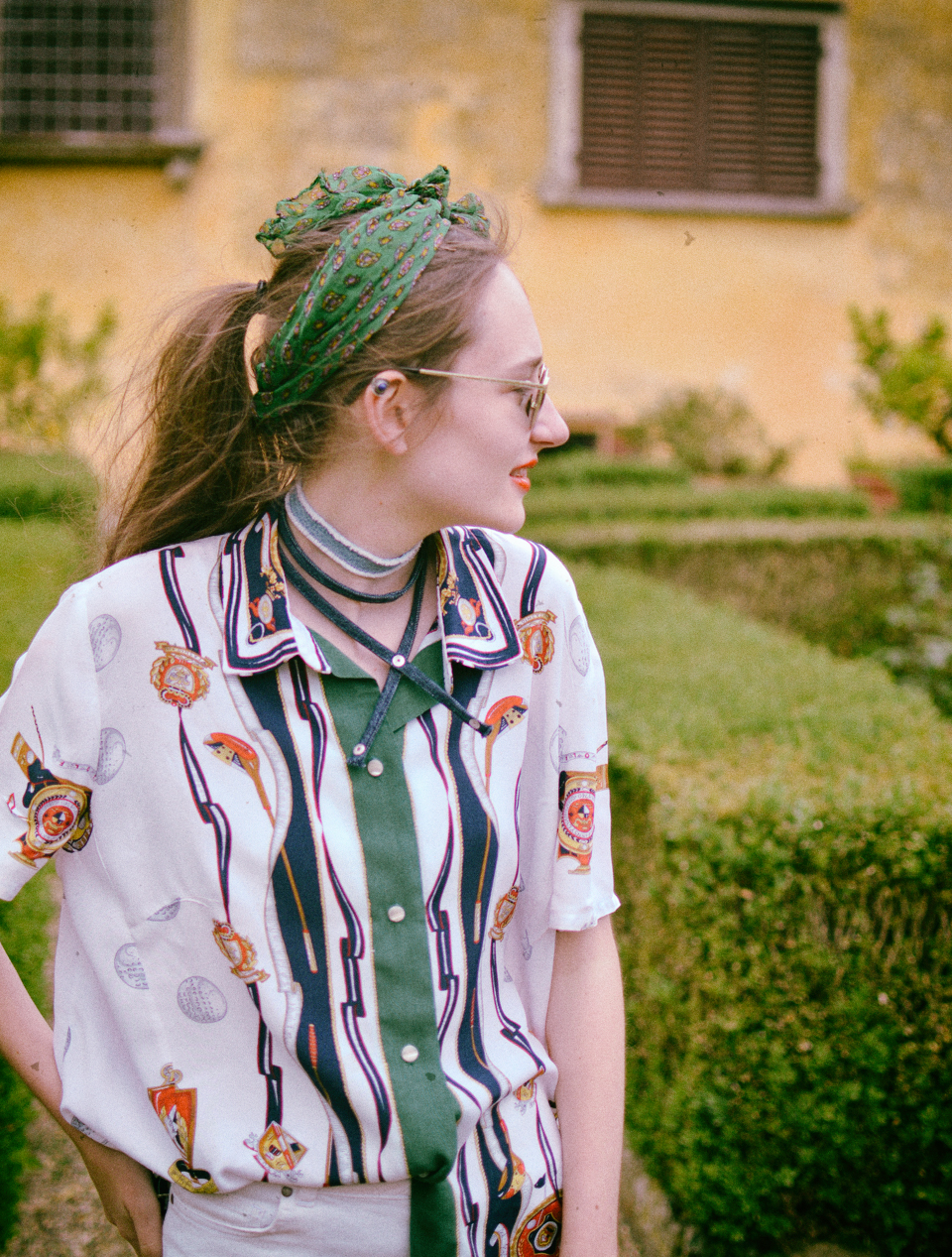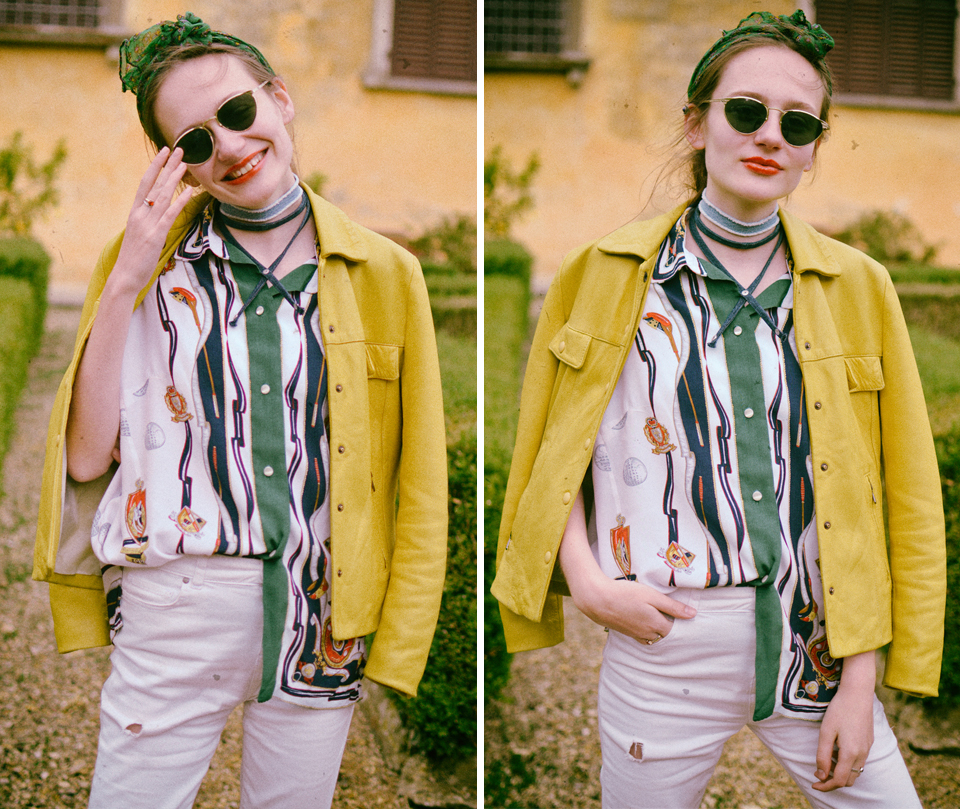 ---
WHAT I WORE: Vintage Yellow Leather Jacket (Jumble Sale) // Golf Blouse €3.00 (Charity Shop) // Ripped Jeans (DIY + ASOS) // Wanderlust 101 Boots (Dr Martens)* // Denim Chokers (Yours Again)* // Sunglasses (Jumble Sale) // Headscarf (Jumble Sale) // Rings (Unknown)  
---
These photos have a different colouration to usual as I think its overall aesthetic deserved a greener hue, don't you? Technically, this is a brand new outfit as I recently took to a charity shop and picked up three new items (make sure you're following me on Instagram as I often share these sorts of things on my Instagram Story!) which I'll undoubtedly share in future posts, including this golf print blouse which I almost didn't take to the check-out.
I think styling often comes easier when you look at an item from a broader perspective rather than the item itself, in detail. I was drawn to the print of the blouse as it reminded me of a vintage scarf print and how it would work well with denim (more on that below) in the summer but was off-put when I realised it as golf themed. I don't think one would suspect that on first glance though which is what made me push past my hesitance and add it to my wardrobe (the money going to a good cause of course and the item being saved from being passed on elsewhere). 
The hints of red, yellow and blue are what make it a little bit more me. I can add on my trusty yellow jacket and have it blend in seamlessly along with my Dr Martens which have elements of each colour in their print. Don't forget – there's sustainability in keeping an item for years on end when the item itself isn't directly ethical or sustainable, like my boots.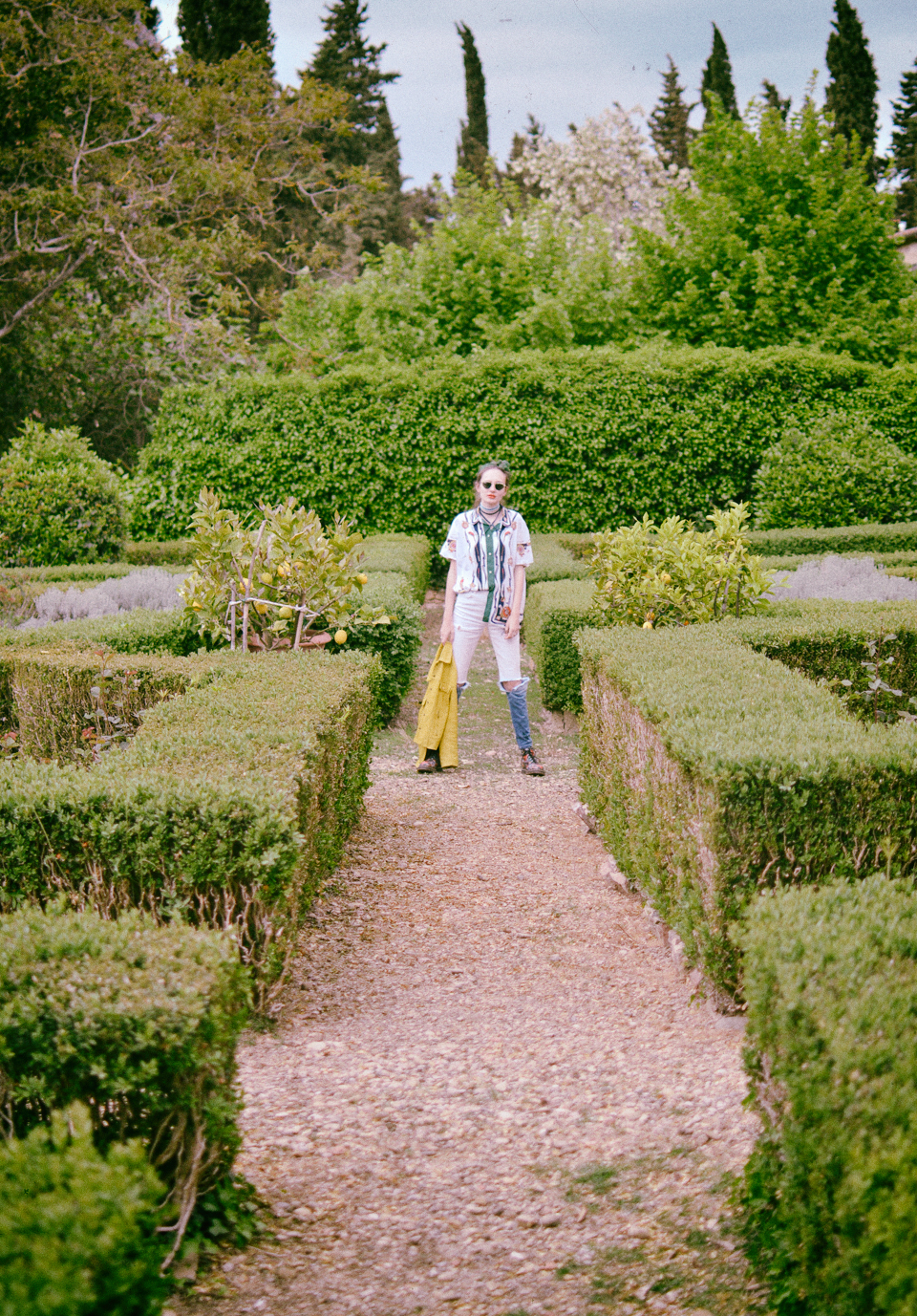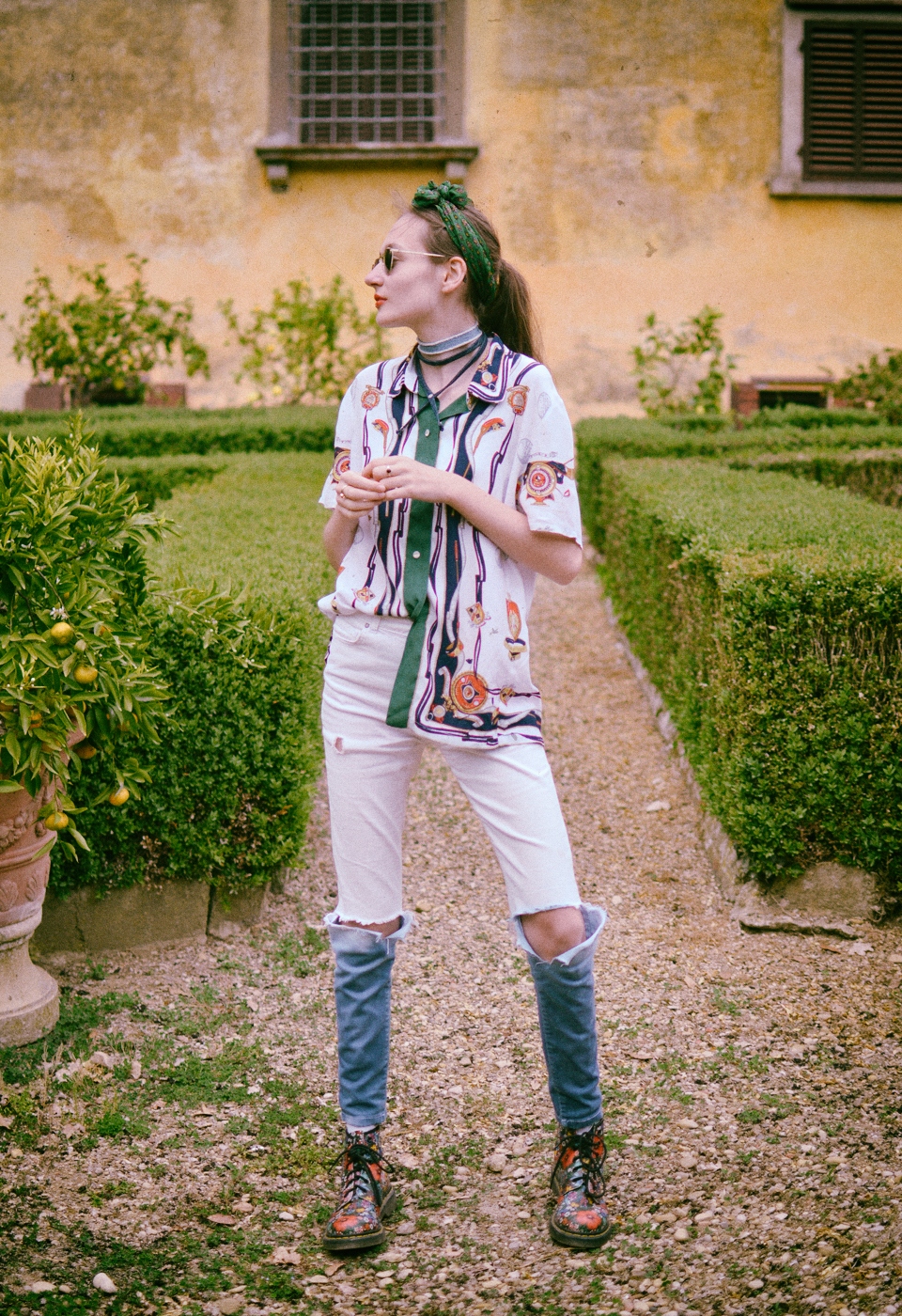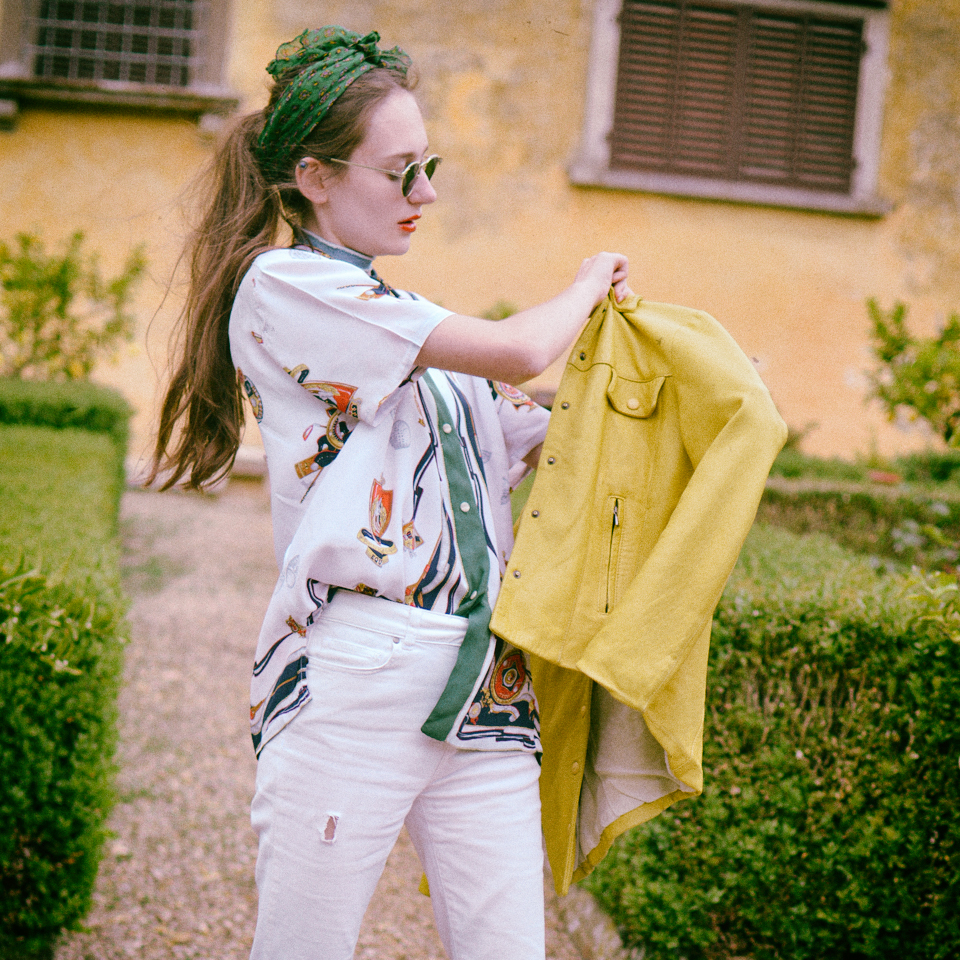 As the title of this post suggests and as I've already mentioned, I knew this silk-like shirt would work well with a denim texture clash which brings us back to my DIY, ripped and dip-dyed jeans. I think for most people, the rips would be enough to end their life in a wardrobe but they are still the perfect fit and the rips now allow me to move more freely. Pro tip, though; perhaps don't rip elasticated jeans as they will just keep. on. ripping. 
The blend of white is what keeps the outfit crisp and clean and leaves for a blanker canvas for accessorising. Also, the block colours of the majority of the outift ties in with the stripes of the shirt. See what I mean about looking at things as a whole?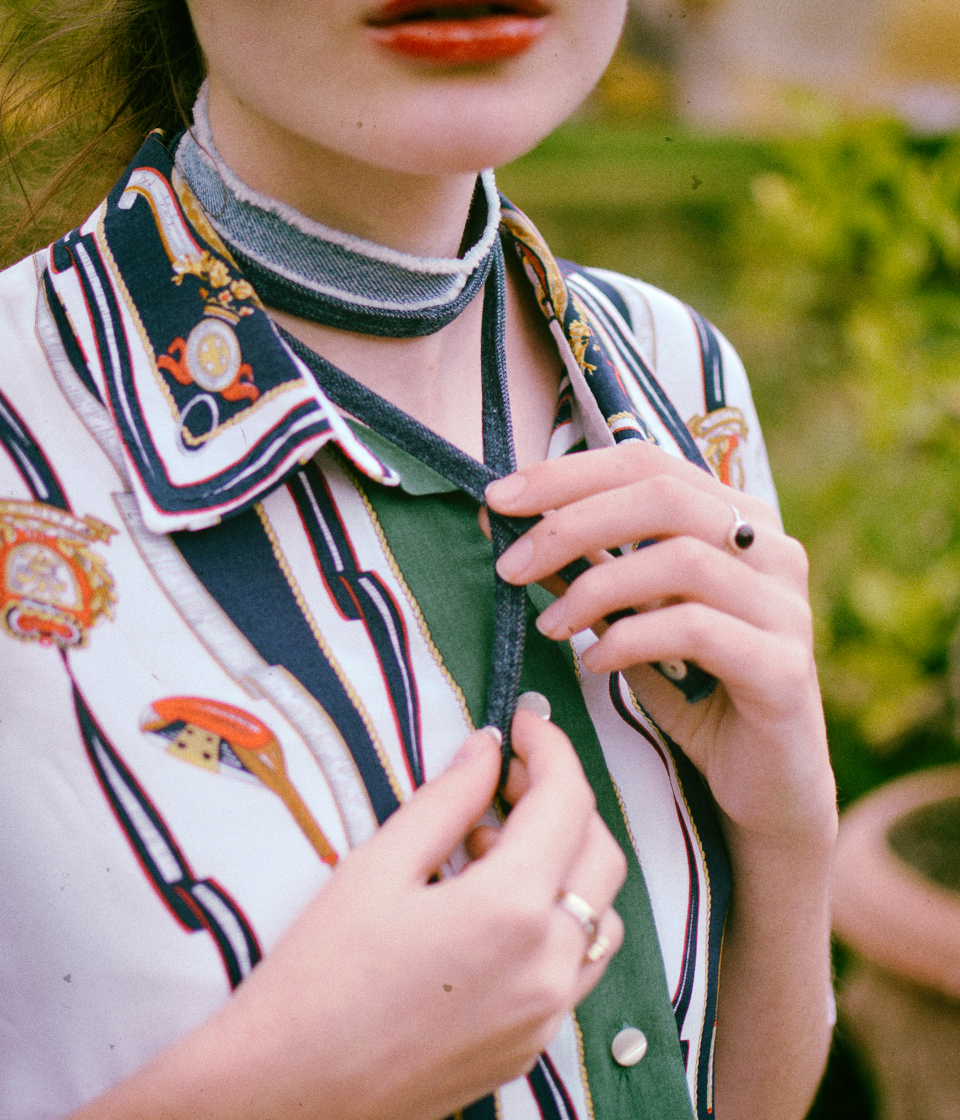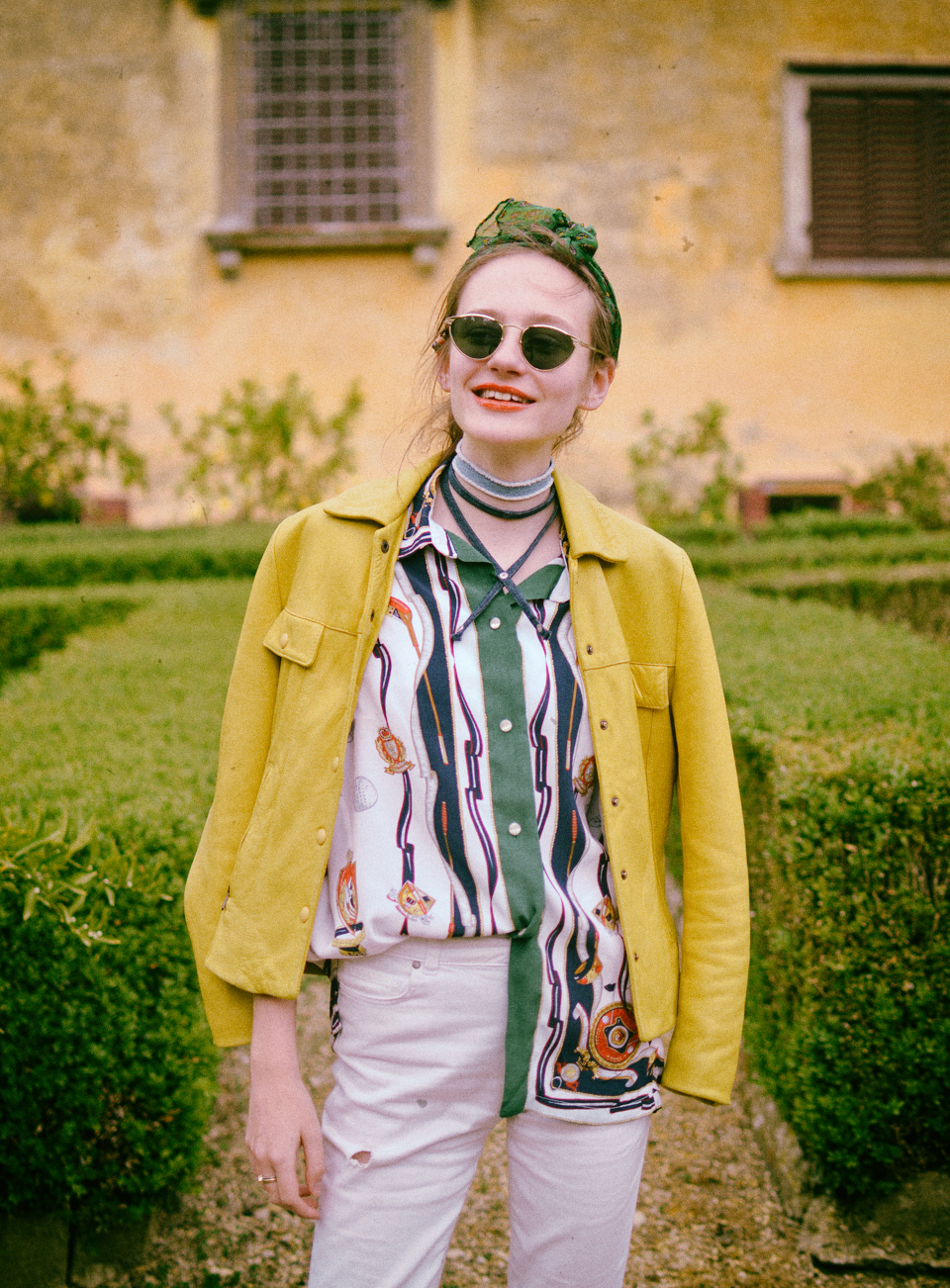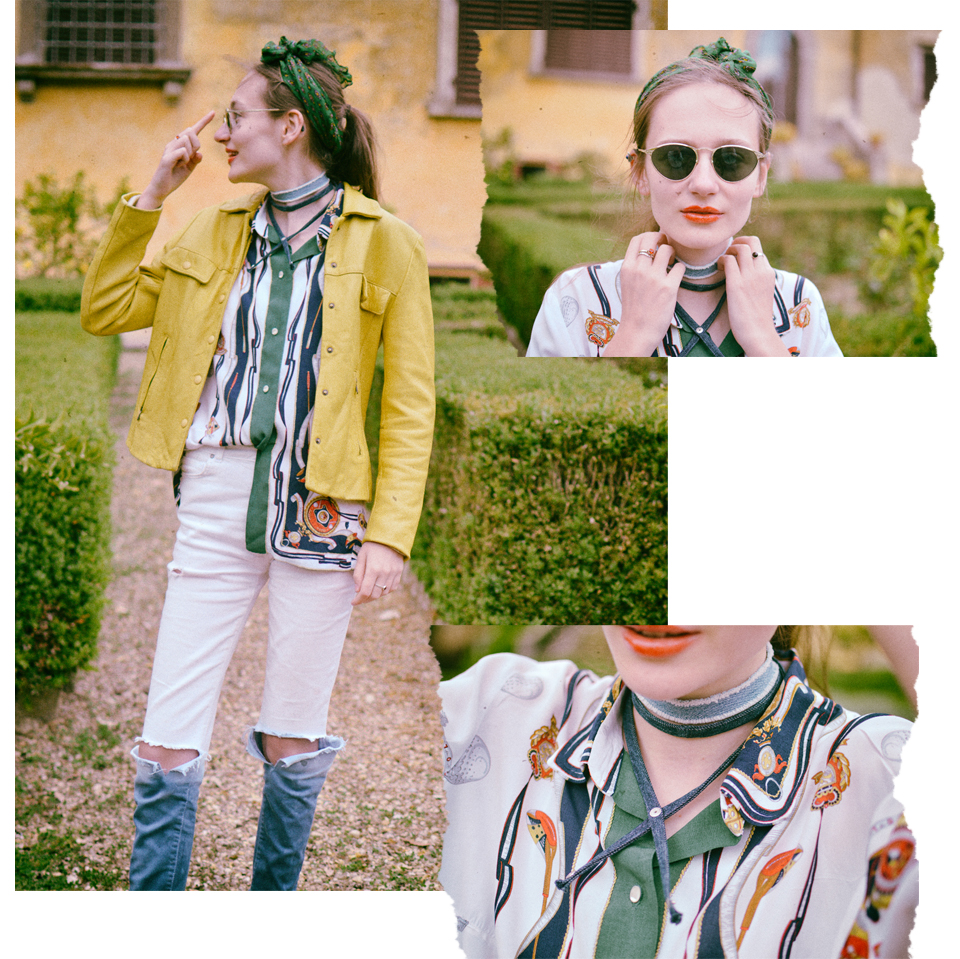 ---

~ WHO MADE MY CHOKERS ? ~
Simona Uvarovaite, the founder and designer of Yours Again. Yours Again produce their collections in Lithuania but some pieces are also created in Denmark where Simona is based. Their Instagram is full of behind the scenes photos.

---
Speaking of accessorising, these chokers from Yours Again (a brand in my ethical directory) came into my life with perfect timing. I'm not one for blouses without a top button (this can be easily fixed with a needle and thread of course) but these recycled denim chokers make up for it and quite frankly look better altogether than what another button would do. I've never actually worn chokers before although they have always interested me. I believe it's because I'm quite lazy in the accessories department. You'll usually only see me with sunglasses and a handbag.
Yours Again turn used and pre-loved denim and jeans into new pieces whether that be chokers like mine or their first collection of waistcoats and jackets. I understand their pieces are on the higher end of the scale in terms of price but I can tell that they are coming from a committed and loving team which means you'll be able to treasure the journey and story your clothes have been on. Plus – they look amazing and I can't wait to style them up again soon.
I also added a headscarf to tie in the green of the blouse and I actually love the outcome. It was a decision I made last minute before stepping out the house and sometimes those sorts of decisions are the best kind.
How would you style up these chokers? Have you been second-hand shopping recently? Let me know in the comments!
---
I'll be back soon with (hopefully) lots of new content for Fashion Revolution Week…
Lots of Love… Tolly Dolly Posh xx