I am really really excited (and kinda' freaked out) to say that my blog has turned 3 today! 3 years old. Wow. I seriously find that absolutely mad to think about. I honestly cannot thank you enough for supporting me for this long and giving me so many amazing opportunities, it's been an awesome experience. You may remember last year on this very same day, I put up a post answering the question, 'Why Do I Blog?', so this year I thought I'd answer 'How Do I Blog?'. To celebrate my 619th blog post and 1095 days of Tolly Dolly Posh Fashion, here's a little insight into my creative process… (excuse the messy/curly hair by the way… curls just don't work with me!)…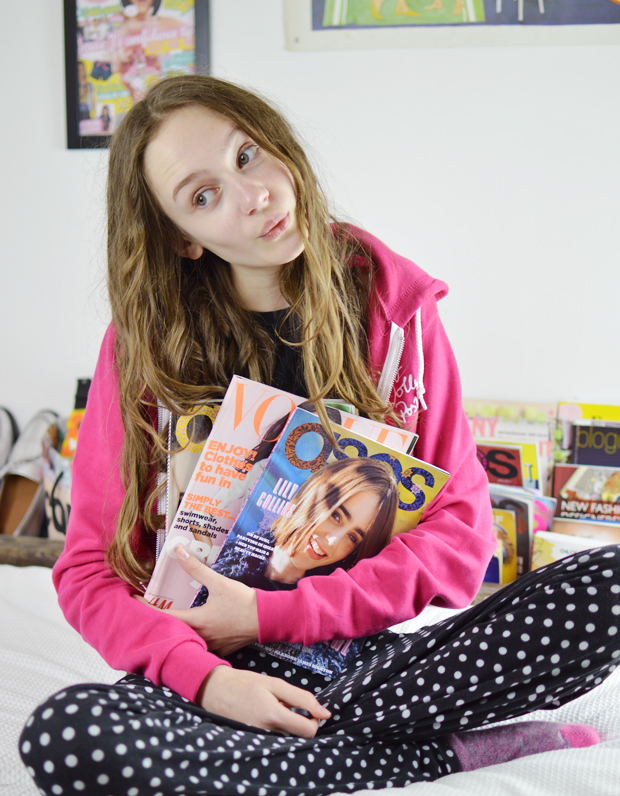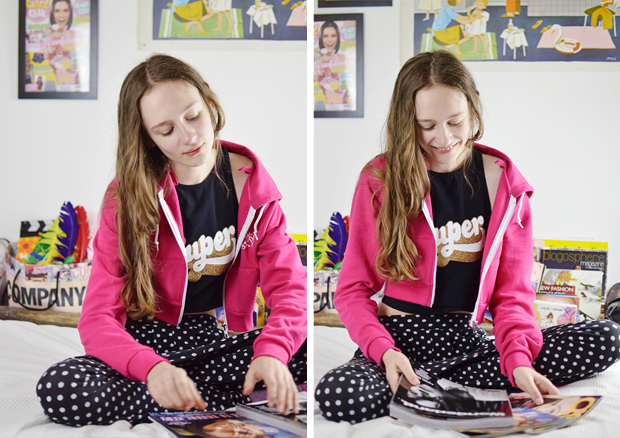 ~ STEP 1 – THE INSPIRATION ~
The first place I go to for blogging inspiration when I'm a bit of a rut is magazines. I find them really inspiring to flick through. Back in the day I used to love Company Magazine (as most of my posts were celebrity style etc etc) but now-a-days I love more photographic and editorial magazines like VOGUE, Glamour and more recently, Wonderland.
I also love to scroll through places like Business of Fashion and Pinterest because you can find some really interesting articles and just one idea or thought can spiral into hundreds (okay, maybe that's a bit of an exaggeration) of others.
---
TOP TIP: Put on some headphones, listen to some music which you love and flick through your favourite magazine. I always end up in a different mindset for new ideas after the album/playlist ends.
---
~ STEP 2 – JOTTING & DRAFTING ~
Next up is to get jotting down notes. I find it super helpful to have everything planned out before hand, especially if I'm taking pictures. I don't usually do this for wishlists or the actual writing (although, I do, do that for long, chatty posts… like this one!) but either way, I would definitely recommend this if you're also a blogger.
I have a notepad for this and some pens specifically set aside but if you're an online-tech-obsessive then I recommend Evernote. I didn't actually use a notepad for this post but I in fact used the web app for Evernote and thoroughly enjoyed typing it out. When I haven't taken my pictures, I usually prefer to do it out of my actual blog so it's free of the frills and extra bits and bobs that is behind the scenes usually.
---
TOP TIP: Have a notebook set aside just for your blog. Label everything clearly and fold down pages when you've published a post you've written down. It's such a handy and easy way to stay organised.
---
~ STEP 3: PHOTOGRAPHY ~
These days I would say a good 90% of my blog posts have photographs I have taken myself included within them, so my 3rd step is to get 'shooting' (I have to say, I feel most bloggers use this term just to sound a bit more fancy… "Ooh, I'm off to shoot an outfit post…"). As most of you will know, Papa Posh (my dad), usually takes all of my outfit posts, but if I'm not in the picture, then I'm sure to be behind the lens. I will say though that most of these pictures and my prom outfit post were mainly taken by my big bro!
I use the Nikon D3200 with my trusty 35mm f/1.8 DX lens (Phyllis is her name), and they're a nifty little combo. A few other items in my 'kit' are an IKEA side table – it's perfect for taking pictures of things like my scrapbook –, a set of 2 soft box lights – great for when I sometimes dabble in YouTube and for photos I take inside – a white wall – for posing in front of – and a very large memory card.
---
TOP TIP: For outfits, read what my dad has learnt whilst taking my pictures, and for other sorts of pictures, just remember to have clear daylight… not too bright, no harsh shadows and not too much clutter… unless you want that kinda' look!
---
Lots of Love… Tolly Dolly Posh xx