You may have noticed that I've decided to stop my Series Sunday schedule. It really hasn't been working out for me, and it means I can blog much more freely without it, but do not fear! The series I posted on Sundays will still be around, just like my A-Z Fashion Guide! Today I will be talking about a few things to do in Brick Lane, and why I think it deserves to be in my guide… and yes, all puns to do with 'lanes' are in italics…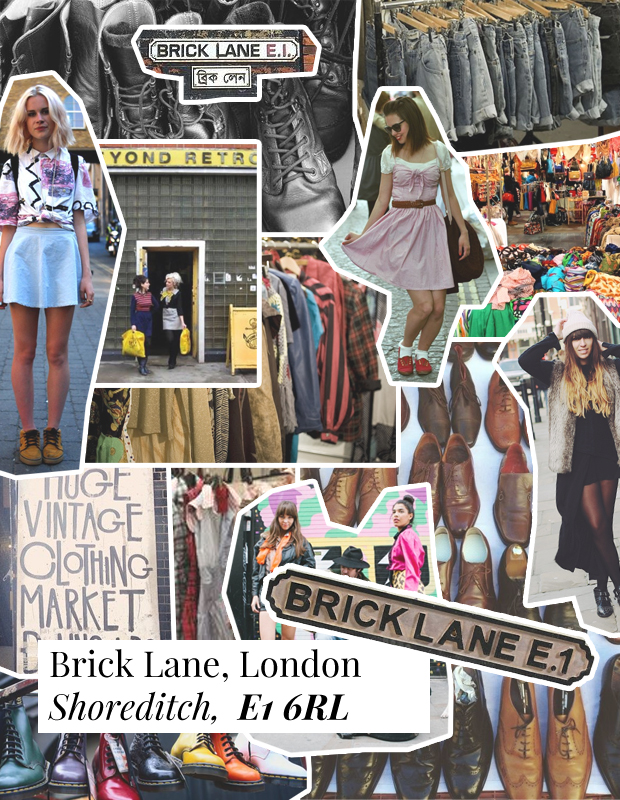 For the third and final instalment of letter 'B' in my A-Z Fashion Guide, I decided to go down a different route and learn a bit more about Brick Lane. Upon research, I didn't actually find that much about it's connection with fashion, but in my opinion it is notorious for it's stylish streets.
I think most importantly, it's known for it's vintage shops and markets. Not only are they a treasure trove for those who love their clothes, but it's also the perfect place for street style photographers to get dozens of shots. With it's bundles of tattered Dr Martens and flannel shirts piled upon piles.
Brick Lane maybe more commonly known for it's culture and food markets, which to me plays an important role in to why I've included it into my guide. The different styles and ethnicity all merge together, and I think that's what fashion is all about. Designs and trends from all different walks of life. 
~ GET EXPLORING ~
I've put together a little map of the area and have included a few recommended hot spots for vintage shopping. I can't say that I've been to all of these, but I know by social media what is good and what is not. Here's a few mini reviews for you:
BOXPARK – This place is pretty cool. It's made up of shipping containers and is full to the brim of pop-up shops. It has brands from GAP to MOO (yeah, for that business card shopping spree you've been dying to go on…), and even has a place to get a bite to eat. A cool photography opportunity too. Who can resist corrugated iron?
Rokit Vintage – I've heard a lot about Rokit online, and upon close inspection of their website, all sounds well and good. They've got loads of unique and one off items that you wouldn't get anywhere else, so it's worth checking out… and if you can't get there by foot, check out their website.
The Vintage Market – This is the bomb.com, and the hive of Brick Lane's fashionistas. Full to the brim of colourful clothes and accessories. It's underground and has a pretty darn cool vibe to it. Come with a few coins, or plenty. A good experience nonetheless.
What do you think of Brick Lane? Know any interesting facts? Let me know in the comments!
(As always, you can find all image sources on my Pinterest.)
Lots of Love… Tolly Dolly Posh xx