Brrr! It's a bit cold isn't it? I have to wear thick tights underneath jeans at the moment! As it is so cold, I thought it would be fitting to do this post about Winter fashion with one of my favourite online shops, ARK Clothing!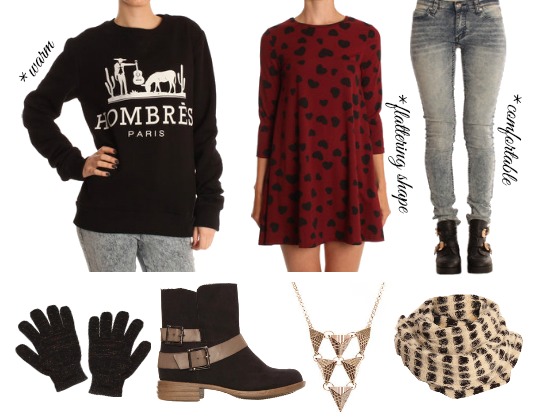 Criminal Damage//AX Paris//Cheap Monday (Brands at ARK Clothing – accessories from other brands on the site!)
When I think about dressing for winter, I think comfortable clothes, layers and pieces which are nice and thick, so that is why I selected the three main items in the image above! The Criminal Damage sweater is really warm and snug, and wearing thick sweatshirts in Winter is one of my favourite things to do! I'm not the biggest fan of slogan tops, but this one is in a versatile colour so could go with lots of different things, and would be perfect for casual wear! The AX Paris dress is my favourite piece! I absolutely love swing dresses at the moment because I think they are so flattering and comfortable, and this one is just perfect for the season! I love how it is quite Burberry-esque with the heart print. I also love how it could be dressed up or down, so to be honest, it is quite a good investment! When it comes down to jeans though, this Cheap Monday pair are my cup of tea! They have that slight worn out look, and look super duper comfy! As styled in the picture, they would look great with boots or perhaps a pair of flats and thick socks (or tights underneath!). With any of these pieces, you could layer them with a big fluffy snood, a pair of boots and a nice dainty necklace – oh, and don't forget those gloves! Everything looks so cosy and warm!
I really like everything at ARK Clothing at the moment, and some of the brands they have are really nice and have some great bargains! I hope you liked this post and if you did, make sure to leave a comment!
(This is a Sponsored Post. I may have been paid or gifted by ARK Clothing but all opinions are 100% honest. Read my full disclaimer here.) Lots of Love… Tolly Dolly Posh xx