Before the month ends I thought I'd share with you a few things that I have been really wanting this March! You can see February's here! This is a designer Wishlist, and I obviously don't have the budget for the products, but one can lust!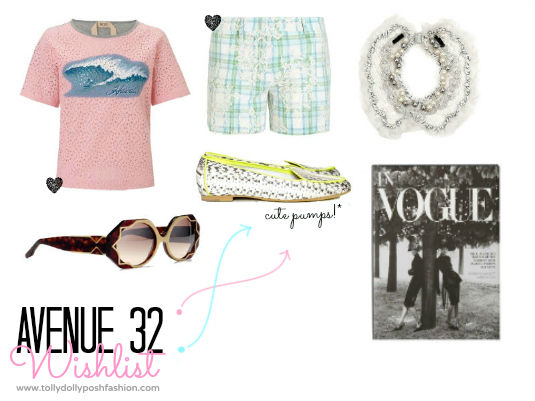 NO.21 Pink Lace Cotton Hawaii Tee £255.00, NO.21 Green Check Lace Shorts £315.00, Aperlai Yellow Flouro Python Gatsby Loafers £390.00, Michaela Buerger White Crochet Chiffon Jane Collar £340.00, Cutler and Gross Gold Oversized Tortoiseshell Sunglasses £340.00 & Rizzoli In Vogue £45.00 (Avenue 32).
Top: I am in LOVE with this top! It is really girly yet has that 'surfer' feel to it, which I think is going to be really big this summer. I think it would look great with a dip-hem maxi skirt, as well as a pair of shorts. Add a cute hat, and you're set for a rockin' summer!
Shorts: Again, I am so in love with these too! 'City Shorts' are going to be HUGE this S/S 13. The lace detailing gives them a more chic feel, and would look great not only with the Hawaii Tee, but also with a white blouse!
Loafers: These loafers are the cutest pair of loafers I have ever seen! I have never really liked the trend that much, but these have really caught my eye! They would look perfect with a Monochrome outfit or again with the top & shorts. The POP of neon, adds a casual and playful look to them.
Collar: The shorts have a lace detailing, so this would match them perfectly! It would make the outfit look really glamorous, but super casual. You could also wear it with a dip-hem LBD (Little Black Dress) and sandals, for a gorgeous seaside date!
Sunglasses: OMG. #WANT times 3 million. I need these in my life! After watching a YouTuber rock a similar pair, I have fallen in love with oversized round sunglasses. The zig zag detailing is super cool, and I have never seen anything like it!
Book: A must have for S/S has got to be a book! This book is great for any fashionista (like moi), who wants to sit back, relax and gaze at pretty pictures from Vogue… sounds like a good deal to me!
Avenue 32 have such awesome stuff, which I think all of you should go check out! Some of the stuff is so gorgeous, and if you're thinking of spoiling yourself, you should go take a walk down Avenue 32! Enjoy!
(This is a * marked post. This is a sponsored post. None of the links above are affliate links, but I may have been gifted/payed to do the post before hand. I chose all the products myself, and I really do love them all!)
If you think that my blog is worthy of being shortlisted for the Best Teen Blog award, please nominate me in the Company Style Blogger Awards. Use the URL: http://www.tollydollyposhfashion.com Thank You.
Did you listen to me on BBC Radio 4 on Saturday? No? Don't worry, you can still listen to it here. Lots of Love… Tolly Dolly Posh xx