If you haven't seen my endless 'females are strong as hell' and 'unbreakable, dammit' tweets, then you won't know that I recently finished watching Unbreakable Kimmy Schmidt. And let me tell you, it was awesome! It's a comedy full of feminism and awesome fashion choices, what's not to love? So today I've picked 9 (it would be 10 but I'm weird like that) pairs of 'Kimmy Schmidt shoes'! Let me know which is your favourite pair in the comments!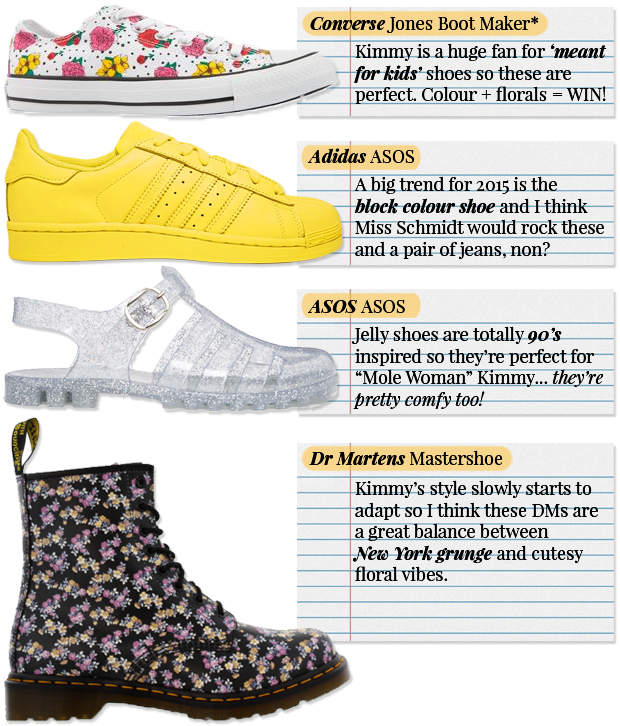 ---
Converse £40.00 (Jones Boot Maker)* // Adidas £70.00 (ASOS) // ASOS Jelly Shoes £10.00 // Dr Martens £79.98 (Mastershoe)
---
For the flats category, I picked out a mixture of simplicity, print, colour and comfort. I think that's what Kimmy is all about; she's a right mixture of everything. For comfort and print, I went for these super cute Converse from Jones Boot Maker! I think they look pretty cute, right? I also think she'd love these Dr Martens too… I personally really need a new pair in my collection! What do you think of those Adidas too? I kinda' like them, they almost look like they've been dipped into paint? Funky.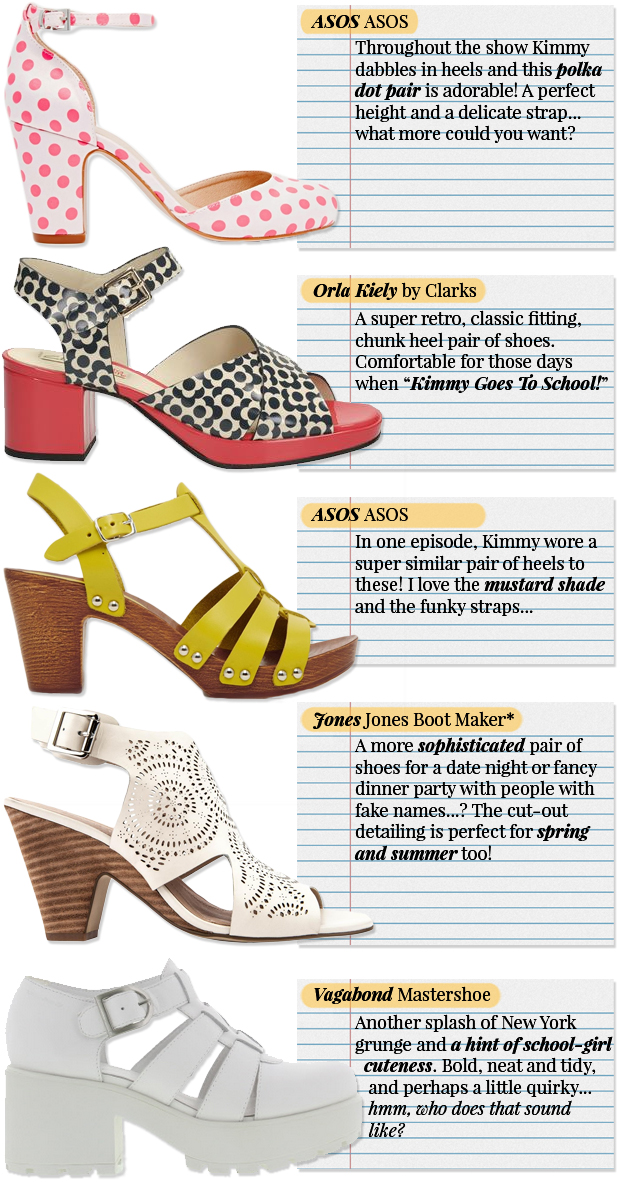 ---
ASOS Spotty Heels £35.00 // Orla Kiely £120.00 (Clarks) // ASOS Strappy Heels £35.00 // Heeled Sandals £79.00 (Jones Boot Maker)* // Vagabonds £74.99 (Mastershoe)
---
Believe it or not, Kimmy did indeed dabble in heels throughout the series and I think this selection is perfect. They're all very simple and classic shapes and styles but all have that touch of excitement and fun. I think you can probably tell that they're all very bold and I love that! Kimmy (and every character) are so full of life and I think that is definitely portrayed in what they all wear. If you have seen the show, who is your favourite character and which pair of Kimmy Schmidt shoes did you like the most?
(Links marked with an * are part of a PR collaboration with Jones Boot Maker. The rest of the is 100% honest and I was not paid to write it. You can read my PR disclaimer here.) Lots of Love… Tolly Dolly Posh xx