Howdy! It has been yonks since I last did a design post and I know you guys love them, so sorry! These posts do take a lot longer to create than other posts so that is why there was a delay, but here I am now! This collection is partly inspired by my Appliqué post and also some of the collections from London Fashion Week.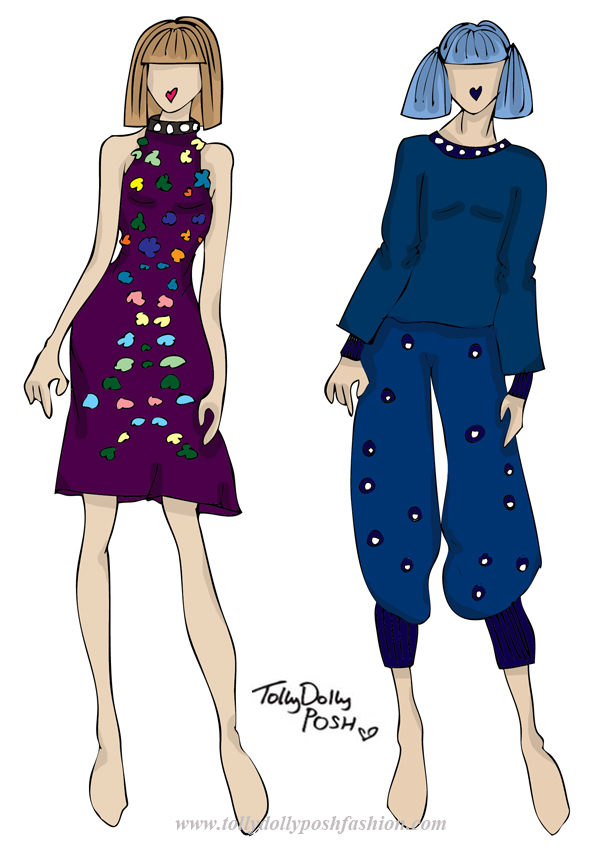 Purple Halter Neck Dress with Appliqué & Bead Detailing (left) and Batwing Top and oversized Hareem Trousers with Bead Detailing (right):
On the catwalk this LFW, I saw a lot of halter necks, so this dress is definitely inspired by some of the collections. I also saw a lot of symmetrical detailing, so the appliqué on this dress is also inspired by LFW. I think the symmetrical detailing is actually quite flattering to the figure too! Another thing I picked up from the shows were the 'Chanel-esque' bead detailing on neck line and hems, so I added that to the neck of this dress. The top and bottom on the right are inspired by the bagginess of some collections I saw. The slouchy fit and pyjama type style is something I wanted to come across, but also with a bit of detailing and appliqué. The fabric would be a jersey fabric so comfort would be key.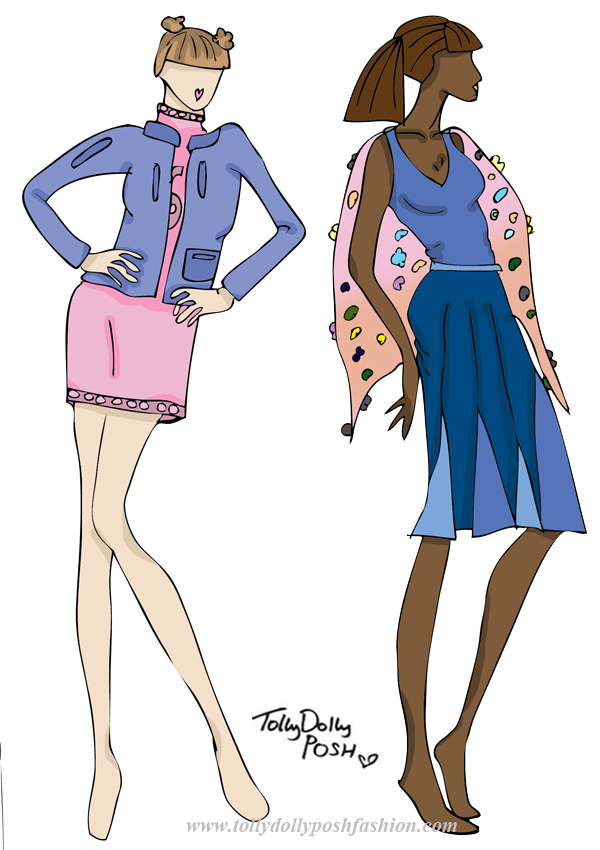 Knitted Turtle Neck Dress with Appliqué Detail & Blue Leather Bomber Jacket (left) and Blue Vest with Mixed Blue Panel Skirt & Sheer Cape with Appliqué Detail (right):
 I really liked the use of pastels for A/W 15′ so I thought I would interoperate that into these designs. The knitted dress would be a soft knit, with a pink appliqué 'sport' detailing like a number. The bomber jacket would be quite vintage looking in a nice blue but with darker blue detailing on pockets and zips. Retro, but with a modern twist. The other design is inspired by a lot of panelling I noticed. This skirt is very flattering and the mix of blue colour makes the movement of the skirt look awesome! The cape would be sheer with 3D flowers as again, they were all of the catwalks.
I hope you liked this short but sweet blog post! I'm going to start to learn a lot more fashion-y things soon so hopefully these posts should start to improve! But for now, enjoy!
Lots of Love… Tolly Dolly Posh xx