I know this series was meant to be over a long time ago, but it's one of those posts I'm not sure whether you love or loathe…?! Please do let me know in the (now non Disqus) comments section! I've decided to turn of Disqus for a while to see how things go…. let me know what you prefer! Anyway, let's get on with this A-Z Fashion Guide post all about Carnaby Street!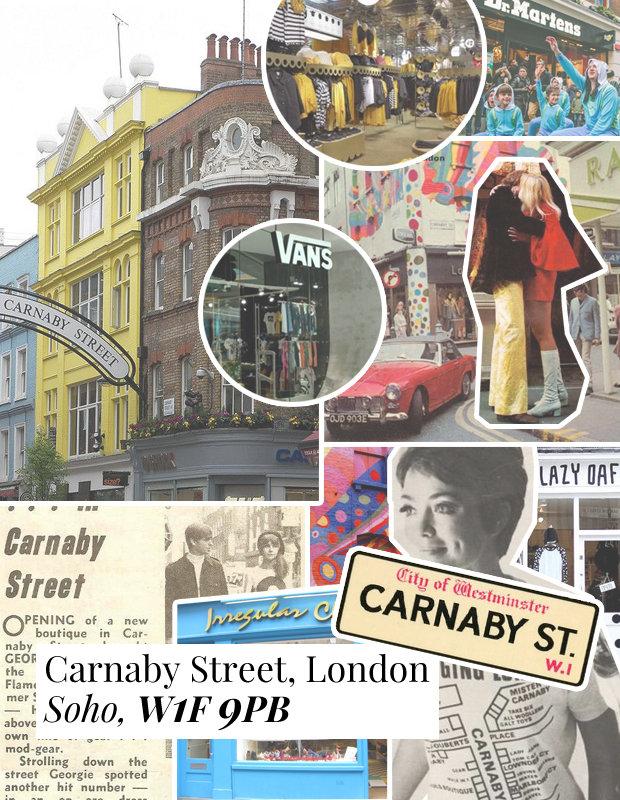 (Images via Pinterest. All sources here.)
Carnaby Street is most commonly known for being a Soho shopping street in London. The reason it's important to the fashion industry is because of how popular it was in the 1960s. After jazz clubs opening up, people started to gather on Carnaby Street and it soon became the social hub for the swinging sixties. The first boutique to open up was "His Clothes" by John Stephen, which was followed quickly by designers like Mary Quant.
Carnaby Street soon became the place to be in London. Bands like the Rolling Stones started to appear in the area, and with music being such a huge influence on fashion… well, you can see why it's such an important part of this A-Z Fashion Guide. Even the song "Dedicated Follower of Fashion" by The Kinks, has links to the famous shopping streets.
If you want to know where mod fashion came from, then you're in the right place! Carnaby Street was one of the main influences for that too. Apparently young "mods" would say they would go without food to buy more fashionable clothes of the time. In the video above you can spot out some of the awesome trends from back then; shift dresses, turtle necks, bold and colourful prints, fitted suits for the men, and short skirts for the women…
I've created another map for you to explore Carnaby Street. If you're wanting some new shoes, I'd definitely take a peep as there seems to be a lot of shops offering the latest styles for your toes! My favourite has to be Dr. Martens so definitely pop in if you have the chance. Make sure you let me know your favourite Carnaby Street shops in the comments below!
Lots of Love… Tolly Dolly Posh xx