Sadly on May 19th (*hint hint*) I will no longer be able to say I am a 12 year old fashion blogger! 🙁 I will just have to admit that I am 13, and about to become a grumpy old teenager. Poo. But that's life, so I better just suck it up, and tell y'all what I want for my birthday in the form of a small rather large wishlist! (*hint hint*)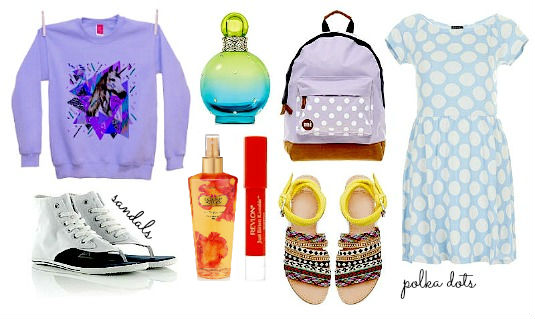 Acid Waves Sweatshirt £28.00 (Ohh Deer), Spot Bardot Tunic £32.00 (Topshop), Mi-Pac Spot Print Backpack £22.00 (ASOS), Ethnic Flat Sandals £39.99 (ZARA), Revlon Just Bitten Kissable Balm Stain £7.99 (Superdrug), Britney Spears Island Fantasy EDT 100ml £32.00 (Superdrug), Fragrance Mist in Coconut Passion (Victoria's Secret) & Converse All Star Sandal £35.00 (BANK Fashion).
Sweatshirt: OMG. When I found Ohh Deer a few weeks ago, I fell in love with their stock! Just look at this sweatshirt! It's got a UNICORN on it, and it's PURPLE, and it's just AWESOME. I generally wouldn't pay £28.00 on something like this, but just look at it!
Spotty Dress: I have never owned anything from Topshop, but recently I have being loving their stuff. Again, I wouldn't really spend this much on such a simple piece, but I really love the style and colour of this. It is simple yet I could wear it in so many different ways.
Backpack: Since seeing a really cute backpack on a fellow blogger, I have fallen in love with them! I just think that they are really easy to wear, and look super cute and preppy. Along with the dress, I LOVE the spotty detailing! Gorgeous!
Ethnic Sandals: I seriously love these shoes! I love the bright colours and the print details. I really shouldn't get another pair of shoes, but I think these would be alright…
Balm Stain: After seeing the hype around these, I finally got to try one the other day. I thought I would like the pink colours, but this coral colour is stunning! It really popped against my skin tone, and I think it would be great for summer.
Perfume: 'Why would she want a Britney Spears perfume?' I hear you say. Well, I have the Circus Fantasy one, and it is soooo nice! I love how fresh it is, and the packaging is amazing! I'd love to try the other ones! I think you can get this cheaper in Wilko though!
VS Fragrance Mist: I have seen these a lot recently, and I really like the idea of a scented mist. They spray a lot more powerful than a perfume, and are much lighter. They are also really big, so I am sure I would get my money's worth. Shame I can't find them anywhere in the UK or France! (Please tell me if you know a place!)
Converse Sandals: I really like the idea of these. They're sporty yet stylish, and perfect for summer. I was actually bidding on a pair on eBay, but as usual the price went up at the last minute!
There maybe another Wishlist coming your way soon, because I have been loving a lot recently! Oh, and if you want to buy me anything, my address is: Laca… 😉 Cheeky!
If you want to make my birthday wishes come true, please vote for me and my blog to WIN 'Best Teen Blog' in the Company Magazine Style Blogger Awards! Click HERE and either choose your favourite bloggers in the other categories, or click NEXT \until the 8th Tab, where you will find 'tollydollyposhfashion.com' It would seriously make my dreams come true, and you even get a chance to win some New Look vouchers! So, Good Luck and Thank You!
Lots of Love… Tolly Dolly Posh xx