Hello everyone! (I still have no idea how to introduce these blog posts) Today I have a bit of a wishlist for you from New Look! I've rounded up a few of my favourite pieces at the moment, and I hope you like it! I didn't purposely make it all colour coordinated, but that's kinda' how it ended out!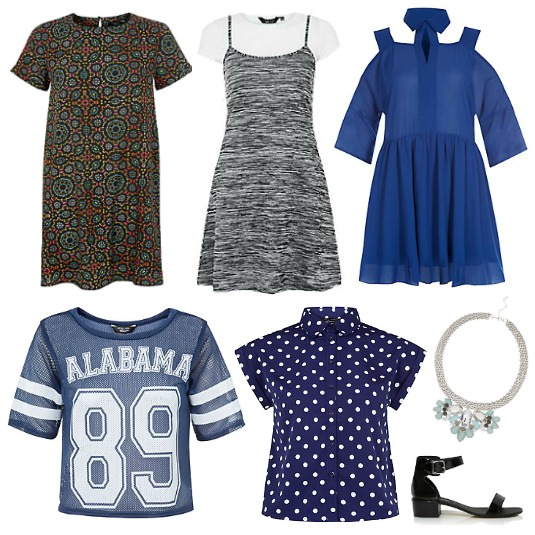 Teen Tile Print Dress//Teen Space Dye Dress//Cold Shoulder Dress//Teen Alabama Airtex Crop Top//Teen Polka Dot Crop Shirt//Block Heel Sandals//Teardrop Choker
Tile Dress – I have really taken a liking to shift dresses, and this one is super nice! I think it would be perfect for all occasions and all seasons. Wear it in Summer with a pair of sandals, in Autumn with a big snood, Winter with a leather jacket etc etc. It's just such a versatile and simple dress! Shift dresses are really flattering too, so this would be perfect for me with my mini figure!
Space Dye Dress – I think '2 piece look-a-like' dresses are the perfect of 'easy wear' items to own. You can literally just wear it, plus some shoes, and then… you're done! I'm a big fan of marl, or tie dye, so this is such a gorgeous dress for me. EEEE, I seriously cannot wait until Summer so I can wear nice dresses and loads of friendship bracelets and just be all cool and like 'Oooh yeah, I'm all snazzy because it's the Summer'… um, I believe writing past 7 o'clock at night means I go slightly mad and bring out my inner self.
Cold Shoulder Dress – I've always liked the idea of these style dresses, and the fact that you could still wear it with things underneath, makes them pretty cool. I also like how this one is really nice and floaty so you could wear it on the beach and it would look love-r-ly.
Alabama Crop Top – Ooh, 2nd item in blue… oops. I'm not usually a big fan of sport luxe, but this is actually quite cool. The texture of it would make it so nice to layer and it would look so cute with a pair of shorts. Ooooh, seriously guys I cannot wait for the sunshine… *sigh*
Polka Dot Crop Top – I've been on the look out for a nice button up blouse, and I am a big fan of navy and white, so this one is now on my radar! It's pretty cute, and would go with quite a lot of my wardrobe. Perfect!
Necklace & Shoes – Another blue-ish item with the necklace. I haven't got many silver pieces which are nice and chunky, so this one looks so pretty. It would look so nice with a fluffy jumper, dungarees, any of the above dresses, so basically anything! The shoes are also really nice because they don't look too high. They look like they would be quite comfortable and would again go with quite a lot.
(This is a post in collaboration with New Look. I may have been paid or gifted to publish this post on behalf of New Look as one of their favourite bloggers. You can read my full disclaimer here.) Lots of Love… Tolly Dolly Posh xx