And so we have come to one of the most important blog posts… The London Fashion Week SS15 review, hooray, hooray! I have tried to be a bit more 'journalist-y' this time around, and try to think of what the designer was portraying. I read a piece in the Elle Collections A/W issue and it really inspired me, so I hope this is an interesting read instead of 'I like this and I don't like this'. (Images via Vogue.co.uk)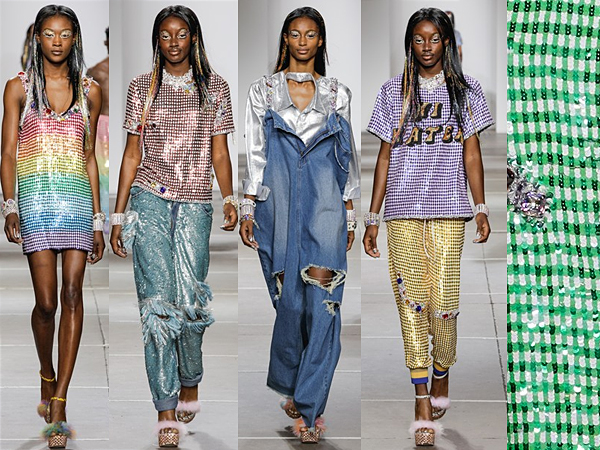 ASHISH
RATING: 8.5/10
Ashish always WOWs me… it's always so fun and interesting and always has a story to tell. This time around the sequins were made into snake skin prints, back to front jeans and little black dresses. For me the collection was like a disco ball meeting a girls slumber party… sparkle with a splash of faux fur and almost pyjama like silhouettes. I loved the show music too, it was probably the best soundtrack of all the shows I watched. All round amazing-ness from this wonderful designer once again. I need those dungarees and Hi Haters top… yes, pur-lease!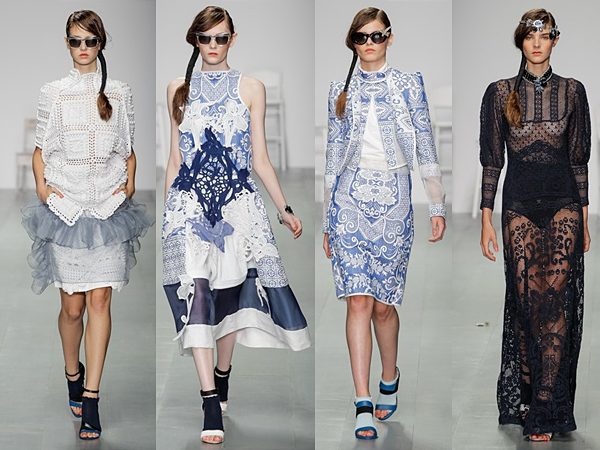 BORA AKSU
RATING: 7.5/10
The collection for SS15' was based upon fairy tales and the deeper, darker sides. I can definitely see what Aksu is trying to achieve with the dress shapes and silhouettes. The mix of beautiful airy fabrics and the sharper structures portrays this well in my opinion. The overlapping details are the perfect touch also. It's another stunning collection! Love, love, love.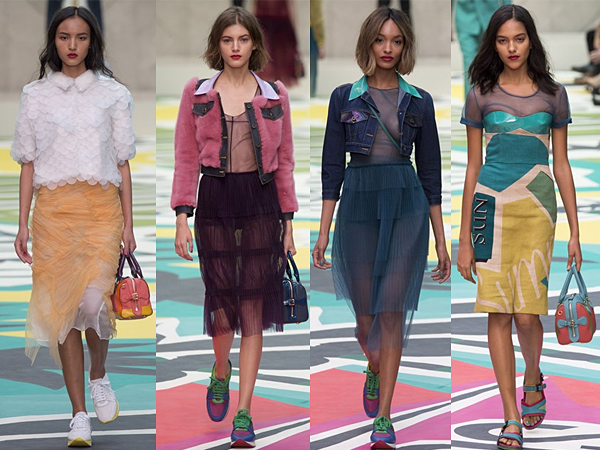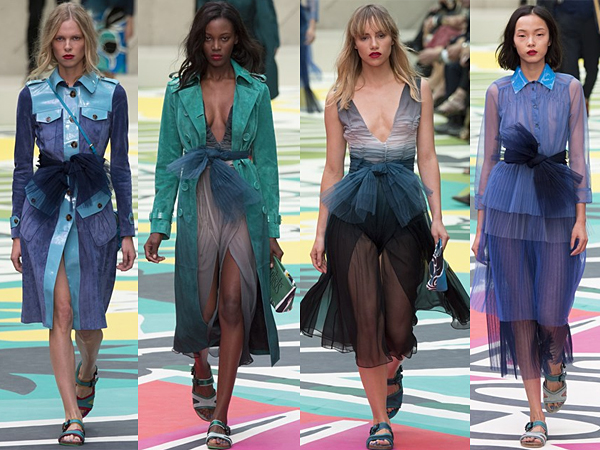 BURBERRY PRORSUM
RATING: 9/10
I love it when designers really set the scene of a collection. You get to understand what you're actually seeing and Burberry certainly did that. First of all the catwalk was amazing with it's beautifully coloured illustrations featuring insects and flowers. The countryside and spring time had a strong influence on all the designs. Elements of tulle, denim and feathers were incorporated and it worked wonderfully. The dresses were feminine and sexy in a really subtle way which I adored. I wasn't too fond on the slogan prints though…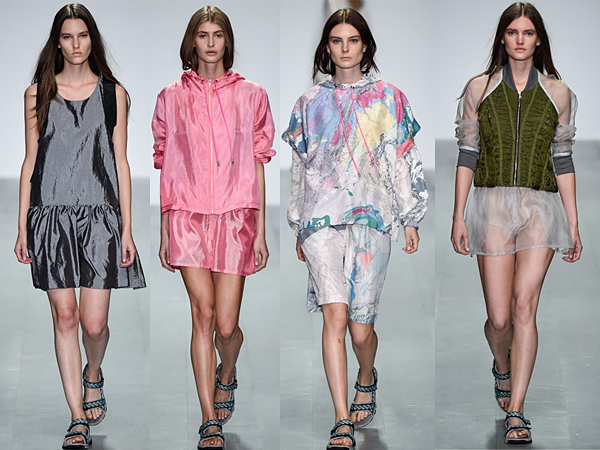 CHRISTOPHER RAEBURN
RATING: 7/10
After watching Susie Bubble Backstage at LFW on BBC iPlayer (I really recommend watching, it's only 17 mins long!), I was introduced to Christopher Raeburn. I know a lot of bloggers have attended his shows so I'd only really heard of him on Twitter, but I am now obsessed. He seems so cool in person anyway, but his collections are all sustainable and stylish… it's amazing! In this collection some of the pieces are made from old parachutes in the original colours (PINK!) and some are made from fighter pilot thingy mabobbies (I can't remember what they are called… well done Tolly!). I love it, the textures, the colours. It's spot on. Hooray, a collection I love!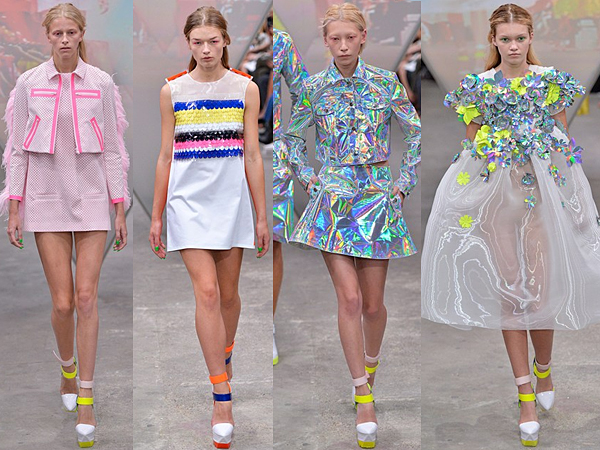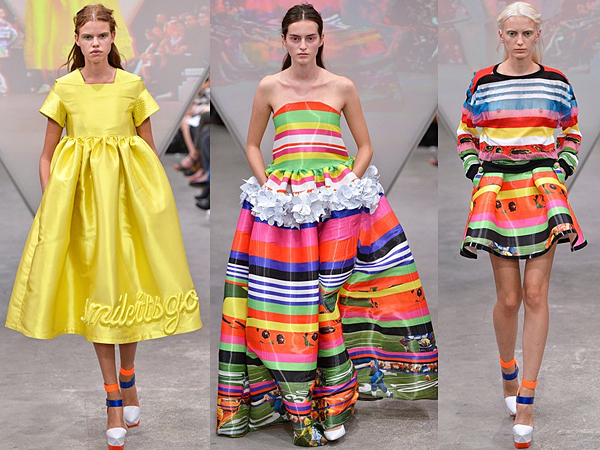 FYODOR GOLAN
RATING: 8/10
One of the more striking and colourful collections for next summer has got to be this. The vibrant colours, textures and patterns all flow into each other in the most perfect way. The digital vibes definitely come through, especially with the use of stripes and holographic materials. I'm obsessed with it and I would happily own the whole collection. I would definitely say that patent elements and applique will be a big hit next year.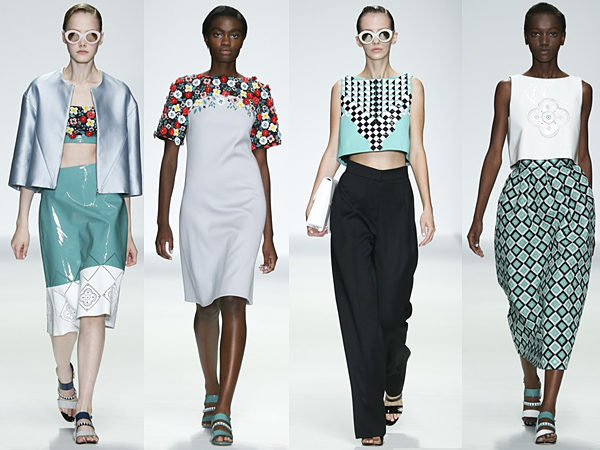 HOLLY FULTON
RATING: 7/10
As soon as the first model hit the runway you knew it was Fulton's work, which I think is stopping me from loving her that much… she stays safe every season… I'm not saying I didn't like the collection, because I did! The use of modern textures and styles with classic and more retro pieces was perfect.. I especially like the patent bandeaus. I don't really have much more to say… what do you think of it?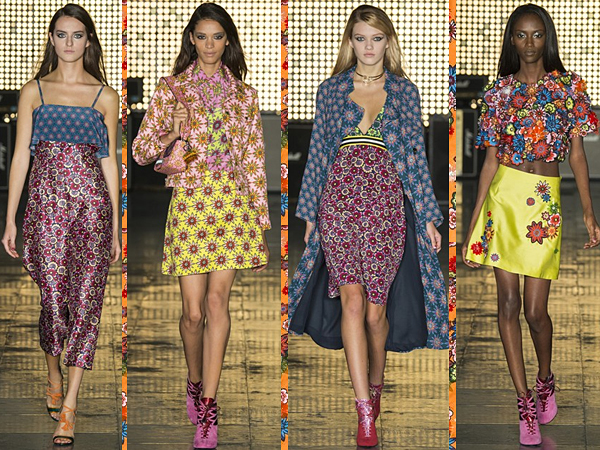 HOUSE OF HOLLAND
RATING: 7/10
I have to be honest live stream probably made this collection look a lot worse than it is. I'm going to have to say it that's it not my favourite collection from Mr Holland, but I do really like it's vibe, looking at it more closely. Embellished applique flowers, physadelic 70s/60s inspired pieces, holographic skirts, bold yellows and oranges… it's a lovely mixture. In fact I'm really looking forward to seeing these kinds of styles pop up during 2015… I'm just still not 100% sure that Holland excuted it perfectly… and erm, I think some of the models need some training in walking in heels… yikes!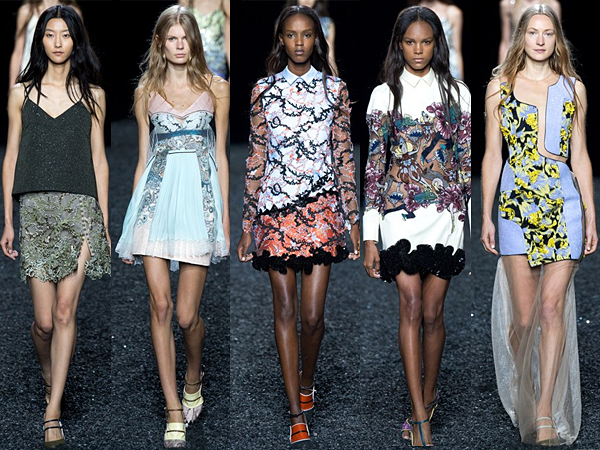 MARY KATRANTZOU
RATING: 7/10
Change is sometimes for the better but I am still on the fence with Mary's change from patterns and prints to texture… I would say the collection tells more of a story compared to her previous ones and for me that's a big improvement. The sharp difference between the greys and more dull (sorry…) pieces and the more intricate and mermaid pieces really encaptured the vision. I'm not going to say I loved it, but I liked it for sure.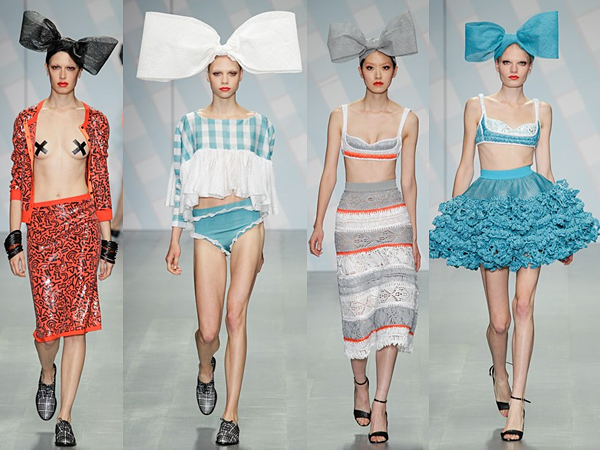 SIBLING
RATING: 8/10
This collection for me was an interesting one. I loved it in many ways and in many ways it just wasn't my taste. It was meant to portray being young, happy and free and I totally see this especially with the striking colours and patterns. I love the use of blue check though, it looks so classic yet in a modern way. Sequins and big puffy tutu skirts… they're always a winner!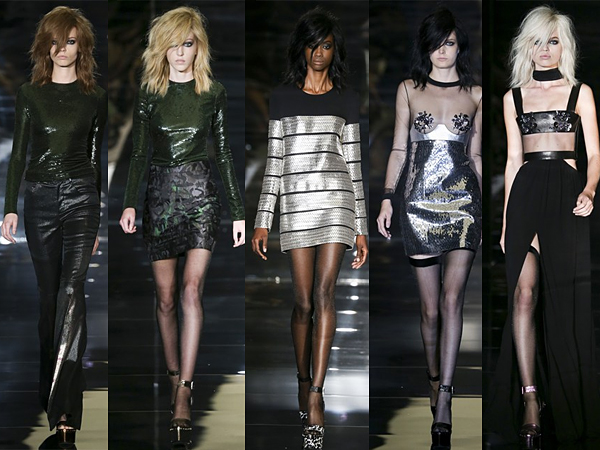 TOM FORD
RATING: 6/10
Well.. well. I definitely see a trend coming for next summer and it's not summery at all… dark colours, wintery styles in the form of jackets and two pieces. It really is a very strong contrast to what SS is usually about. The collection inspired by the sixties, with classic remakes of designs from the past. For me it was definitely made for A-Listers and posh soirees… the theme was strong and I liked the whole aesthetic but I really hope that colour is still 'in'!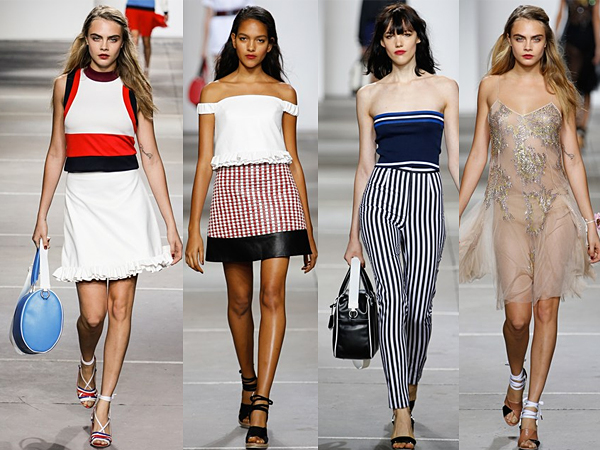 TOPSHOP UNIQUE
RATING: 8/10
Ahh blimming heck Topshop, you've done it again. The thing I love about the show is that it's always got that chic designer element (the 'Unique' part) but then it's still true to Topshop's accessible name so it's wearable too. I can't quite put my thumb on it though… is it a modern sporty vibe or is it a retro sporty vibe? I think it could be both and that's awesome to see. The second half was beautiful too, with more tulle (definitely in for SS15… yay!) and of course Cara made everything more amazing. She's perfect… sassy, stylish and blimming gorgeous.
Well it is fair to say that it hasn't been my most favourite LFW… the collections just weren't my taste… bring back colour! What did you think? Let me know your favourite collections and designers I should be looking out for in the comments! I'd love to know! I suppose I will see you next season… (…or in 2 days with another London Fashion Blog Week post!)
Lots of Love… Tolly Dolly Posh xx