A while ago now, I decided that I didn't want to do make-up or beauty related things on this blog, and I still don't want too. I don't enjoy writing about it and to be quite honest, the posts I did write, weren't exactly proving popular, but (there's always a but), when a cute perfume brand called Music To My Nose got in touch with me, I was intrigued. A little light bulb went off, and I broke the rule, but I hope you like my idea none the less 😉 Oh and do excuse the slightly delirious faces… who knew the wind could make me look so odd?!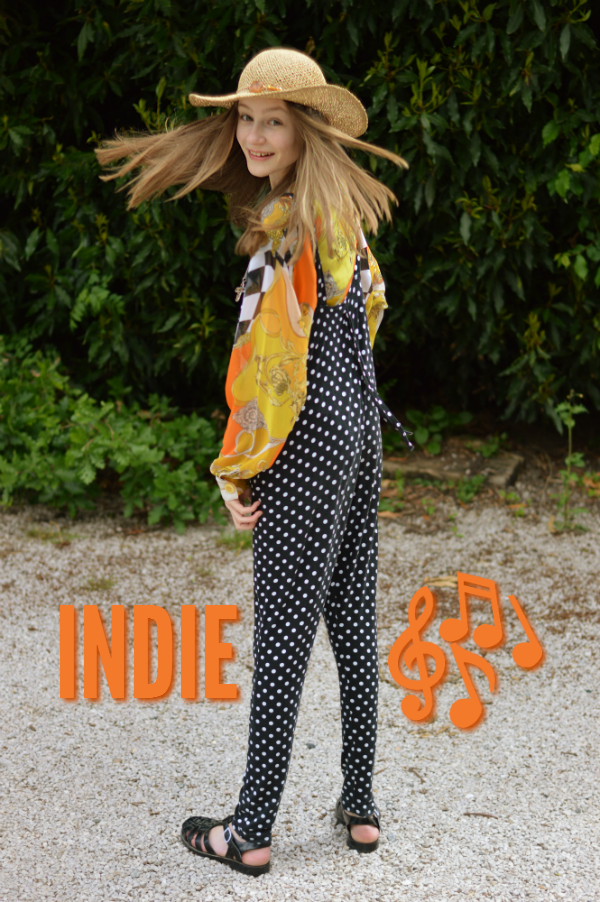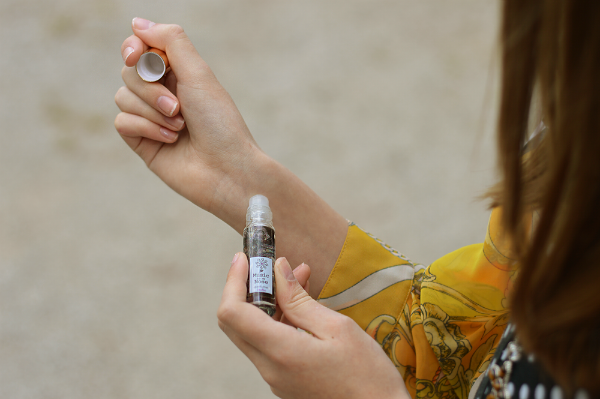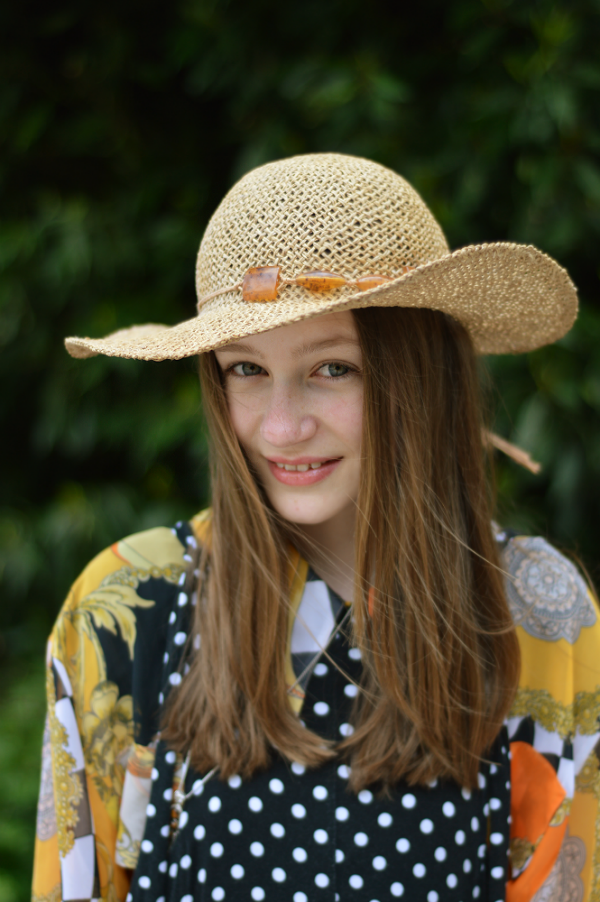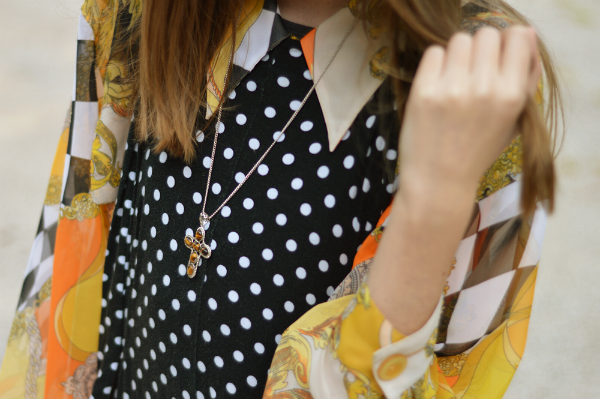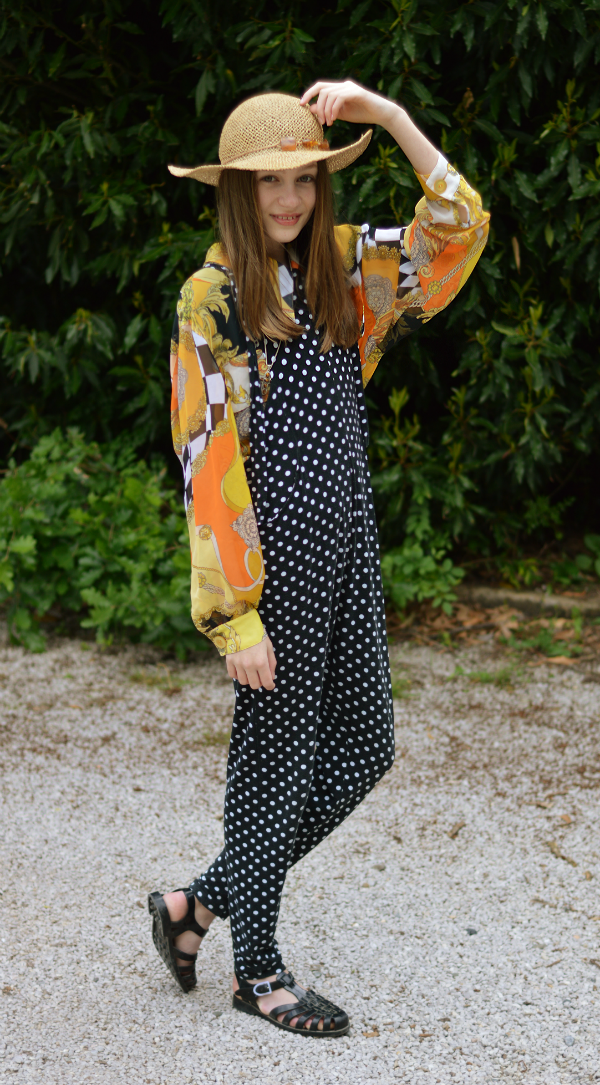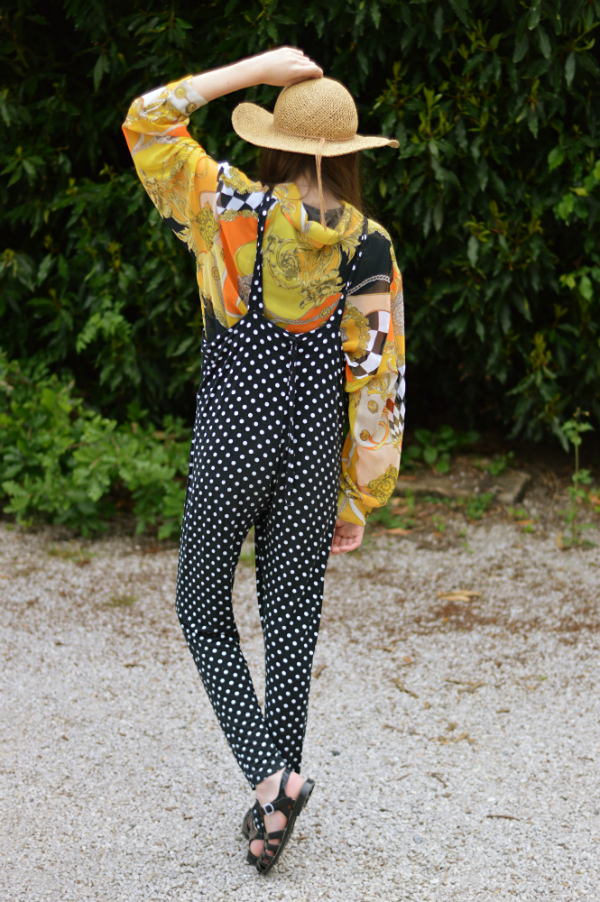 What I Wore: 'Indie' Perfume (Music To My Nose)*, Over-sized Sheer Tile Print Blouse (Jumble Sale), Polka Dot Dungarees £8.00 (ASOS), Cross Necklace (The Little Deer)*, Floppy Hat (Jumble Sale) & Black Jelly Sandals (Supermarket)
'Indie' is a slightly floral, fresh, light and calming scent. I would say it's one of my favourites which I received. It's a perfect everyday perfume, slightly on the darker side, but it is just heavenly. It's notes are: Juicy Pineapple, Jasmine, Bergamot & Coconut. I think the Pineapple makes this sent that tiny bit more sweet, and the Jasmine adds the freshness.
The outfit I chose is actually one I have worn quite a few times recently! It's super comfortable, but it has that slight unique twist to it, with the bold print clash and the vibrant colours. To me 'Indie' is casual, but with a vintage vibe, and I hope I have portrayed that well. I love my floppy hat too, it fits SO well (it feels like somebody molded it for my very own head), and it was an absolute bargain.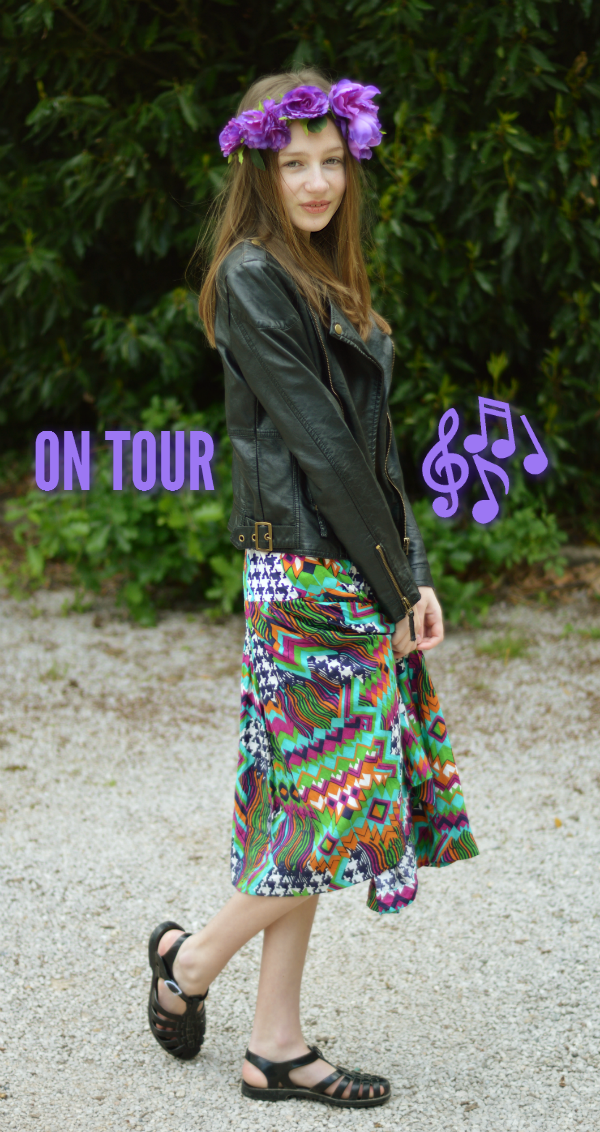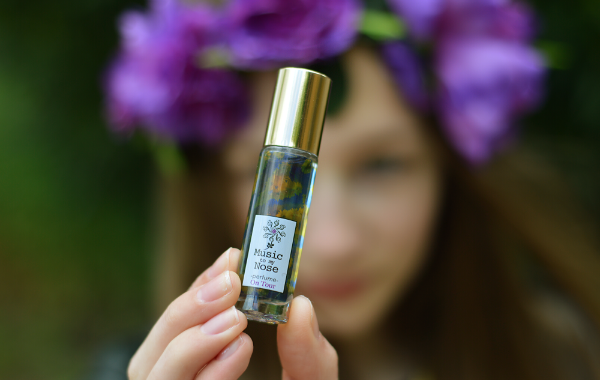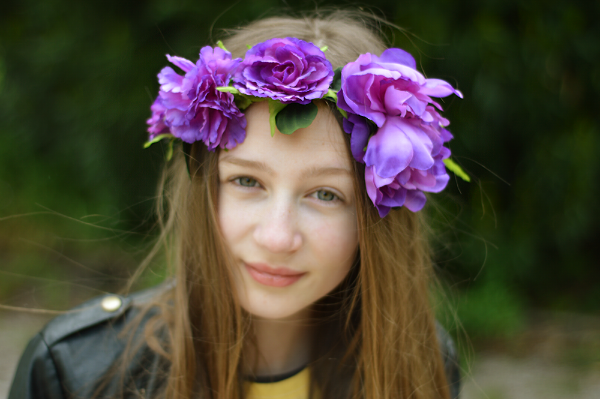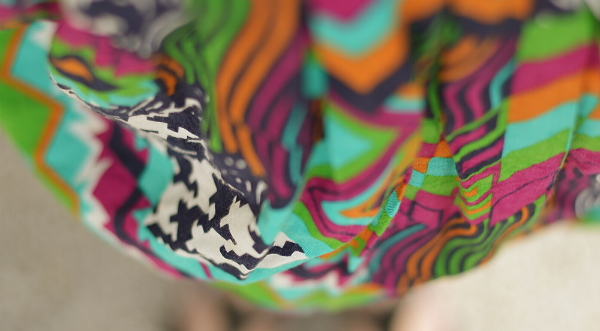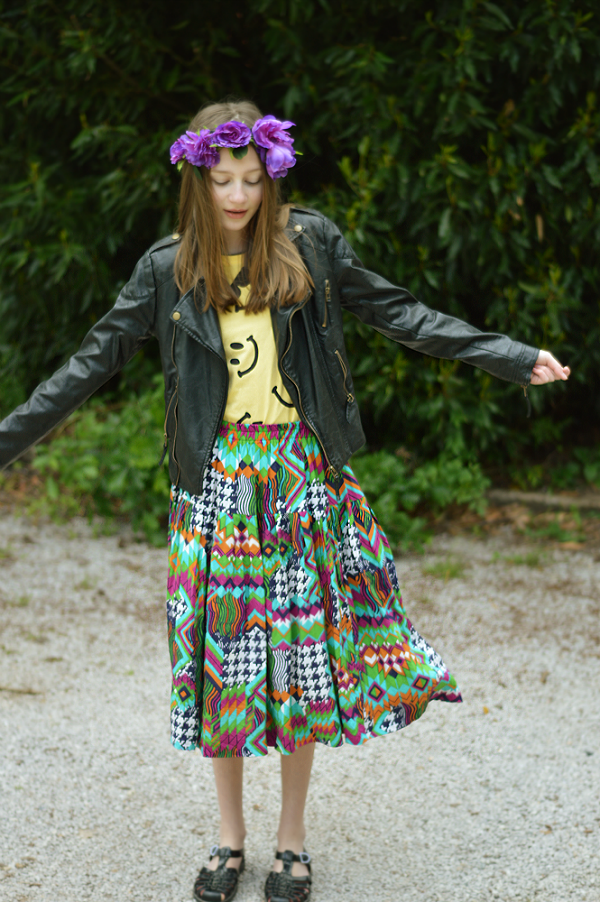 What I Wore: 'On Tour' Perfume (Music To My Nose)*, Faux Leather Biker Jacket (ARK Clothing)*, Smiley Face Top (Hero & Cape)*, Printed Midi Skirt (Jumble Sale), Floral Garland (Claire's)* & Black Jelly Sandals (Supermarket)
'On Tour' is full, bright, fruity and a lot stronger than I had expected. The scent's notes are Fresh Strawberry & Cream. To me, that doesn't exactly come across. It smells a lot more like sweets than strawberries, but I can just about find the vanilla in there somewhere. I would say this is quite a summery scent, and definitely not an everyday wear. Maybe you could wear it at a festival?
I wanted the whole outfit to be bright but with a little bit of edge (after all, who isn't edgy when they're 'on tour'?). The biker jacket pulls it all together, with the yellow smiley top (LOVE this, I've been wearing it a lot with my dungarees), skirt and floral garland making it fun! This skirt was an absolute steal…. *builds up anticipation* It was… 50 CENTS! LIKE, WHAT?! It's so soft, bright and up ma' street. I lurrrrve it.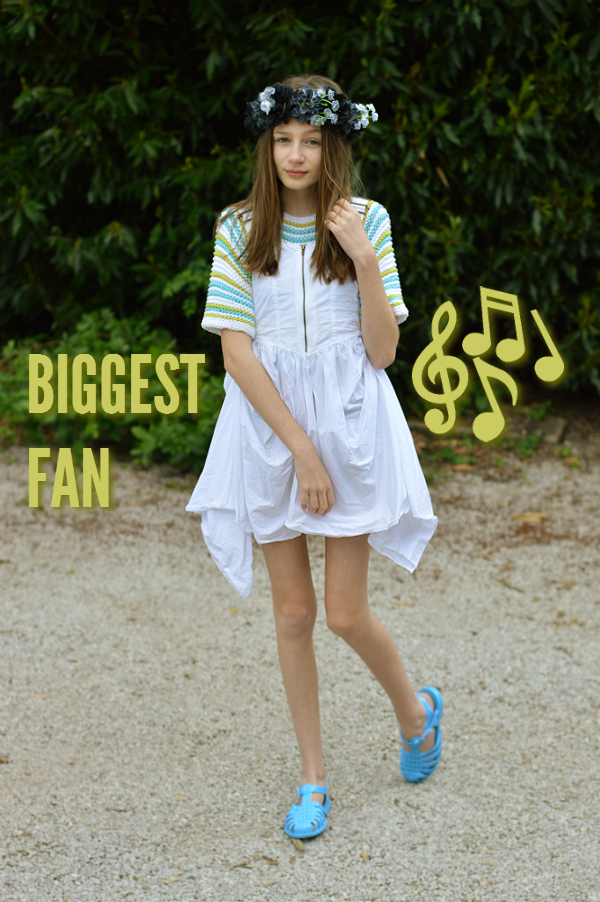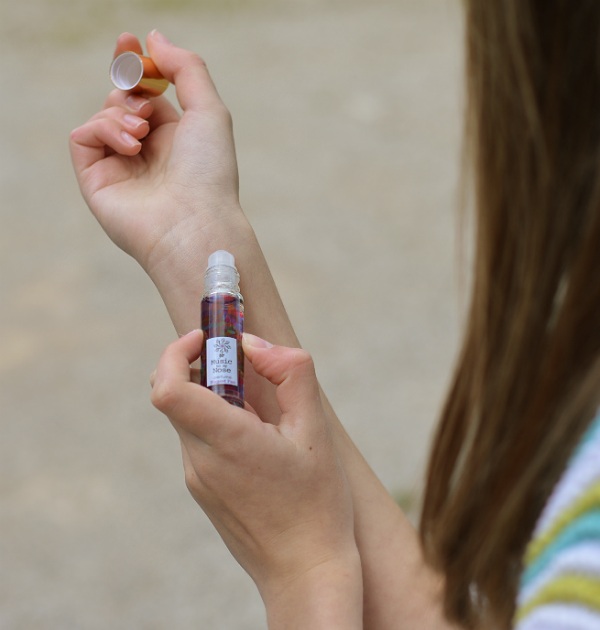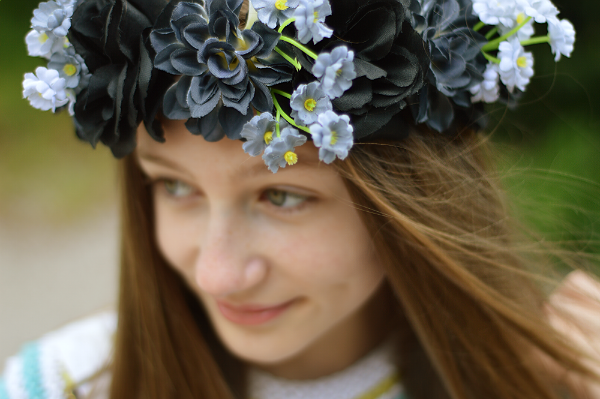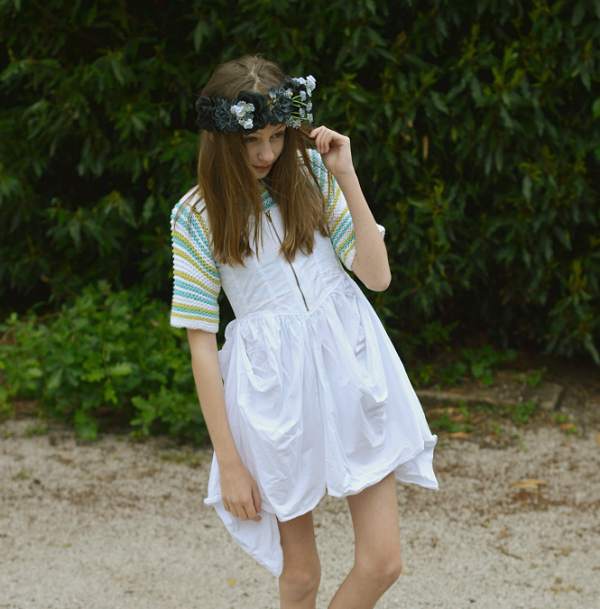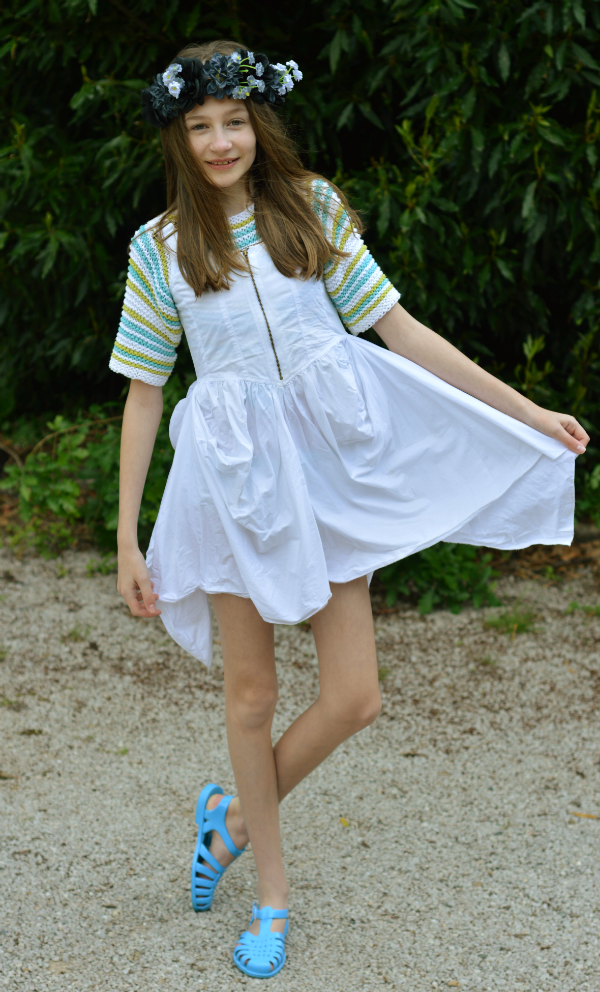 What I Wore: 'Biggest Fan' Perfume (Music To My Nose)*, Stripey Crochet Cropped Jumper (Jumble Sale), Floaty Buckle Strap Dress (Matalan), Floral Garland (ASOS) & Blue Jelly Sandals (Sun Jellies)*
'Biggest Fan' is fruity, but not too overpowering like 'On Tour'. It's light, and perfect for summer. A great everyday perfume if you like fruity scents. The notes are Ripe Mango & Juicy Peaches It's at a real tie with 'Indie' for my favourite scent!
For the outfit, I made sure it included a floaty item (not sure why…), and this Matalan dress definitely fits the bill! I do think I should have worn shorts though… way too short for me now! Oops! I love the top underneath though! It's very cropped, but I think in the summer with a bikini underneath it will be fine! The colours are so vibrant in it, and match my jelly shoes perfectly! To make the outfit a bit more me, I of course added a hair accessory. This is one of my favourites, from ASOS… obviously!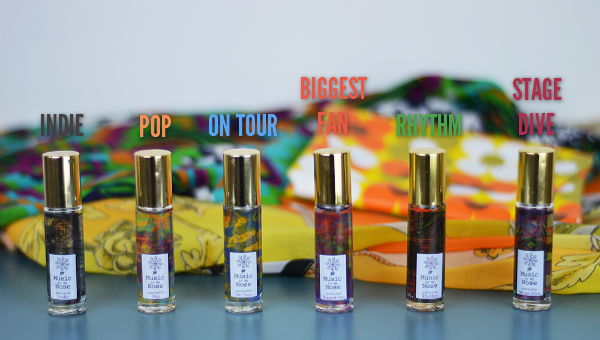 Indie//Pop//On Tour//Biggest Fan//Rhythm//Stage Dive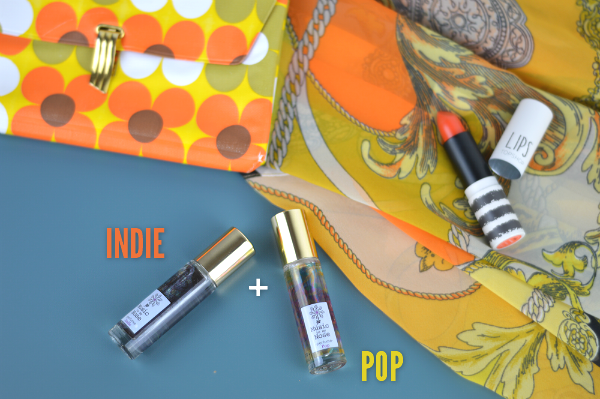 Combo #1: Indie + Pop (Purse (Jumble Sale) & Infared Lipstick (Topshop))
One of the things Music To My Nose promotes, is layering perfumes. I'd never thought about it before, but now I can do it easily! I tested out some combos, and these are my favourite I found! Mixing 'Indie' & 'Pop', gives you that classic scent that you'd find on your friend's mum… you know that stereotypical mum scent? I know it sounds weird, and it might only be me, but these on top of each other, smell just like that! It's a simple, fresh and comfortable mixture to wear. Very pleasant!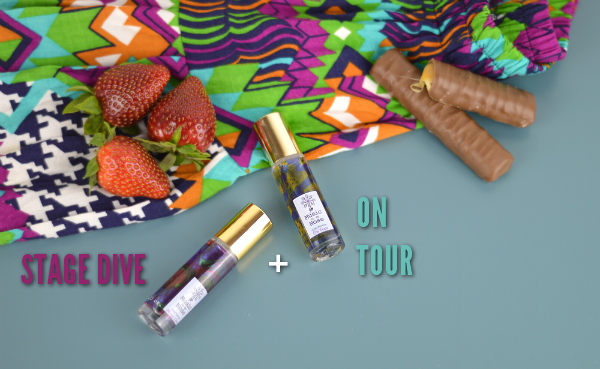 Combo #2: Stage Dive + On Tour
I. am. not. kidding. This combination smells just like a strawberry and chocolate crepe. 'Stage Dive' is actually a chocolate scent, so mixing the two, makes sense, right?! If you want to smell edible, GET THESE TWO SCENTS! Weirdly, the strawberry in 'On Tour' comes out more when you mix the two… maybe that was purposeful? It's like perfume magic.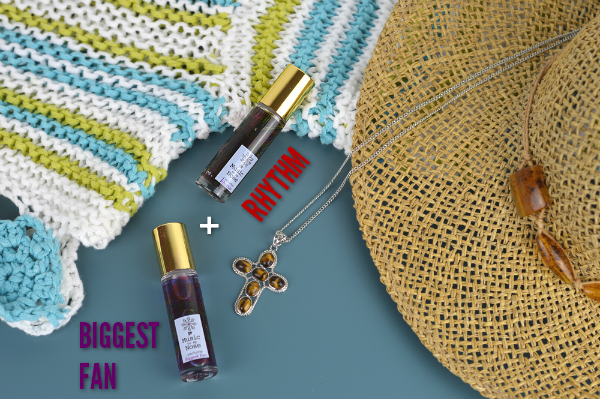 Combo #3: Biggest Fan + Rhythm
If you're thinking of toning down one of these scents, then just add them together! Some how the scent gets more subtle, and it's just a really light and airy fragrance. I could definitely imagine wearing it to the beach… If only these were waterproof so it would still be there after a quick dip… hmm… This combination is definitely going to be a beach bag essential!
I really hope you liked this post! I know it was slightly long, but I think Look books can be such a nice way to gain style inspiration, or just find separate pieces which you fancy the look of! 🙂 My next post will be a blog studio tour.. so stay tuned 😉 If you really liked it, please don't forget to vote for me as Best Teen Style Blog! Click here to do so! I'm on Page 8! Thank you so much! 😀
(This post is not sponsored or paid for. Music To My Nose 'scent' (get it?!) me some perfumes to try and I thought doing a Lookbook would be a cool idea! You can see my full PR disclaimer here.) Lots of Love… Tolly Dolly Posh xx