A common theme when I asked around for some questions and blog post ideas after racking my brain for days, ended up being about the younger generation and ethical fashion. Of course, that's rather relevant seeing as I'm part of what some would class as "Generation Z"; the not-quite millennials.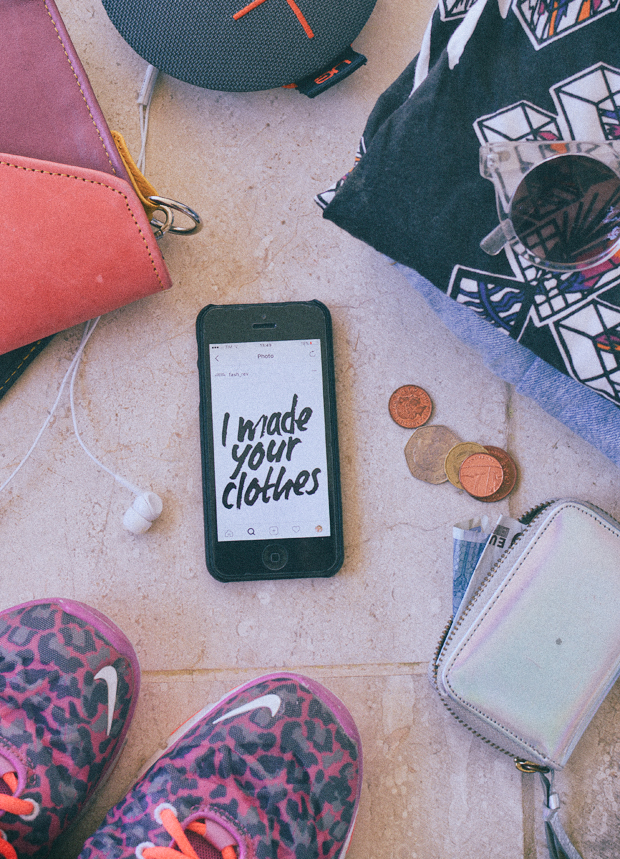 ---
FEATURED: Clarabella Bag £33.00 (What Daisy Did)* // Zhandra Rhodes Top (People Tree) // Fashion Revolution Instagram // Bluetooth Speaker (UE Roll)* // Nike Trainers (old – JD Sports)*
---
Whenever I talk about my generation and being a teen today, I always have to reiterate how my experience isn't necessarily the bog-standard norm for people my age and for people in let's say, the UK. Without trying to sound pretentious, the situations I've been put into have opened me up to alternative ways of living and viewing different aspects of life, especially in more recent times. This doesn't, however, mean that I'm oblivious to teen culture. My earliest blog posts are an insight into that with my focus on celebrity style and bargain buys; I've lived that but now my eyes have been opened.
And I think that's a good segue into the core of this blog post. I was talking to someone recently about social media and how it plays a part in teenagers and politics and it brought to head my true opinion on what I believe about our age group. On the one hand, I couldn't be happier that we have so many incredible platforms to play with and use right at our fingertips.
It's opened up so many different conversations and gives us the ability to be inundated with unique angles and perspectives that we wouldn't necessarily get anywhere else. We have the freedom to learn about whatever we want and talk to whoever we want and express whatever we want and I don't see why anyone should be complaining about that.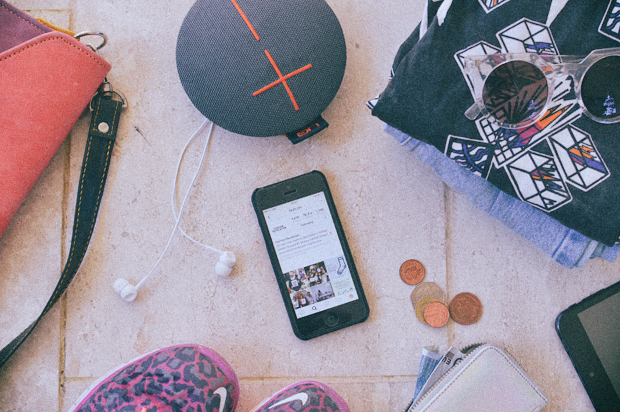 In my mind, the problem which comes with that, is the idea of sitting back and letting everyone else do the work. It's extremely easy to think that there are enough active people and citizens out there because when we refresh the page, there's something new from them. There's a huge difference between being a participant in what is going on around us and actually being part of what is going on around us. I'm not just saying this relates to teens and young adults; we all know
I'm not just saying this relates to teens and young adults; we all know from these platforms that there are plenty of older people who like to talk but not do, but if I'm going to relate this to ethical issues in particular, then I believe this is one of the stumbling blocks we face.
The younger generations are much more aware of the issues and that's hugely important because it means they are being informed and influenced in some way. The more the issues to do with, say, the fast-fashion industry are discussed, the more we'll start to question things and wonder if we're part of the problem. Being actively involved in changing our ways is perhaps a little harder but this all seems to stem from old habits.
When I started my blog at age 11, I used to go into high-street shops with the main objective of buying as much as I could with the £10 note in my hand. An unsuccessful shopping trip would be one which left me close to empty-handed. The thrill of buying as much as you can with as little as possible is understanding, especially when you're younger and money is sparse.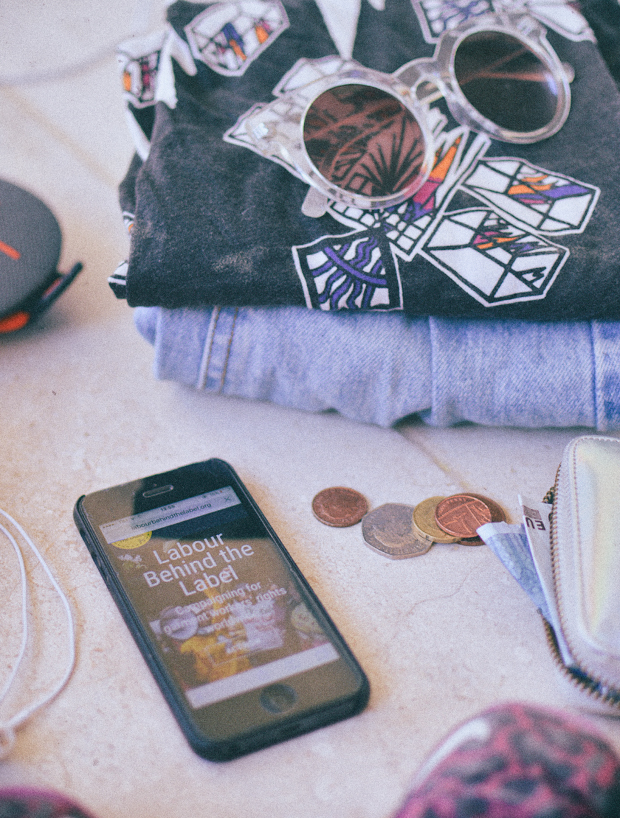 I treasure money like gold now, understanding and knowing it's true value; saving up for investments, my future and experiences rather than anything too materialistic, unlike when I was younger and it was a fun thing to use and play with. I'd buy t-shirts and dresses in the sale for prices as little as £3 and I'd be utterly satisfied. I can only believe that this was because due being brought up on the idea of more meaning more, due to western society, consumption and commercialism (wow, that's a big sentence).
Unfortunately, I think this is still true of many younger people and as I said, it has a lot to do with money. When you're a teen, you're either saving for the future or you're struggling to even put together a double-figure number, so when it comes to clothes and it comes to accessible products to buy, the cheapest option is always going to be easiest and on the surface, seem more worthwhile.
This especially true when you add the 'millennial' mindset on top of that; according to a study by the Harris Group, 72% of millennials would now prefer to spend money on experiences rather than physical products. This doesn't mean we aren't buying physical products, it just means we'd rather spend less and save the bulk for travelling and experiencing new opportunities. We're definitely not avoiding buying physical products – it's hard to imagine somebody going on a vacation or heading to a festival without buying new clothes to wear nowadays, isn't it?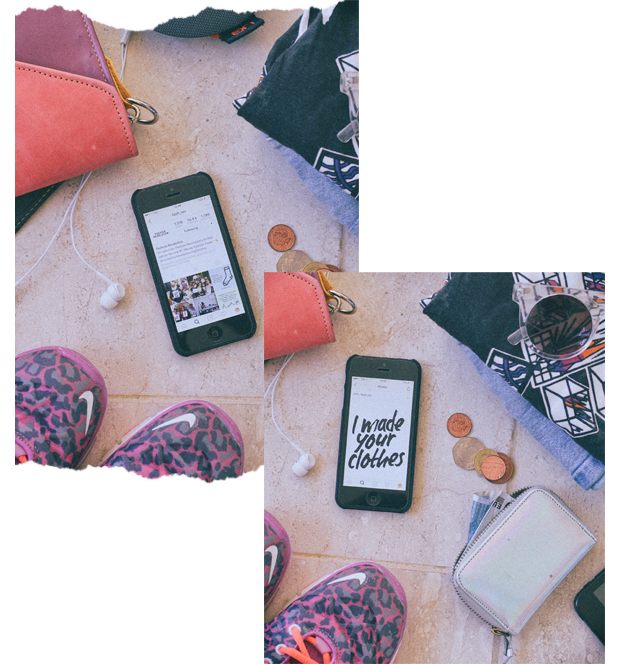 Getting people out of this mindset and into a more conscious one is a little difficult when ethical fashion, unfortunately, has a stigma of being more expensive. I'm going to say this rather bluntly; ethical fashion isn't more expensive if you stop buying as much as you usually would. The only reason ethical fashion is known to be expensive is because one piece can often be the price of two fast-fashion pieces. It's why it often gets referred to as 'slow fashion'. It's about consuming more slowly and considerately; saving the money you would spend on a handful of trend focused pieces, for fewer, more long lasting and of course, ethically and sustainably made items.
Once our mindsets have been changed, ethical fashion won't be expensive. It will be the way we shop. The industry will move and we'll head in a more positive direction as a whole. We have to start thinking about it differently but unfortunately, just reading headlines and taking in tweets isn't going to change anything drastically. Just being aware doesn't cut it anymore.
So, how exactly, especially as part of the younger generation, do we go about changing our ways and become more actively involved in making positive actions happen?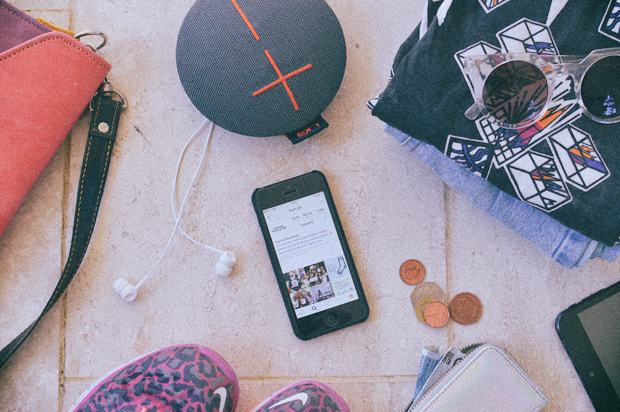 Change your mindset…
Start believing that less is more. Conscious consumerism may not be the final answer to change how the industry works, but it's one of the easiest ways to start getting involved. This wonderful quote by Anna Lappe which I've included before on my blog says it all, 'Every time you spend money, you're casting a vote for the kind of world you want'. Use your vote more wisely. Think about whether you'll actually end up using or wearing something you buy. Be conscious not just aware.
Help others change their mindset too…
If you're out shopping with someone; why not ask them questions? Get them to think about why they're buying each item. You don't have to pressure them or fill them with a sense of guilt by showing them screenshots of a collapsed factory (that's a bit extreme) but introducing this thought-process gradually is a big step. It will also make you truly appreciate everything you touch and feel. I can no longer go into a shop without questioning things now. I'm always asking where? Who? How?
For a slightly more extreme approach, take look at Craftivist Collective's 'Mini Fashion Statements' idea.
Take part in Fashion Revolution…
If we're a generation that thrives on getting ourselves out there and getting stuck in with new and exciting experiences, then physically taking part in some form of activism can be a great place to start.
Fashion Revolution was created after the Rana Plaza disaster in 2013, and now pushes for change within the industry throughout the whole year but especially during the month of April. Take a look at their website and see if there are any events on in your area that you can be a part of. It's a global event as well, so there's nothing stopping you from finding an event in your country or even.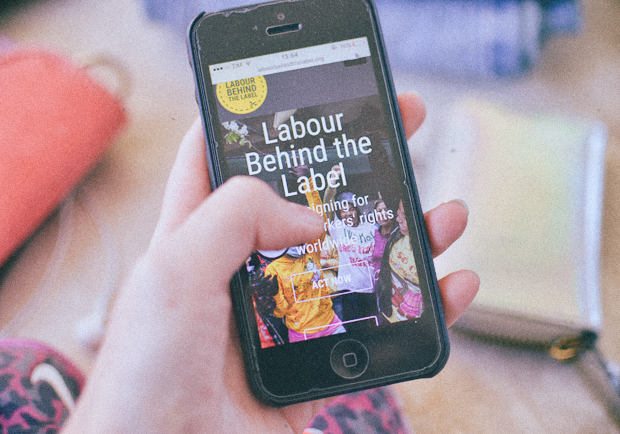 Get answers…
It's all well and good celebrating when a brand answers a broad question about how they run in terms of ethics and sustainability, but actually asking the questions yourself and pushing them constantly will make them aware that change is needed. One of the questions I'm currently trying to ask is directed at Jack Wills. They recently released the news that they would be openly sharing where their products are manufactured, on their website, but I have yet to easily find this list and in my opinion, that's a little disappointing.
Since publishing this post, Jack Wills have tweeted me with a link to their "Fabric of Jack" campaign.
So, if you're curious – ask. Curiosity doesn't kill the cat in this scenario, it leads to something more positive. This also links in with Fashion Revolution and the #WhoMadeMyClothes campaign.
Donate to those who are helping directly…
Initiatives like Labour Behind The Label are striving to help those affected by the issues in the fast-fashion industry, protecting, supporting and empowering garment workers worldwide. They have some incredible campaigns running which you can donate to in order to support their wider work. Donating can help Labour Behind The Label put pressure on brands, support those have been exploited and overall, help us move forward in making the industry a more positive space.
What do you think Millennials and Generation Z could be doing better in terms of ethics? How are you being more active? Let me know in the comments!
Lots of Love… Tolly Dolly Posh xx