I know I'm not really supposed to apologise for what goes on, on this blog, but I would just like to say a quick sorry for my lack of blog posts since LFW finished. I did actually give a quick warning to say I'd be on a break, but then I was struck by a dreaded cold and the break stretched further than I'd anticipated. However, I'm hopefully back for good now! I thought I'd start things back up again with a simple, good ol' fashion-y post about what I've been shopping for recently, all in the form of secondhand pieces of course! Much more satisfying and a great way to gain inspiration for your own ethical wardrobe…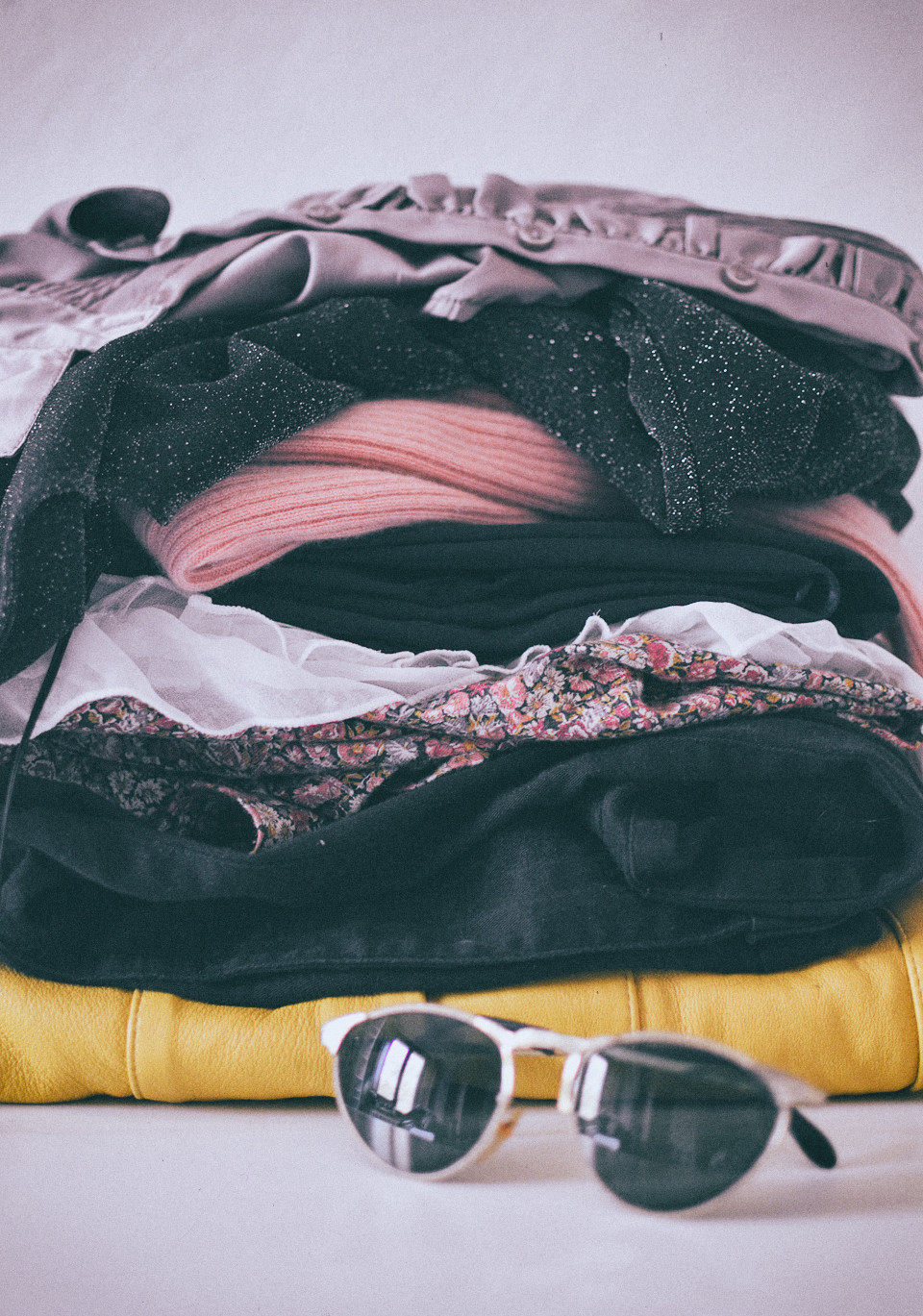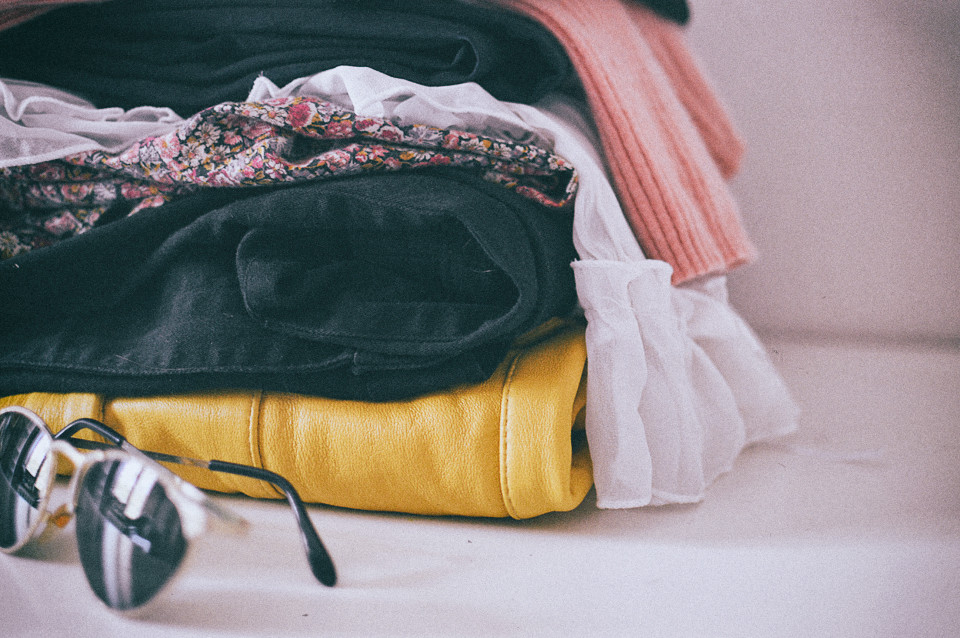 ---
~ WHAT I BOUGHT: £80 ~
☞ Vintage yellow leather jacket (€35 – jumble sale)
☞ Black jeans (£5 – charity shop)
☞ Floral oversized shirt (£8 – charity shop)
☞ Sheer white ruffle cover-up (€3 – jumble sale)
☞ Vintage gold sunglasses (€2 – jumble sale)
☞ Navy satin suit trousers (€5 – jumble sale)
☞ Navy satin suit jacket (€5 – jumble sale)
☞ Pink cashmere roll neck (£5 – charity shop)
☞ Lurex black sparkly slip dress (£7 – charity shop)
☞ Purple satin ruffle blouse (€5 – jumble sale)
---
As I was saying; satisfying, isn't it? All of that for the price you might pay for two or three high street items which aren't necessarily (well, almost definitely) ethically or sustainably produced. What's even more satisfying is how everything blends and matches so well! It wasn't really intentional, but when you're shopping in all in one, I suppose it's a subconscious thing, to buy items that all match up perfectly. Technically, though, I didn't buy all of this is in one as you can see from the labels above. Unfortunately, I didn't keep my receipts to tell you which charity shops I shopped in, but I can tell you from memory that RSPCA & Longfield Hospice are two of my favourites for well-sorted stock.
For these recent purchases, the only items I had in mind beforehand was some sort of evening dress (I'm off on a cruise at the start of November and let me tell you, they dress fancy) and possibly, a suit. A while ago whilst in the car, my dad spotted a men's suit in the window of a shop and um… it turns out that apparently, it was a better fit for me (it was polka dot, mind you), so ever since then I've been on the hunt for a matching two piece! I've actually become really interested in suits in general over the past few months, just because of their fit and the androgynous vibe that comes with them.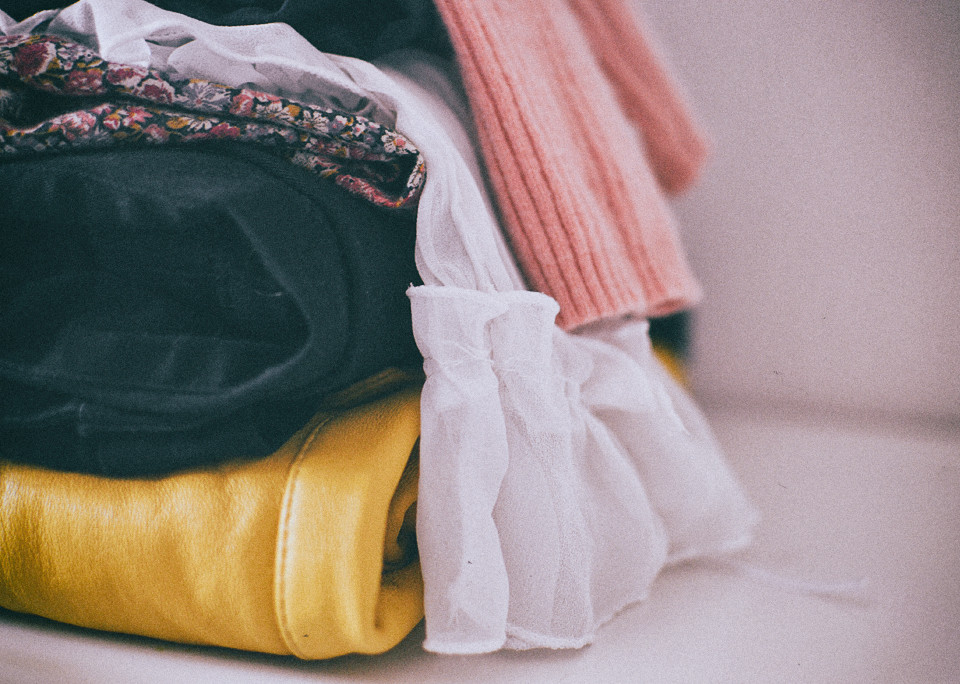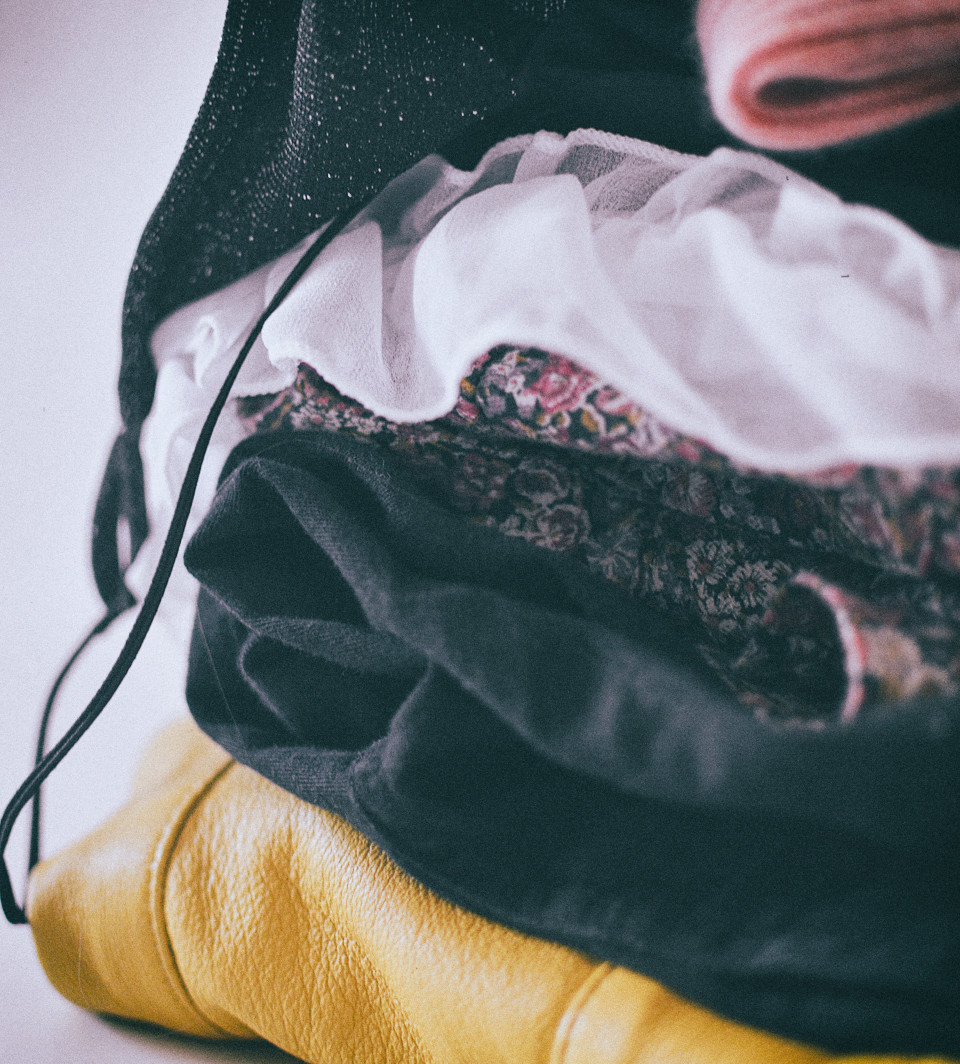 It turns out that running giddily around a jumble sale looking for every single stand of clothes pays off because I found it! I found the suit I was looking for! I hadn't really decided on my ideal suit, but I knew a navy one wouldn't turn me away. You can't really see it in these pictures, but I promise once I've adjusted the shoulders, I'll be shooting it ASAP! It's actually a satin number with the most gorgeous fitted trousers, and it cost me €10 in total. And the even greater thing? At the same jumble sale, I picked up two options for blouses.
I don't feel so guilty indulging in trends when I'm buying them secondhand (trends = mass consumption/mass production), so when I, my mum spotted a sheer ruffled cover-up, almost lingerie style blouse at the same seller's stall, I knew it would make a great textural contrast against the satin. Plus, white and navy is a really crisp and sharp colour combination and will work really well for an evening event (did I say something about a cruise?). The second blouse is another satin piece but in a light purple. Although contrasts are nice, I thought it would blend in nicely as a more fitted and 'proper' shirt with the suit.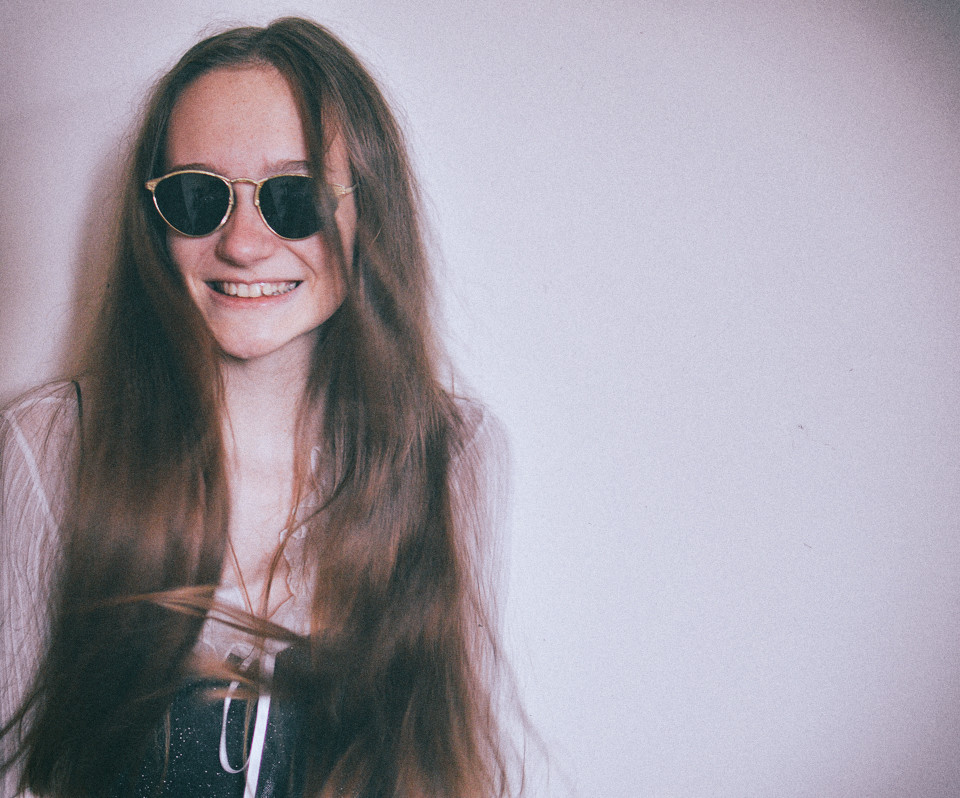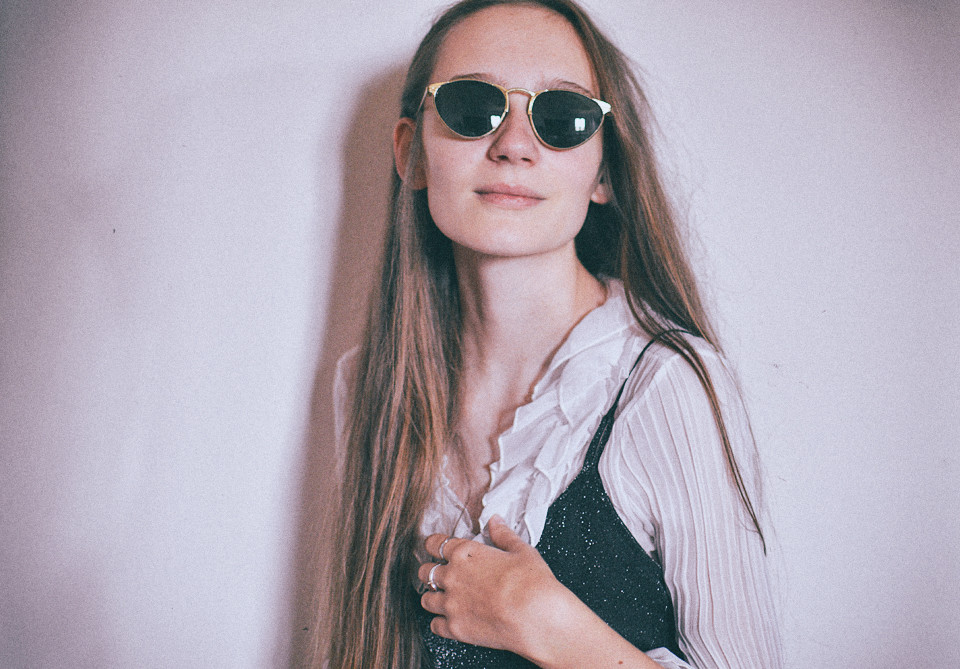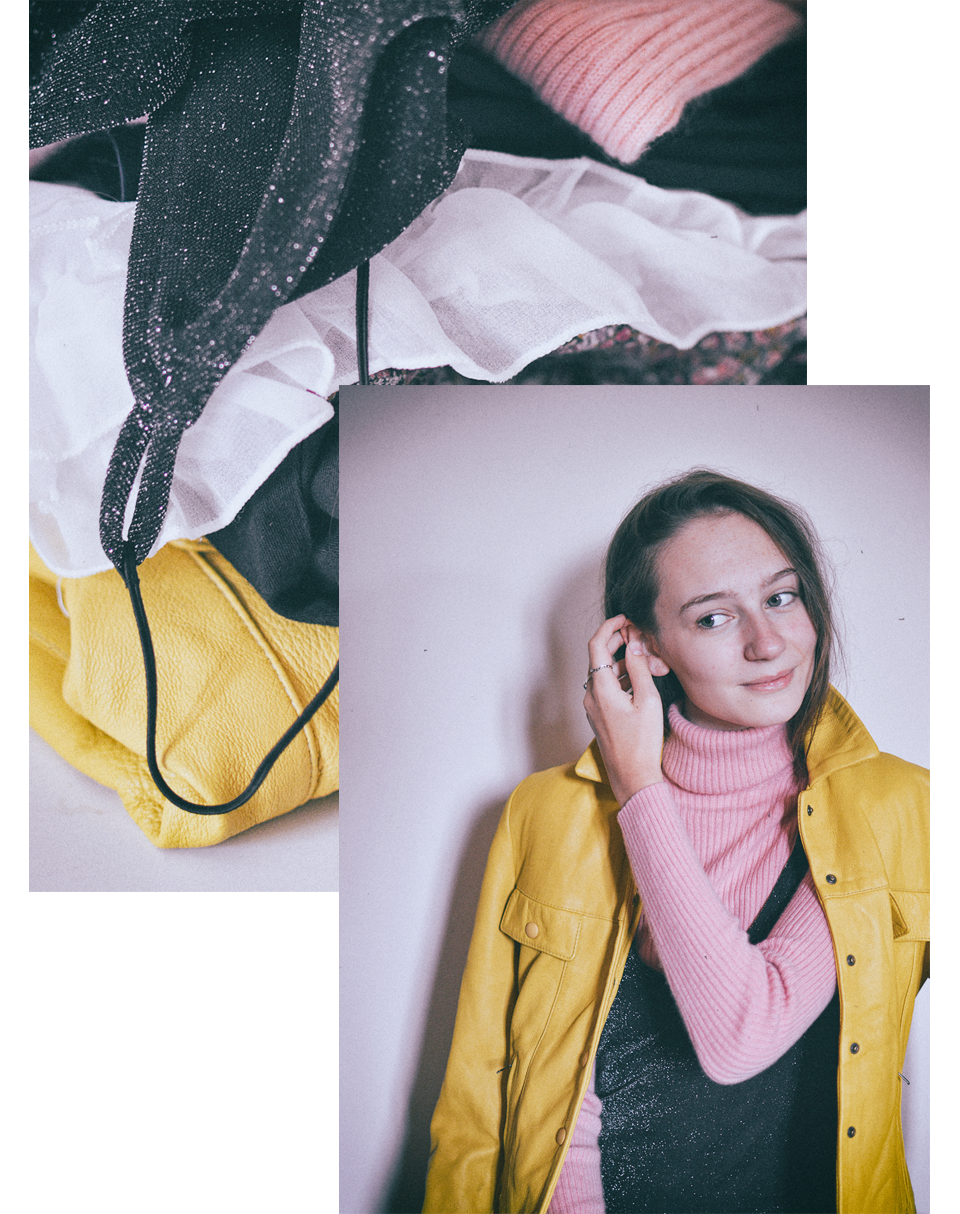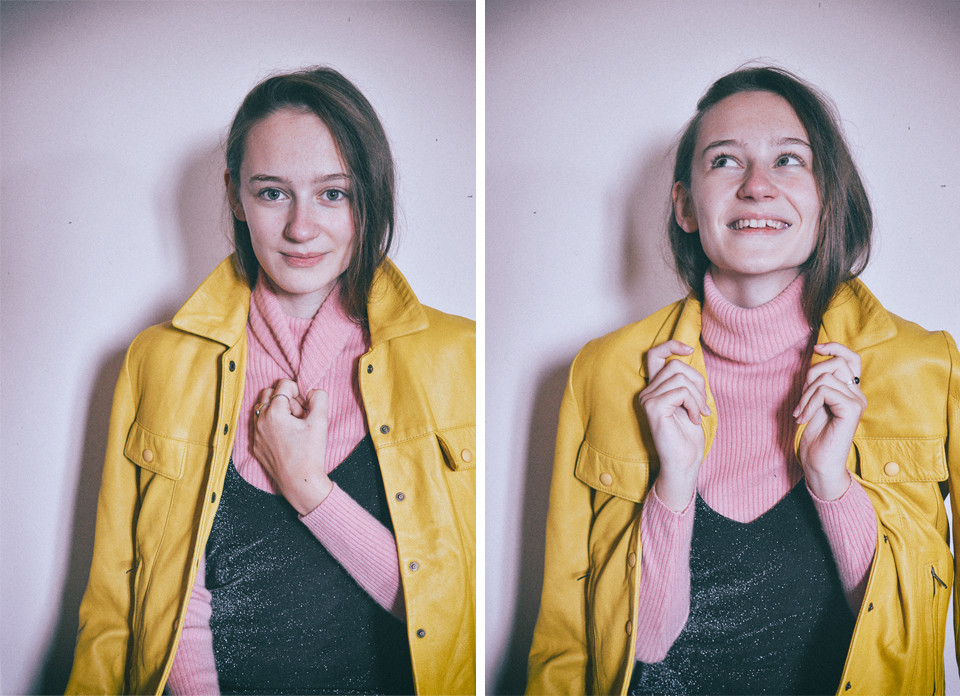 ---
Rings: Middle Finger (Unknown) // Index Finger (Arezzo D'oro Diamond Cut Stacker Ring – Gemporia)*
---
Speaking of that ruffled blouse, it looks great with the evening dress I managed to pick up! I know not many people are fans of lurex fabric, but I think if worn in the right way, it can look just as elegant as any other sparkly material. As you would have seen in my last outfit post, I love layering slip dresses, and it looks great with any kind of texture or colour. The black shade means I'll be able to wear it to dinner, but also be able to go for a slightly grungier look in the day. Versatile, non?
Oh and yes, yes that is a cashmere 'granny jumper'. It was one of those purchases which I was unsure about at first, so I left the charity shop empty handed before going back again and trying it on because it just seemed too tempting. It will work with jeans, it will work with a dress and who knows, maybe it will even work with the suit? I love muted pink, as you will already know if you've read my whole post basically dedicated to it.
Oh and that jacket? Another item which I had to go back for. In fact there was shopping drama with this one! I asked the seller if he'd give me a deal because I wasn't that willing to buy it for his original price of €40 (even though it is vintage leather), so he said he'd drop it to €35, final price. I mulled it over, he put it back out on a rail, and somebody else tried it on… and luckily, they didn't want it, so I bought it, but only just before another lady asked to try it on. It was a faff, but I have it on my shoulders (and of course, on my arms when I'm actually wearing it out and about). A good point to remember though – jumble or carboot sale shopping allows for bargaining. 
So there we have it! All secondhand. I hope you liked reading about my recent shopping experiences. The reason I do these 'ethical wardrobe' posts, is to try and share with you how easy it is to create a collection you enjoy wearing without having to effect the world and environment around us. Buying secondhand means recycling, giving back to charity and supporting your local communities. Give it a go! See what you can find for £80…
Lots of Love… Tolly Dolly Posh xx