I'm going to say something for the 1000th time when it comes to ethical and sustainable fashion; it's really important to educate yourself.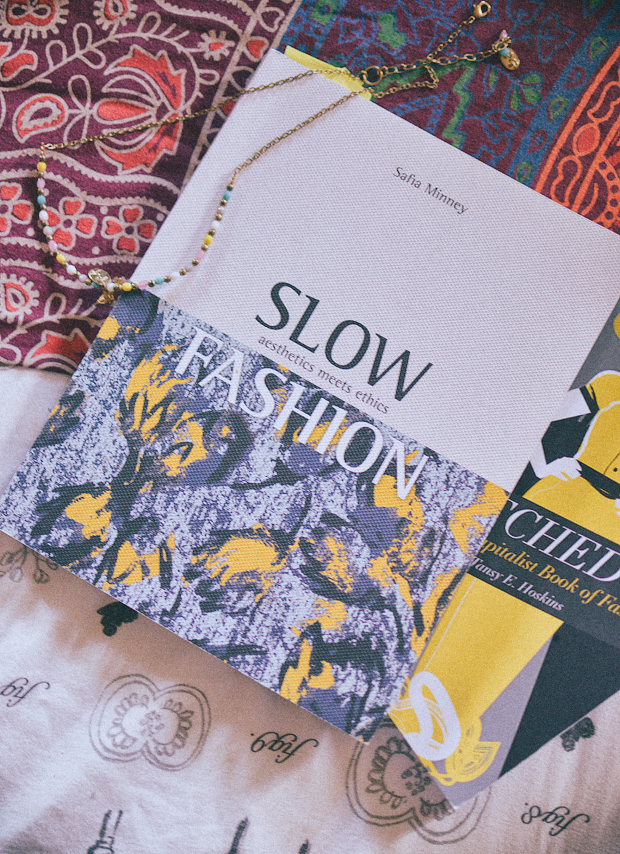 ---
---
You might be aware of some of the issues surrounding the fashion industry these days, but how much do you really know about what's being done to make changes? How many real life stories have you listened to? How do you know what to do as a consumer?
These are all questions you should be able to answer easily, but for a lot of people, it's hard to answer them without saying, "I don't know" or perhaps, "I don't know enough to give you an answer". So yes, I may have said it several times by now, but it really is important. We all need to learn more, so that we're open and aware about what needs to change… a big emphasis on need, because it really does need to.
So, as a way to educate yourself, I'm going to introduce you to a book that I've just finished reading – "Slow Fashion" by founder and CEO of People Tree, Safia Minney. "Slow Fashion" is a book which explores the work which is being done to make the fashion industry more ethical and sustainable, as well inspiring entrepreneurs, creatives and consumers, to think differently and start to make change, no matter how big or small.
Safia has been running People Tree, a leading ethical and sustainable fashion brand for the past 25 years, working alongside designers like Zandra Rhodes to create exciting and ethical collections which not only help the people making them, but the environment and the earth.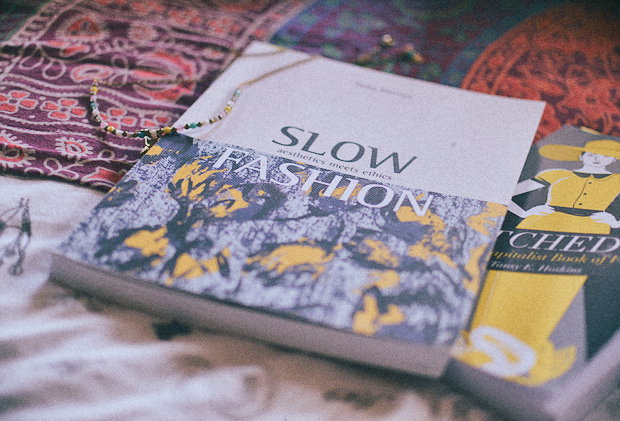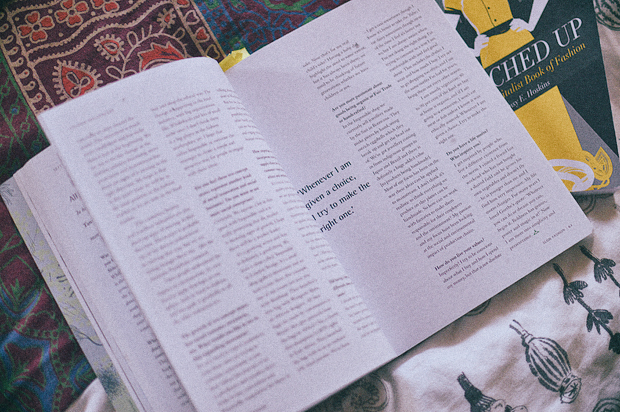 One of the main themes throughout the book is something that I wanted to share with you, and is something that emphasises my point about educating yourself; small steps lead to bigger things. One of the best ways to explain this is through a quote (from the book) by actress and model, Lily Cole…
"Whenever I am given a choice, I try to make the right one."
When you learn about some of the issues in the industry, you can be taken aback. For me personally, it was like something clicked and suddenly I had this whole new mind-set (thanks to the wonderful movie which is, The True Cost)… but there are cons to that happening. I ended up putting pressure on myself and started to rush things and try and reevaluate everything I knew before. Although now I see this as a pro, I basically stopped shopping altogether. I felt guilty whenever I wore clothes I knew were unethical, and I tried to change too much of what I could all at one time.
The reason I'm explaining this, is because Lily's quote uses one specific word; try.
When we learn about all of these issues, for most of us, it's hard to suddenly change everything. It's hard to step out of what we can afford or what we are able to do immediately. But it is possible to do in the long run (though of course, the faster the better, as I said; things need to change) and that's something we mustn't forget.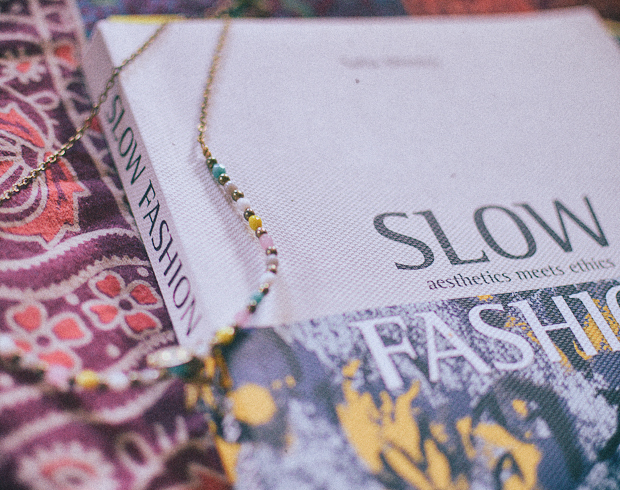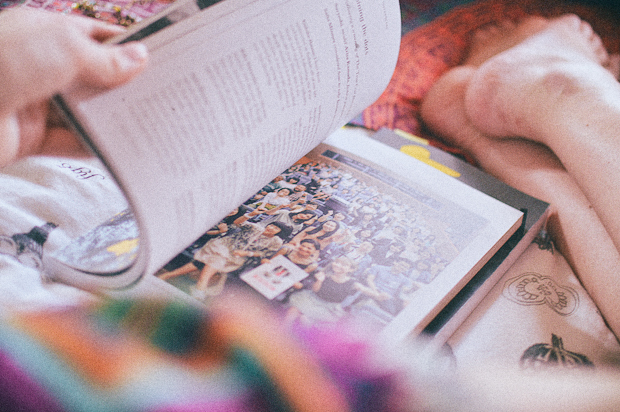 It's reassuring to read that even people who are making changes, aren't always perfect. Sometimes it's impossible. Not everyone has the freedom and privilege to purchase specifically ethical clothing due to the fact that it's usually higher in price than normal run of the mill, high-street fashion (don't forget though, second-hand and vintage clothing is an option). But being aware that there is a choice, is very valuable.
Walking into a shop and asking yourself whether you need an item, or whether you could find a better, more high quality option that will be more sustainable, is so important. And to loop it all back; being aware, means educating yourself, which is why I'm recommending this book.
At the same time as learning more about the issues and effects of fast-fashion and mass consumption, you can discover new brands and labels to shop from, some of which include: Goodsociety, Miss Green, Braintree, Armed Angels, MADE, LeJu, Joanna Cave and Quazi Design.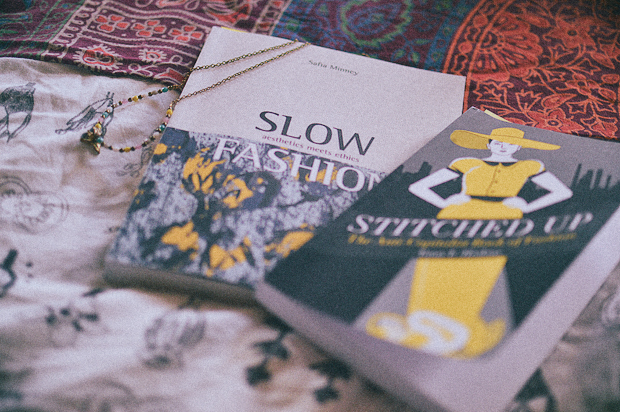 ---
---
You can also discover other books including the one photographed in this post, "Stitched Up: The Anti-Capitalist Book of Fashion". I'm only into Chapter 2 and it's already highly insightful. It not only looks into fast-fashion (both on the high-street and on the catwalk), but it also covers topics like racism and body image. It's a one of a kind book to add to your reading list! (I'll be sure to review it when I'm finished).
Also through this book, I've discovered the film, "Udita" by Rainbow Collective. It's an extraordinary and raw insight into the lives of the female factory workers in Bangladesh, most of whom were affected by the Rana Plaza disaster of 2013. One of the most touching moments in the film for me, is when one of the workers is explaining their desires and wishes for the future…
"I wish people would buy clothes with a conscience. My desire is that what's happening now will never be repeated. That people who are buying clothes abroad stop and think about how much they buy for it and how much is the true cost for us here."
If the workers themselves are saying they wish we could shop with a conscience, then surely that's enough for us all to implement change, no matter how big or small? The majority of us have a choice. We all have the ability to learn about our choices. Learning is all part of the process, and really, at the most, it can take an hour out of your day to do so.
When you next sit down to binge watch your favourite Netflix show, why not click onto The True Cost (which is on Netflix anyway) or go onto Amazon and order yourself a book, instead? Small steps lead to bigger things, and we can all make them if we try.
---
What are you going to do to learn more? Have you read Slow Fashion already? Let me know in the comments!
Lots of Love… Tolly Dolly Posh xx