The reason this outfit is having a public display of affection is because this is probably the most public My Style outfit shoot I've ever done. There were people looking for sure which definitely makes you feel a little weird but what can I say? This is the time of the internet, you should know the drill by now! I also just really love this outfit at the moment so it should have some affection, right? I hope you like it too!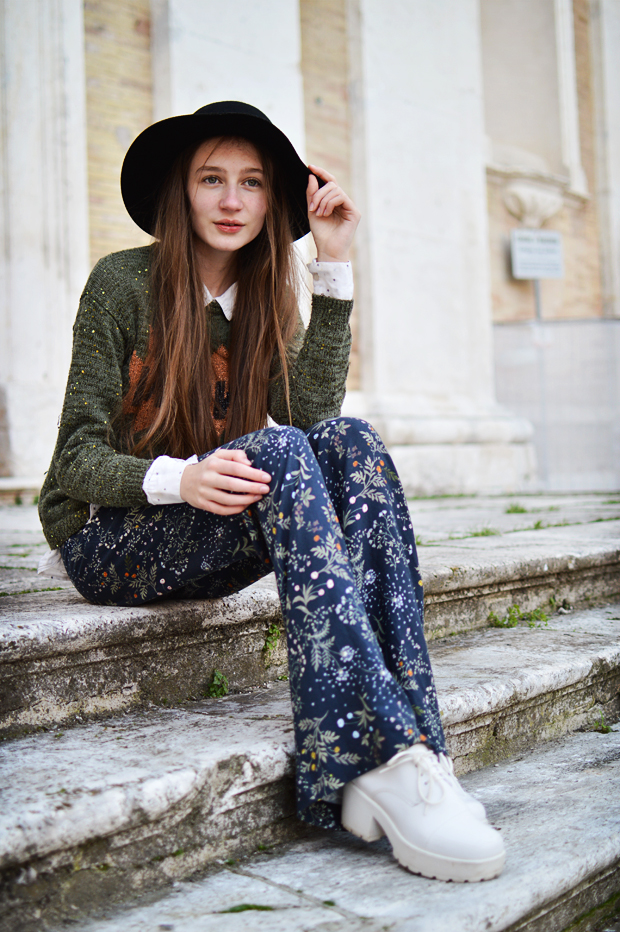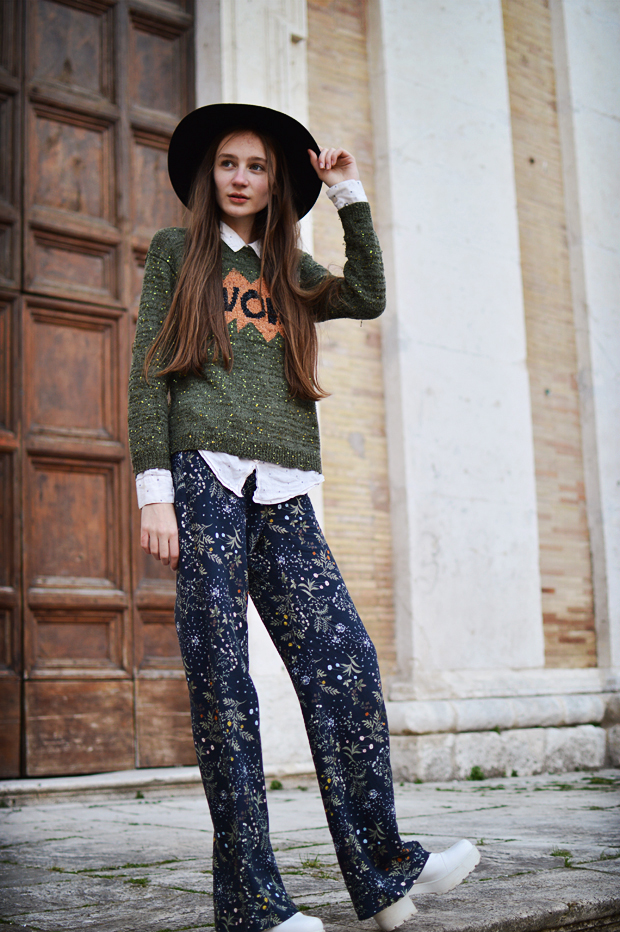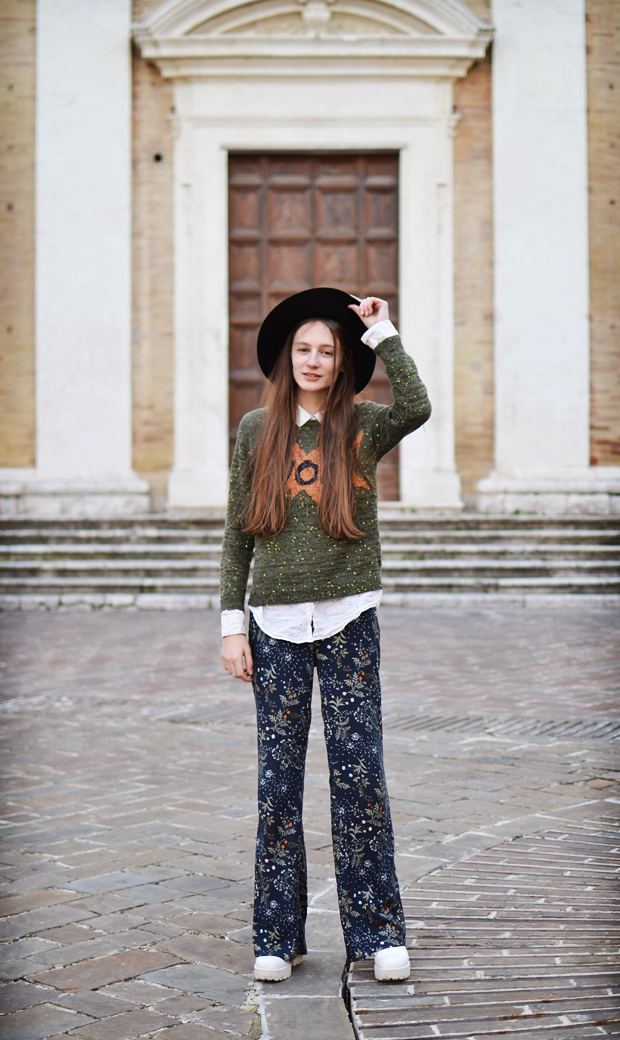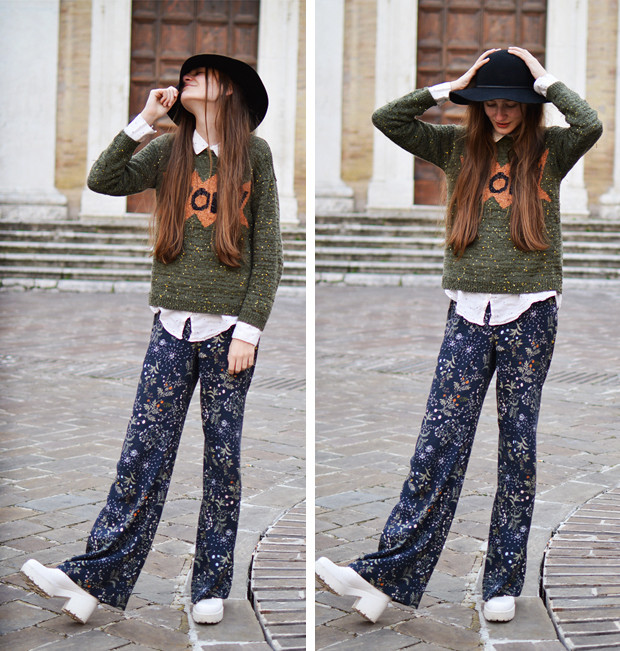 ---
WHAT I WORE: WOW Jumper (River Island Kids – Old) // Maison Scotch Blouse (Jumble Sale) // Valentino Inspired Trousers (Mötivi) // Black Floppy Hat (ASOS) // Vagabond White Dioon Platform Heels (Mastershoe-MyShu)*
---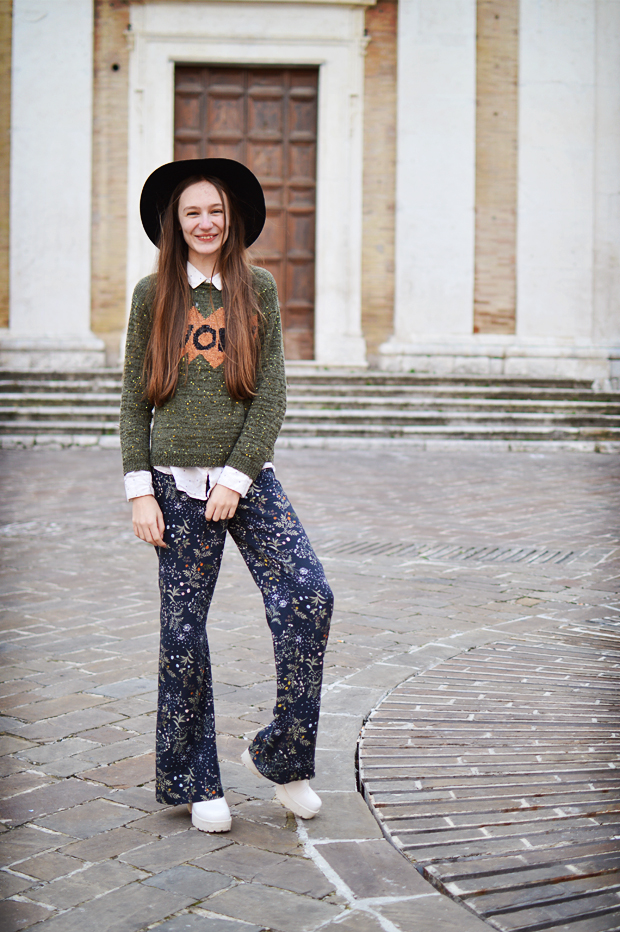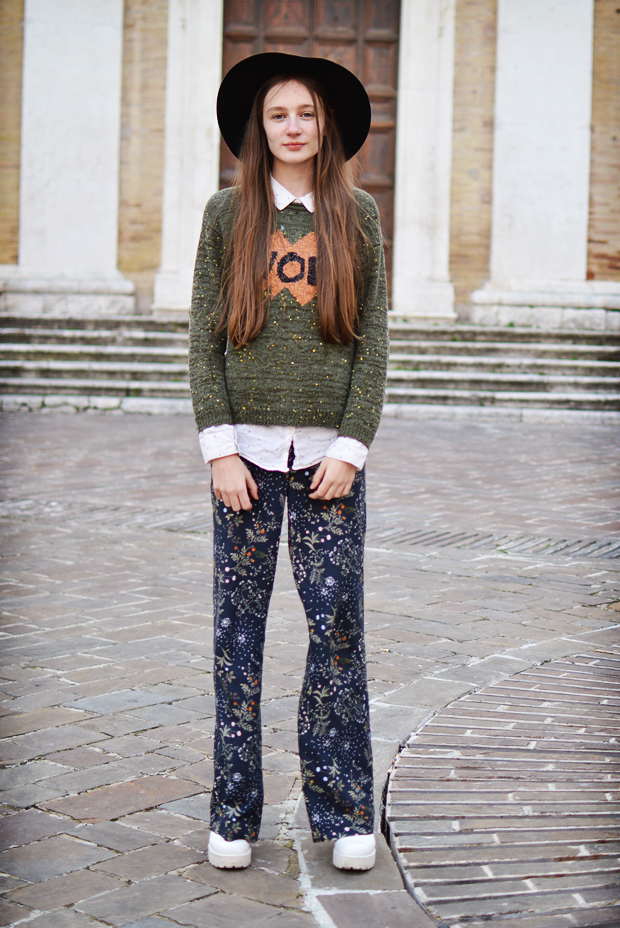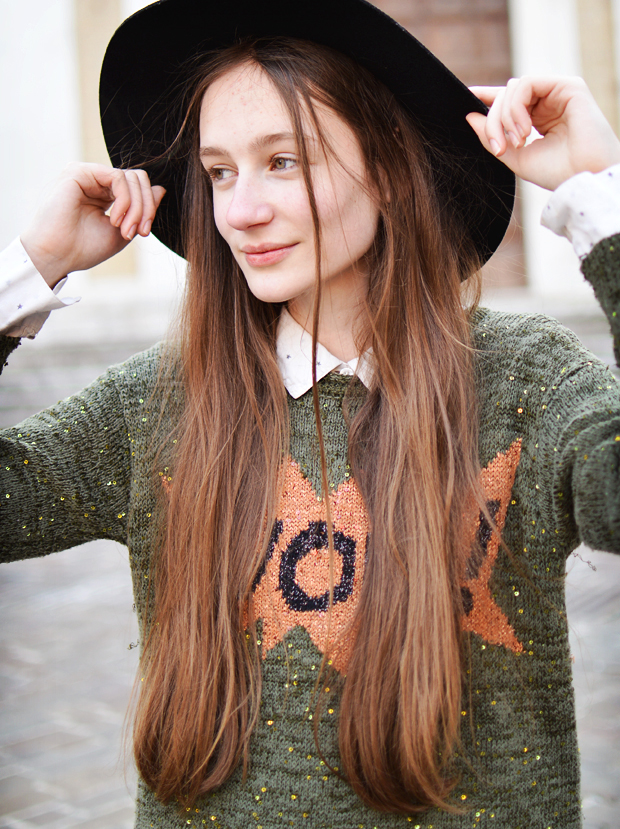 I think this outfit sums up a lot of what I've been wearing recently. I am obsessed with blouses (I now own six – four long sleeve, two short sleeved) and they're perfect for this time of the year where we're not really sure what's going on. It really messes with your mind because you think "Ooh, it looks lovely and warm and sunny today" and then you walk outside and regret your outfit choice immediately.
That means layering is a go to option, especially with sweatshirts and jumpers, which I also have a growing collection of. I especially love this one which I've had for a couple of years now (which you can probably work out due to the very scraggy loose threads around the arms) and it's still going strong. It works perfectly with every style… grunge, minimalist, khaki seventies etc… it's a very versatile piece, surprisingly!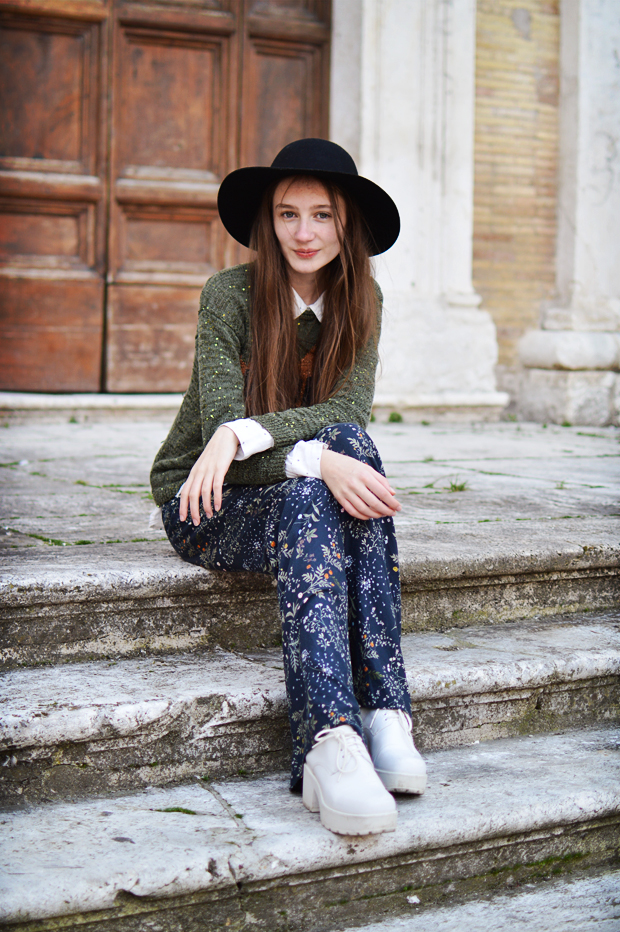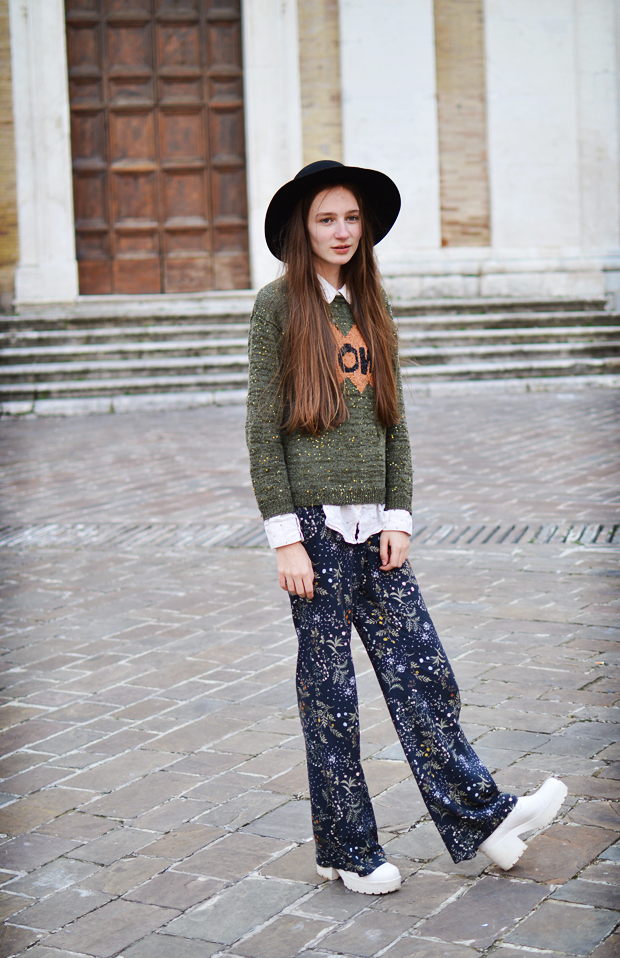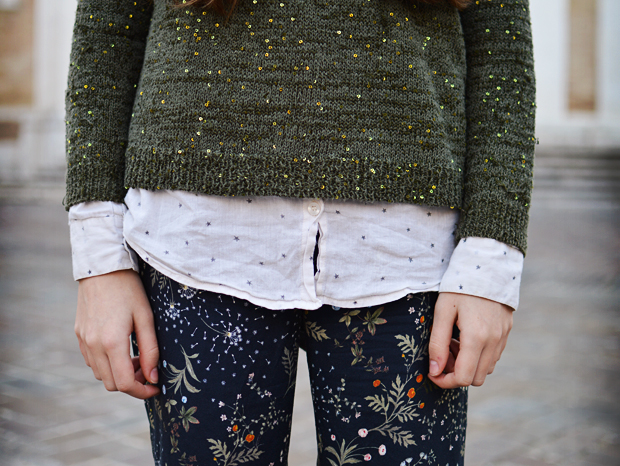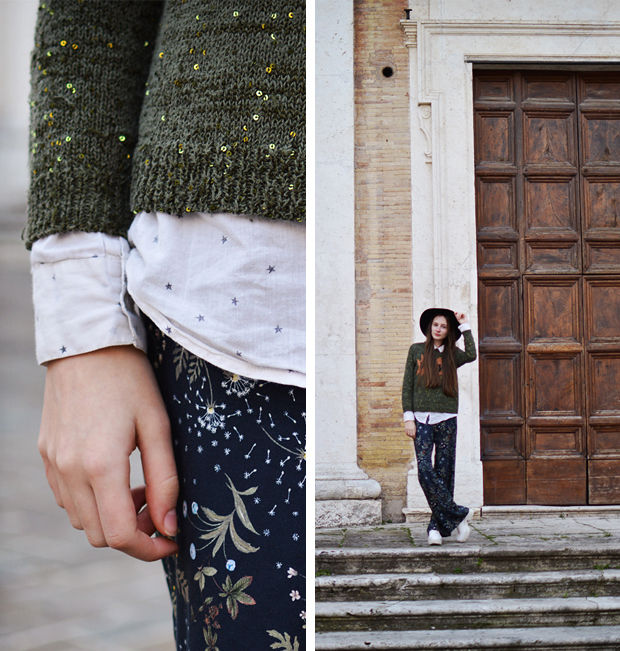 In terms of the trousers, well let's just say…. I AM IN LOVE. They're very Valentino inspired, and although I don't usually gravitate towards knock-offs, I absolutely loved these and I couldn't resist them when they went into the sale. They're so gorgeous and the style fits like a glove. I can also imagine wearing them on a summer evening so I'm sure they'll work perfectly throughout the year.
To complete everything, I usually leave my blouse hanging loose for that kind of casual vibe (it also gives me an excuse for skipping out on ironing…). My hat ties in the black from the jumper, where the navy of the trousers clash and my shoes are just doing their usual awesome thing. Honestly, I only wear these and my Dr Martens. You don't see me in any other shoes at all… no. joke.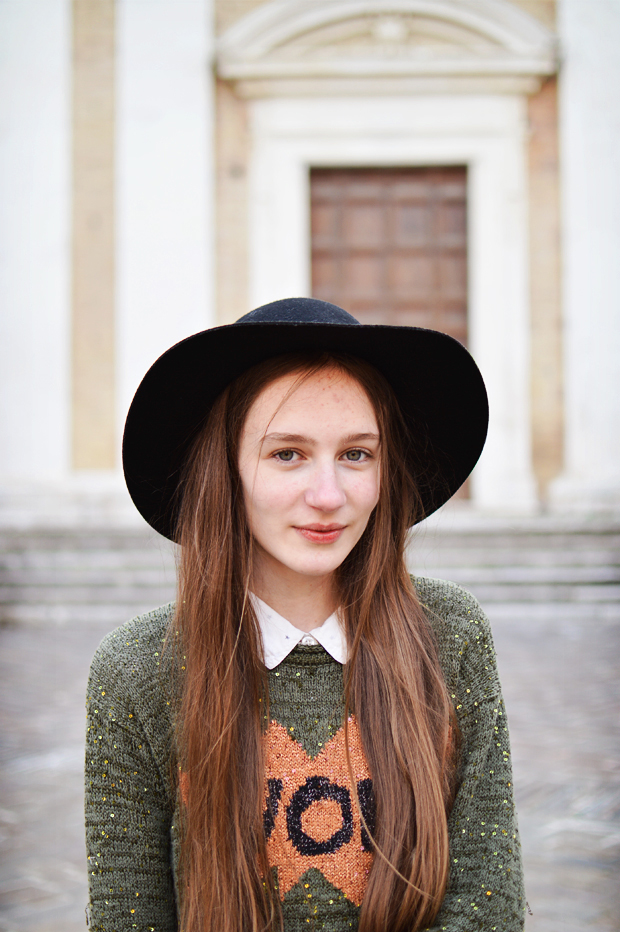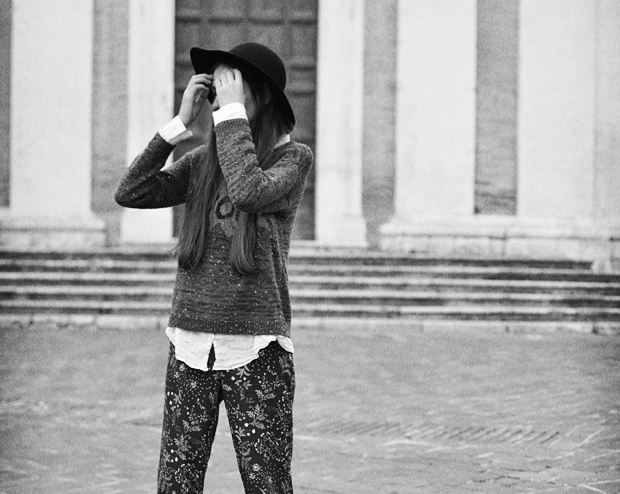 ---

---
To finish off this post, here's a little sneak peek of what I've been listening to recently. I've enjoyed adding these little elements to my posts so far this year and I hope you have been too! I love the "Little Giants" album by Roo Panes. Super relaxing but still some nice sing-a-long tunes too. "Because love's a journey of a lifetime… and where you finish isn't where you start…"
What did you think of my outfit? What have you been wearing recently? Let me know in the comments!
Lots of Love… Tolly Dolly Posh xx