First of all, Happy New Year! This is officially my first blog post of 2016… which also means the first blog post for my 4th year of blogging… crazy! I still can't quite believe 2015 is over, I think it genuinely was the most fast paced year of all time, I mean seriously, where did it go?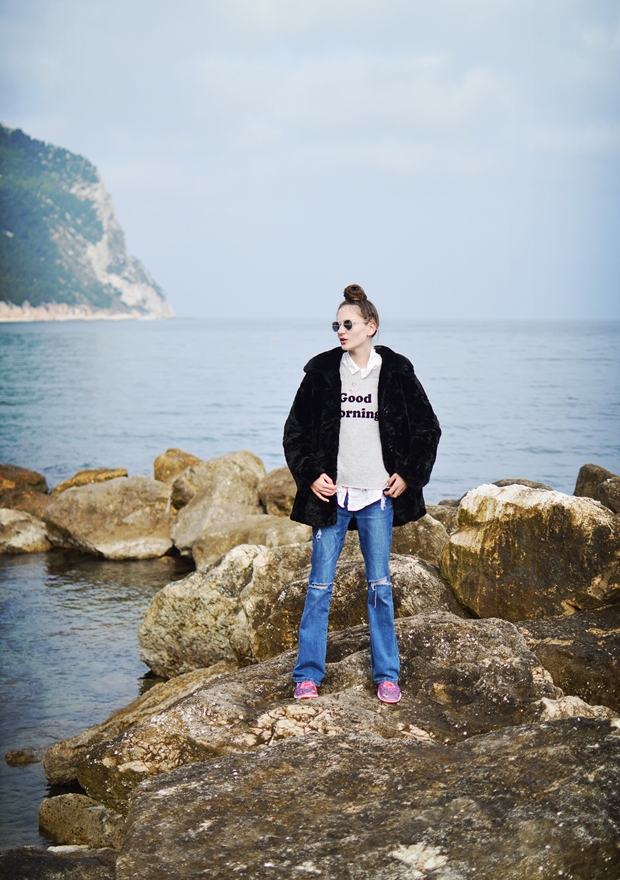 ~ MMXVI ~
2015 was an odd year for me… a lot happened but it's as if I didn't really have the right sort of grip on it all. Like it just sort of blurred past me and then I was like, oh wait, that happened, didn't it? (That probably makes no sense at all, but this is just going to be one of those updatey type posts so bear with people, bear with!) And that's why I want 2016 to be different… I want to be able to actually grasp onto opportunities and realise exactly what's happening.
I want to really just go for it, because quite frankly, I need to. Even if I start with small things, I think it might actually work this year. I've already taken a pretty big step in telling myself that after April, I will most definitely be dying my hair a washed out navy blue… the April part is rather specific as I'm going to be maid of honour at my sister's wedding and I'm not quite sure I'm brave enough to walk down the aisle (um… sort of) with my new-do. But it will happen people! I will dye my hair and it will in some way help me to step up to bigger things. I can feel it.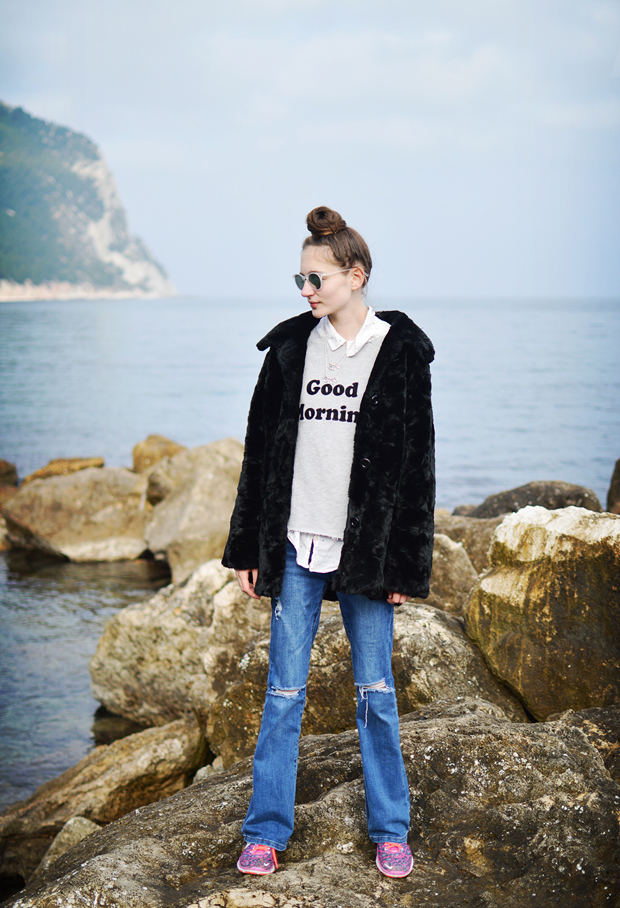 ---
WHAT I WORE: Faux Fur Coat (Jumble Sale) // Maison Scotch Blouse (Jumble Sale) // Good Morning Sweatshirt (Wildfox Kids)* // Ripped Flares (New Look Teens)* // Nike TR Fit 5.0 Trainers (JD Sports)* // Personalisable Necklace (Primark) // Sunglasses (SCOUT)
---
In terms of real goals… I'm not sure. I used to do real step by step goals but now it's just sort of a general aim to get things going. I have a few plans for my blog example, including a new interview feature that I've been working on for a really long time and just the overall idea of extending my content to more intellectual and in-depth topics.
I started to do this towards the end of last year, but things got hectic with #MooiEnLiefbyTDP (oh yeah, I launched a collection last year, didn't I?) and I ended up putting too much pressure on myself… hence my drop in blog posts. After running a site like this for so long, I suppose you set yourself up for expectations when really, the only expectations are in your head. I'm doing this for me after all, right? The added bonus is all of the opportunities and amazing readers on top.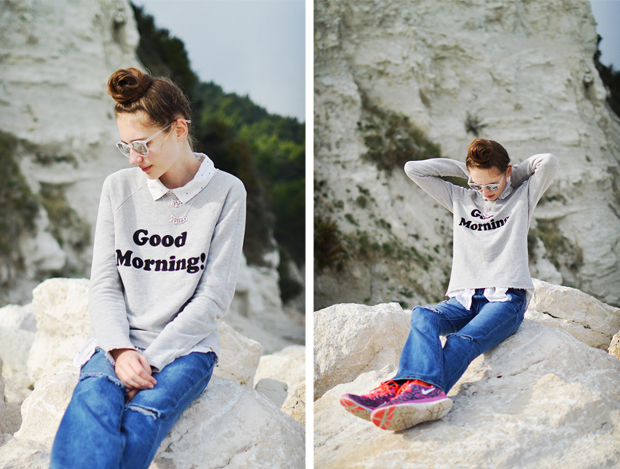 ---

  LOCATION: Sirolo, IT  🇮🇹
---
I'm forever grateful for what blogging has given me and I don't regret a single bit of it. I hope 2016 brings even more to TDP, in whatever direction it takes. I'm thinking I might refresh things again too, so it might not be just my hair getting a change. If I do change things up, it won't be anything too drastic… it's just with my age, I'm always changing and I feel like I've already grown out of my 2014 update (two years is a long time for a teen, just sayin')… so who knows. We'll see!
As for you, I hope you stick around and that you all have an even better year than the last. You're all awesome and I absolutely love being able to chat and converse about things we all love and enjoy. Who knows, maybe we'll meet in person this year? There are endless possibilities waiting for us… I guess it's just about going out and grabbing them.
Good luck you crafty jack rabbits… 100 brownie points if you can point out that reference. 100 brownie points if you can't either, because you're all equally awesome.
Lots of Love… Tolly Dolly Posh xx