So let's start off by saying that this outfit probably seems quite different to the sorts of styles I featured in my aesthetics post… yes, it is quite different but firstly, it's still rather retro with the seventies bohemian edge, but secondly, currently, this style is sort of the opposite side of the coin. It's simple, with very little to it, but the print and style of the dress make-up for the lack of texture etc. You'll see… you'll see!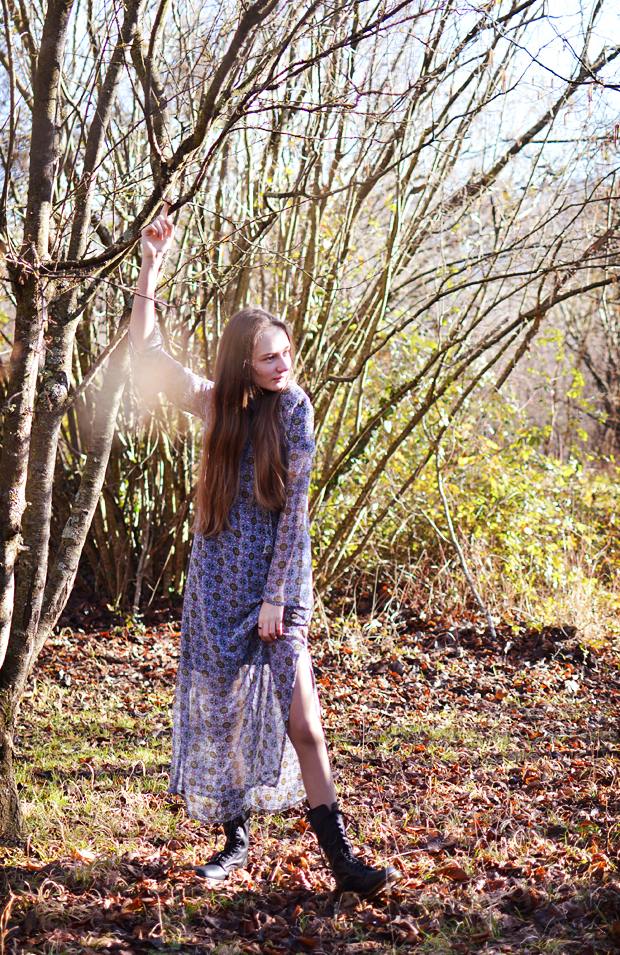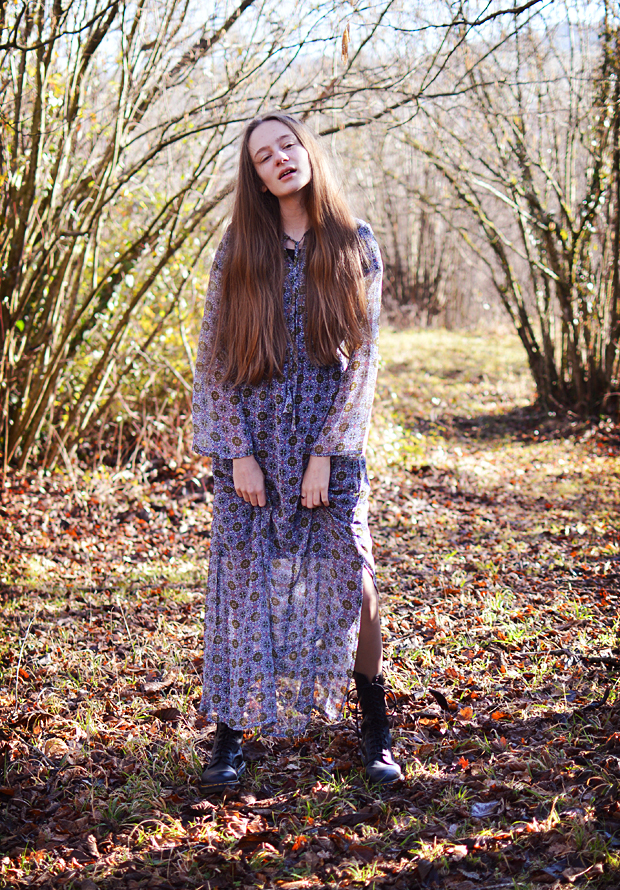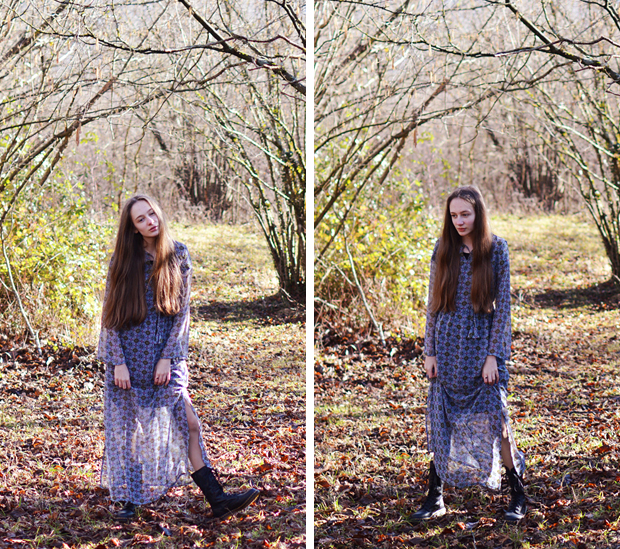 ---
WHAT I WORE: Geometric Maxi Dress £13.00 (Spiritual Hippie @ ASOS) // 1B99 Dr Martens 14 Eyelet Boots (Mastershoe-Myshu)* // Ring (Unknown – Mama Posh)
---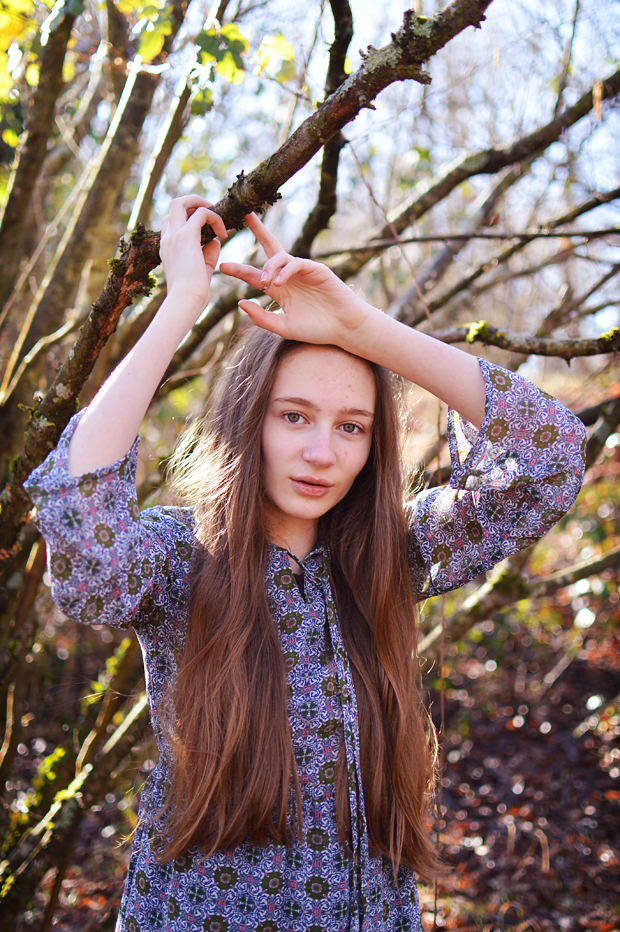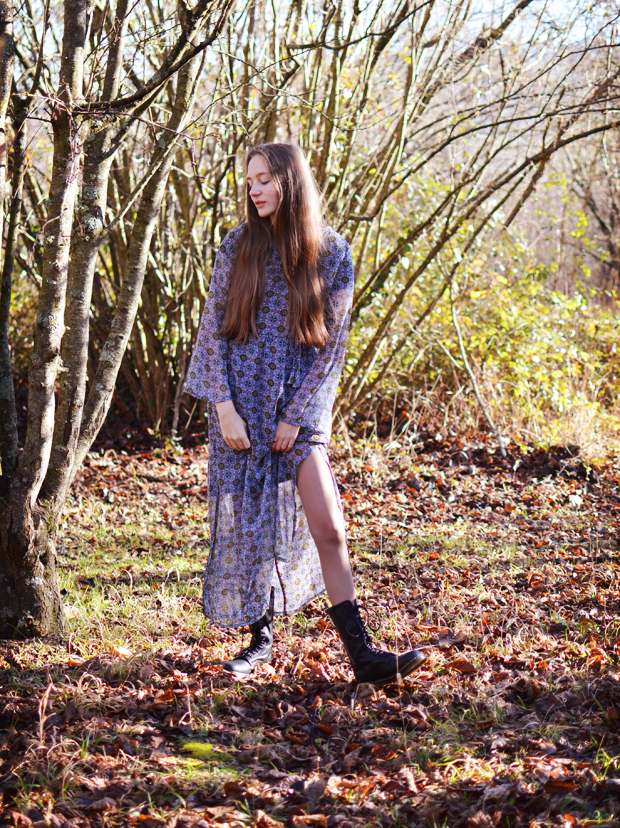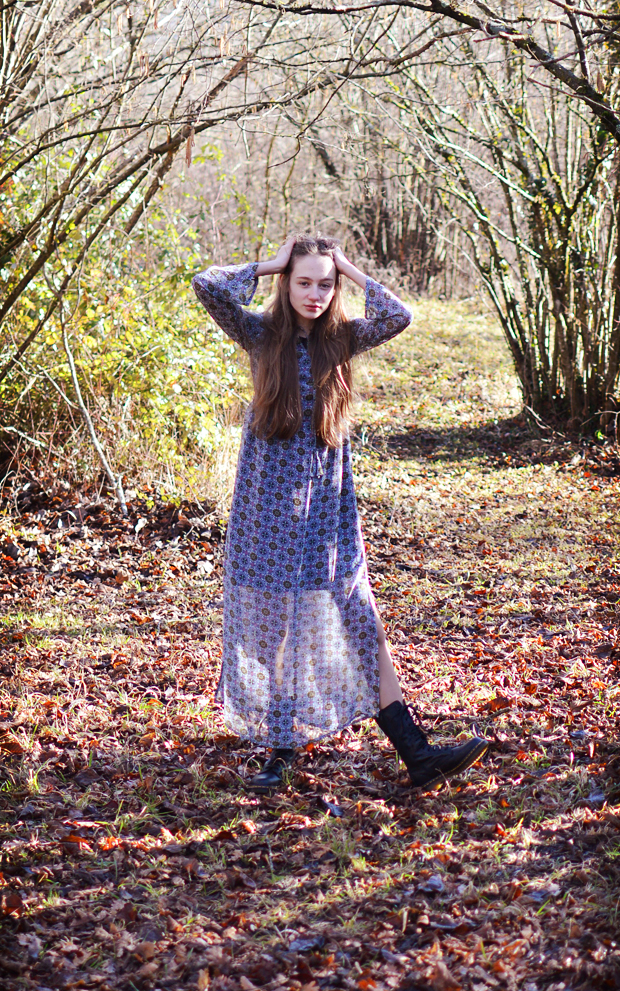 I'd had my eye on this dress for a while, so when it dropped down to a more reasonable price (for a teen), I knew I had to pick it up. As you've probably gathered from my previous outfit posts, I'm not really a huge dress wearer, so it's quite unusual to see me so in awe of one… so this one of those rare occasions for sure!
It's slightly brighter than on the website, but I don't mind that because it's blue, and I wear a lot of blue. Although the print is gorgeous, I can't get over the fit and loose style. It's going to be perfect for all year round… I mean, you could 100% pull of this look in summer time… maybe swap out the DMs (unless you're feeling brave… your feet may boil) for some sandals and take off those cheeky little skin-coloured tights.
It's a grown-up dress too… because I don't own many dresses, it's nice to pick out ones which are slightly more mature and real staples that I know I'll have in my wardrobe for a long time. Ugh, I just love it. The splits too… I love a nice split!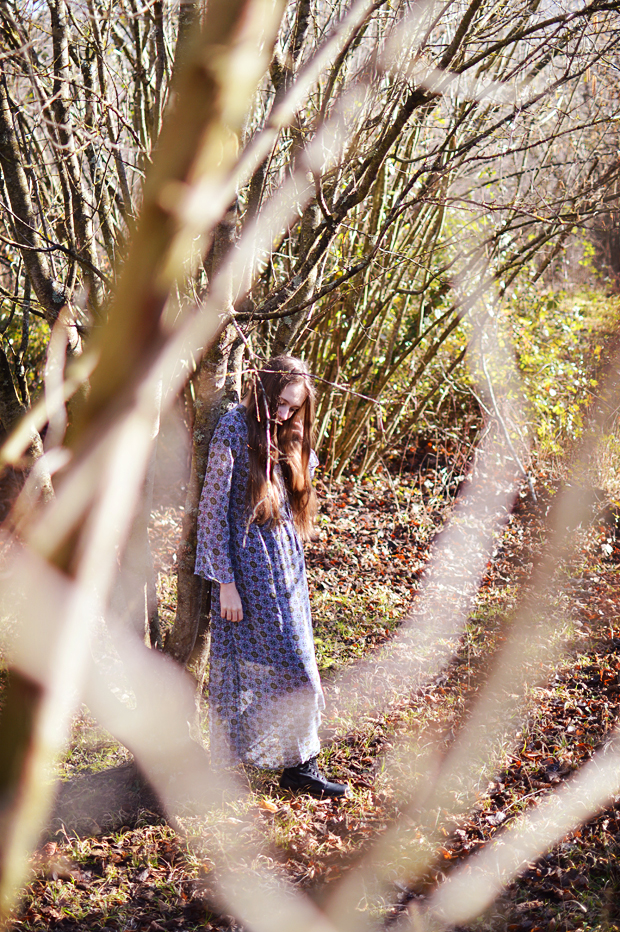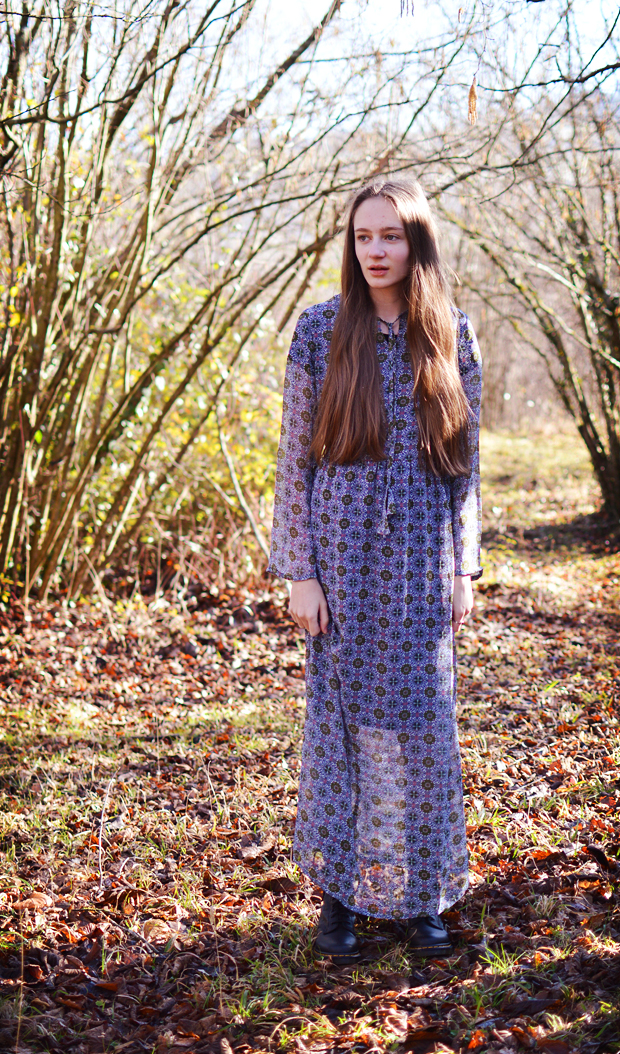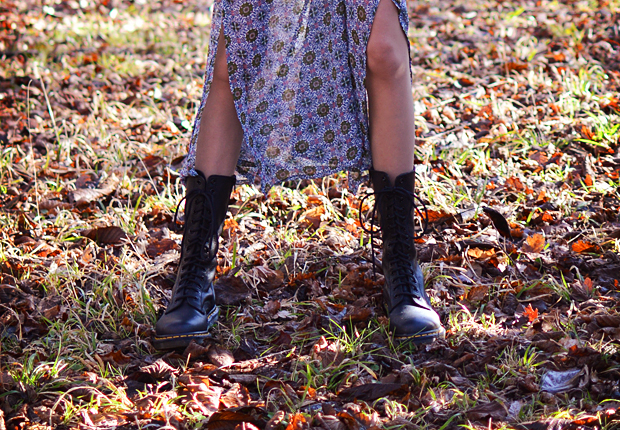 I can't talk about anything else than this dress. It's just not possible…. so I'll talk about a different aspect just in case you're interested. Yes, it's made in India. But actually, this is one of the very few non-ethical/sustainable purchases I've made in quite some time. I picked up some trousers from Mötivi which were made in Italy (I was very happy when I found this out), and a jumper from Pull & Bear which was made in Portugal, and most of my other new additions to my wardrobe have either been gifts or second-hand.
I'm pretty chuffed, and as I've mentioned in previously, I personally think it's more about quantity over completely changing your shopping habits. Take small steps, and you'll get there.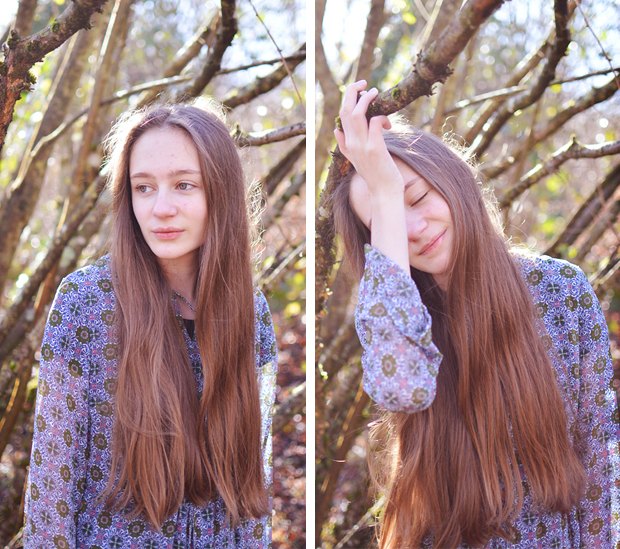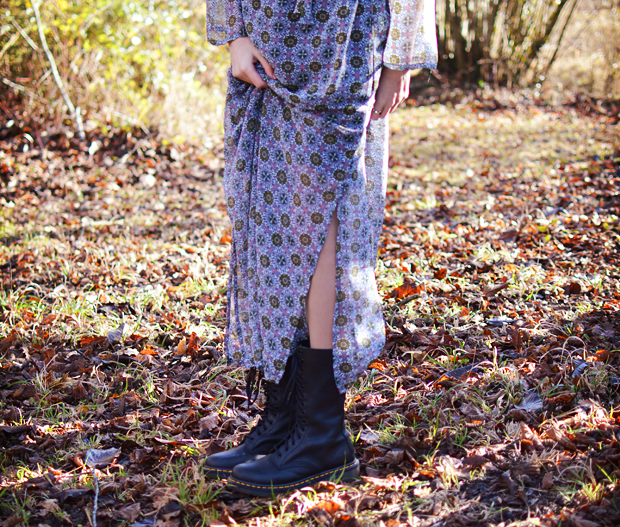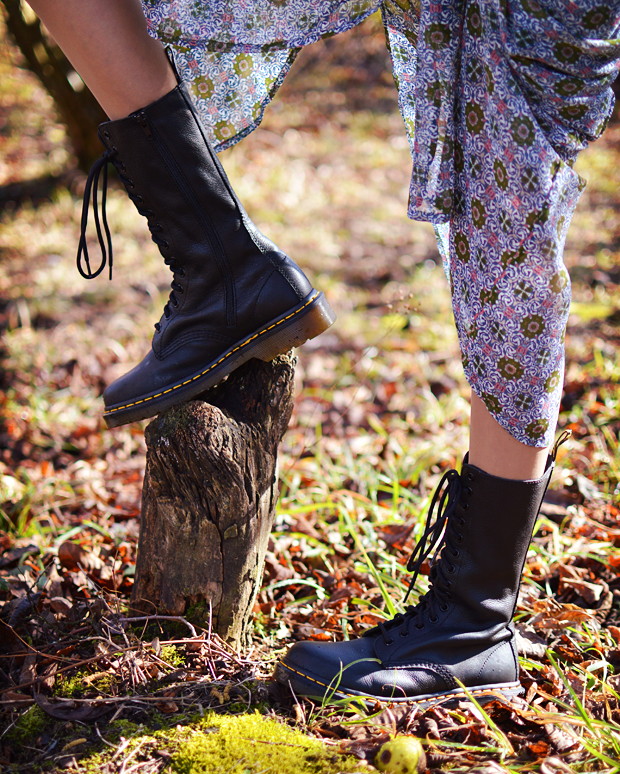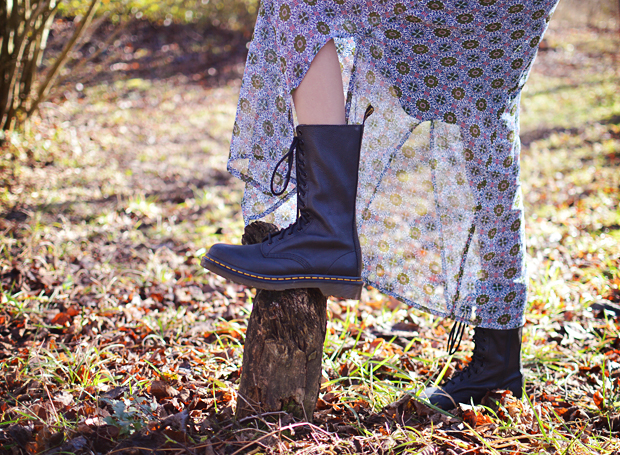 ---

---
Of course I can't forget to mention these shoes though. I officially have three pairs of Dr Martens in my collection (four if you count the pair that don't fit me anymore, on my display shelf) and I couldn't be more happy about this addition. I've had my eye on this pair for a while (I tried them on in a shop a while ago and they fit like a glove) as well as the classic cherry red DMs which the Italians seem to love, but I think I'll wait a little while until adding them.
This pair are the the 1B99's which have 14 eyelets and hit me about mid calf/mid shin. I was tempted by the knee-high DMs, but surprisingly these are actually a lot higher than just the usual 6/8 eyelet boots. For those of you who stay away from higher boots due to being thin, I really wouldn't worry about these as although they have a little gap on me (mind you I am super small), they fit perfectly without any problems.
Overall I love them and they match my dress just as I had imagined (I basically bought this dress just to pair them up), and I can't wait to style them up with shorts in the warmer months. I would 100% recommend them if you're a Dr Martens fan and are looking to add a different style/shape to your selection.
---
What do you think of this seventies bohemian inspired outfit? What sorts of things are you wearing at the moment? Leave a comment to let me know! 
Lots of Love… Tolly Dolly Posh xx