So, whilst I've been having a bit of a blogging low, I've actually been working behind the scenes on something that I think you guys are going to like! I've been asked a few times what ethical brands I recommend since I've started talking more ethical fashion, so I thought why not create a list of all of them?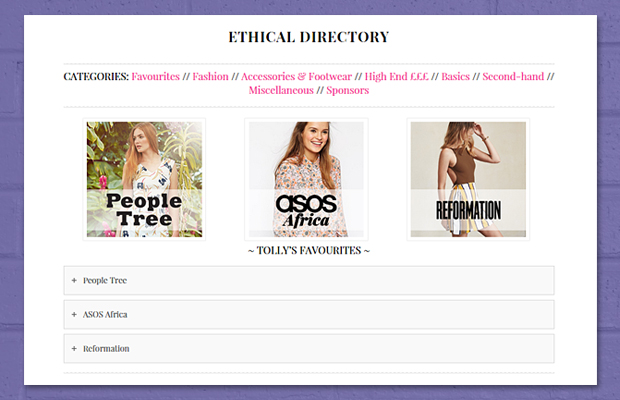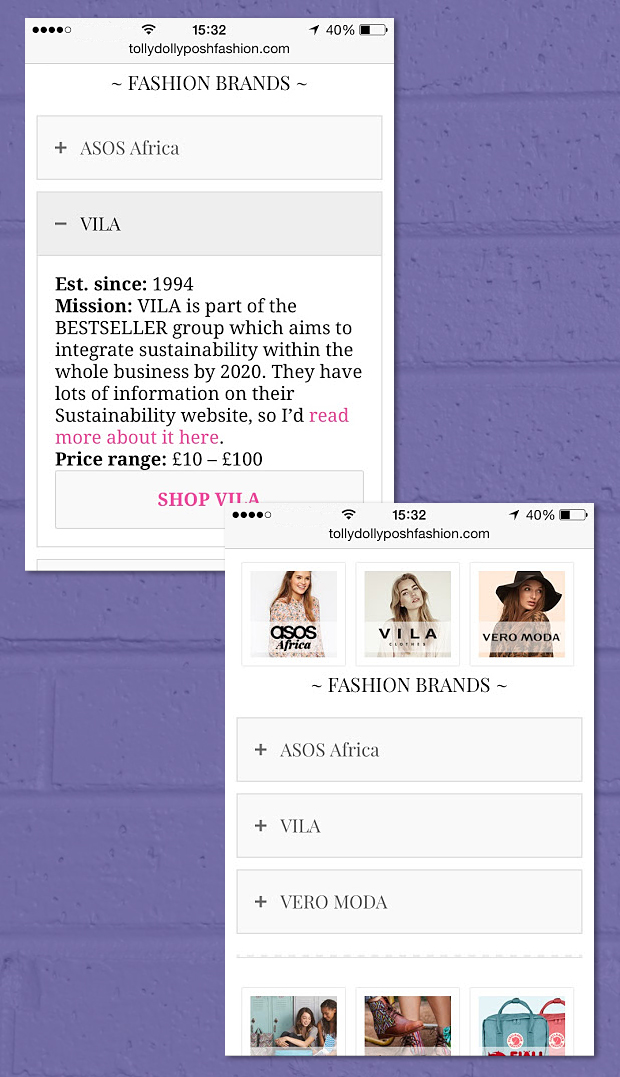 Dah-dah! I've created an Ethical Directory. A list of brands that I've discovered that are all giving back in someway or another, whether that be ethically, sustainably, or both! Some of them I've known for a while now, and some of them I've only just discovered since working on the list, but either way, I'm sure you'll enjoy having a browse.
I've devised the directory into 7 categories, and they all have handy links so you can get to each of them easily. Have a click on these if you want to go straight to it…
---
---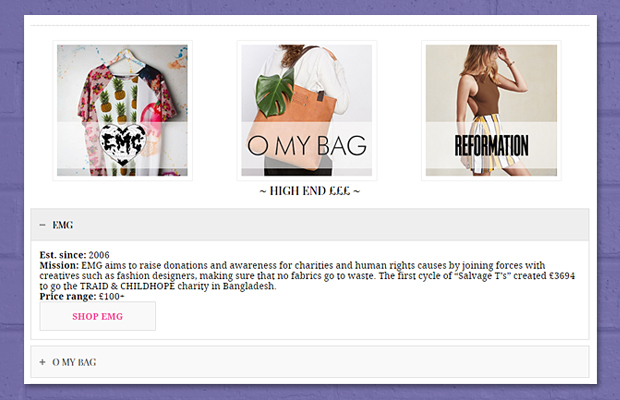 So far, I have 3 brands/designers per category, which I know doesn't seem like much, but I thought it would be a good, organised, base to start from. There are 3 images displayed which point to each brand's website, as well as 3 drop down toggles which have basic information and another, easy, clickable link. Price ranges/dates maybe rough, but I've tried to be as clear as possible! 
Some of the brands maybe 100% ethical and sustainable already, and some brands may be on their way, but hopefully this gives you an idea of what is actually out there and makes you start to think before you buy! I really hope to expand the directory and hopefully, you can help too!

~ GET INVOLVED ~
If you want to get involved with my new ethical directory, then click on the banner above (or this link). Follow the link to a tweet, and add in your brand name/Twitter handle. I'll have a peep through the hashtag, #EthicalTDP, and if I find any brands or designers that pick my fancy, I may just add them to my directory. How does that sound?
So, what do you think of my new ethical directory for fashion brands? I really hope you like the idea and that you get involved with making it grow! Don't forget to comment any ethical brands too; I'd love to know of some more…
---
Are you a brand who wants to be listed in my Ethical Directory? Head over to my advertising page to learn more. I'm currently offering a small, limited amount of features.
---
Lots of Love… Tolly Dolly Posh xx