So this is a rather different post… it's only partially fashion related and I have never posted anything like it before. I'm actually going to let you read a bit of my personal creative writing. I've always been one for sitting down with a pad of paper and pen, and just writing. No typing involved here my friend (well… other than this post)!
Here's hoping that nobody loves this enough to want to copy it under their own name… which I highly doubt because I have literally no idea if it is any good… or if it makes sense to actual fasion-y people… So anyway, the following snippet is from Chapter 1 of my little story/novella ma-bobby called 'Type Right'. It's about a lady in her late twenties who writes for a fashion magazine and is all over the place with her work, family and now her love life.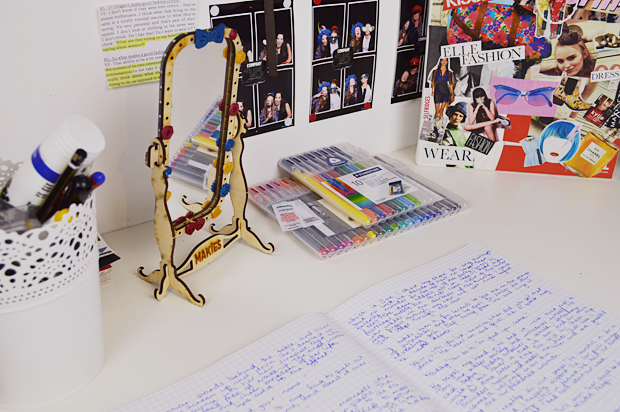 CHAPTER 1
The city in the morning is always my favourite time and place; it lives and breathes the essence of a busy life. The smells are stronger as they start to ooze out of all the buildings and people. Strong coffee pours out of small cafés on every corner, the sound of suitcase wheels bounce around, horns from grumpy taxi drivers cause a symphony of different tones and noises.
My daily routine mainly consists of collecting a cappuccino from Starbucks (which I don't tend to finish due to the fact I prefer tea), then peering into shop windows and snapping away at any new pieces for future editorials (which never get used seeing as the fashion industry is always at least 3 months ahead), and finally scanning my card on the security system inside the doors of 'NICHE' magazine.
The building is always a strong slap in the face of white sharpness compared to the blur of colour you experience in the main streets of London. I'm greeted by the same old face of Annie; Annie is the door-lady/PA to any of us slightly less important fashion writers. If you need a coffee or a pick me up of crunchy macroons, just buzz her!
My desk is cluttered as always, covered in possible cover layouts, magazine clippings and model polaroids.
"Teresa called… she needs you to interview some interns. Expect bloggers and students, they're coming at three, so be at her office at four, haha!"
Toni is my colleague who sits opposite me and works on most of the same pieces. If I'm out she'll take any of my messages or calls, and I'll do the same for her. Teresa is the HR manager. Every six months we employ a new set of interns; usually they're eighteen or nineteen, interested in art or fashion and help stylists or the social media team.
The last set we had were beyond useless, all they knew how to use were those weird selfie sticks for a piece on Instagram celebrities. Mind you, I think it was an intern before who hired them. It was me one day though, I was the one bringing the coffees and getting a tiny credit on the last page. I was young, free and determined. I needed that last push for my CV, or that foot in the door to my favourite magazine. It's one of the best experiences you can experience as an aspiring fashion journalist or even a designer.
---
So erm… yeah! I feel weird to share creative writing on here, and I have no idea how it will go down, but sometimes it's nice to share something a bit unique and different. Do let me know what your thoughts are and if you would be interesting in reading anymore?! Hehe 🙂 Speak soon!
Lots of Love… Tolly Dolly Posh xx