Howdy folks, how you dooooooooing? I'm great, thanks for asking! Today we have the last post in my London Fashion Blog Week series… *dun dun dunnn* It's been really fun to post every other day and sort of a little challenge! Unfortunately I won't be carrying on like this but if you want me to do it again next season, then do let me know! Today  I have a few designs inspired by the collections from London Fashion Week SS15 (that's a mouthful!), and I hope you enjoy… 😀 Please don't copy/use/create my designs as they are my own.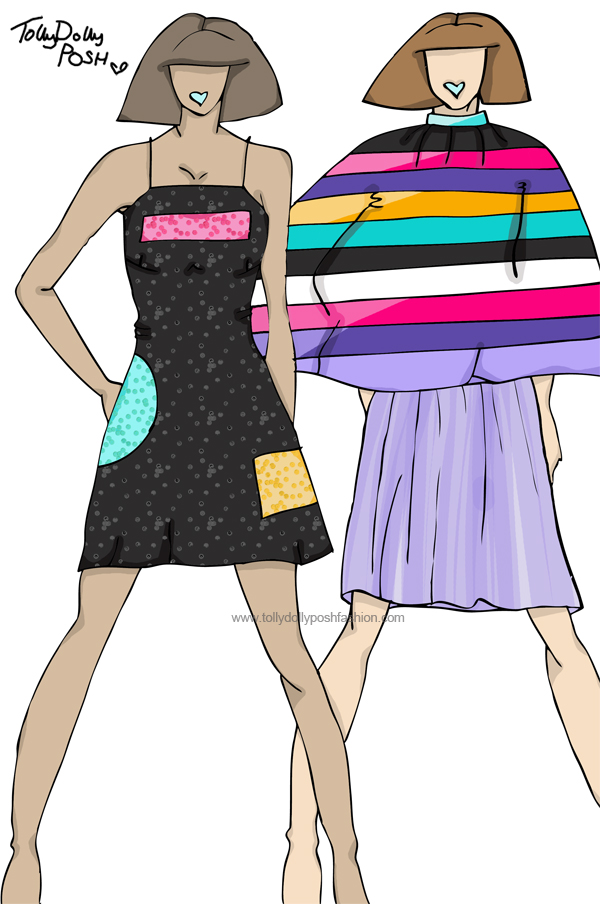 Sequin Colour Block Dress (Left) – 
When watching the live shows I realised that a lot of the 'LBDs' (little black dresses) featured sequins, so I decided to do my own version. I combined the sequins with another SS15 trend, which looks like it will be 'shape blocking'… not necessarily colour blocking, but I think shapes will be a big hit… The dress would be quite short, and just a simple pencil mini dress with spaghetti straps. I think back would be just the same with more colourful sequin shapes. A side zip would make it easy to get in and out of.
Patent Stripe Cape & Lilac Tulle Skirt (Right) – 
Another trend which I am predicting is patent everything… from shoes, dresses, bandeaus and skirts, I believe that the shiny stuff is back… yay! I also noticed that there wasn't that many prints this LFW, although stripes made a big appearance. I decided to mix my love for stripes in general and the patent trend together to create an oversized back-to-front style cape. The back-to-front comes in with the fact that there would be buttons down the back rather than the front. Certain stripes would be patent PVC as well as the high neck. Another reoccurring trend is tulle (you know how much I love tulle!), so the skirt would a light floaty above knee style. You can see it in orange below…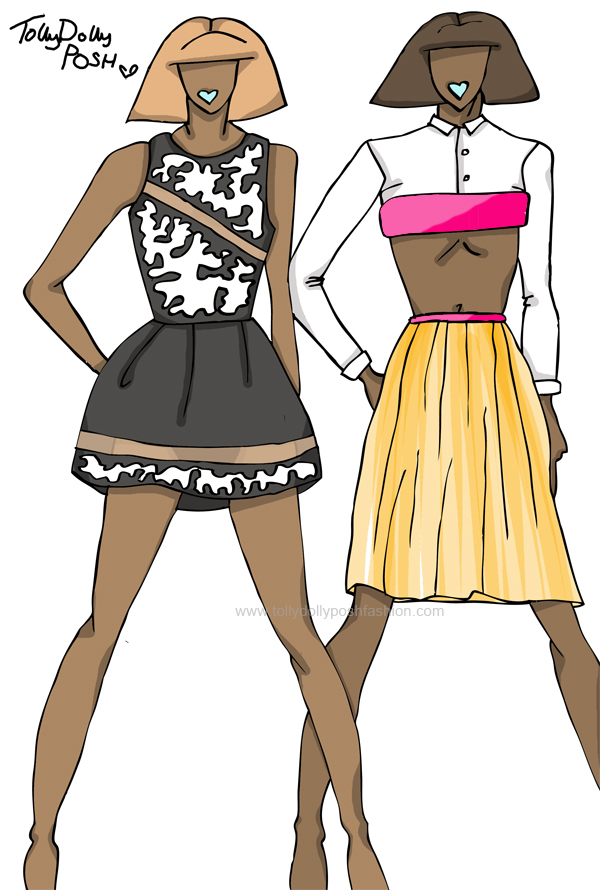 Monochrome Squiggle Dress with Mesh Cut-Outs (Left) – 
Another big trend for SS15, looks to be mesh cut-outs, so I decided to mix that with the monochrome trend for next year (I'm pretty sure that will be one too!) for this cute, rather risky little number. I probably drew it a little too short but you can probably get what I was trying to portray. I actually really like the white squiggle detail… I think it's kinda' cool! What d'ya think?
Crop Shirt with PVC Bandeau & Yellow Tulle Skirt (Right) – 
I decided to another patent piece, with this cropped shirt (part of the tailoring vibe I picked up whilst watching the shows), which is more like a shoulder shirt as it is finished off with a bright pink bandeau (also PVC!) The waistband of the skirt again is my favourite shiny material and tulle like in the other design from earlier on.
So there we have it! The end of London Fashion Blog Week! Did you enjoy it? Let me know in the comments and also let me know your thoughts on these designs, I'd love to know! Speak soon! 😀
Lots of Love… Tolly Dolly Posh xx