It's a good day because London Fashion Week has officially started! I've already watched a few shows and I'm loving it 🙂 You should be too if you read my last post… today though, I am showing you 2 outfits which I think I would wear to LFW. I would probably make them a little bit more WOW by layering but due to product images not always being great I have to make do with these. What would you wear to LFW? Let me know in the comments.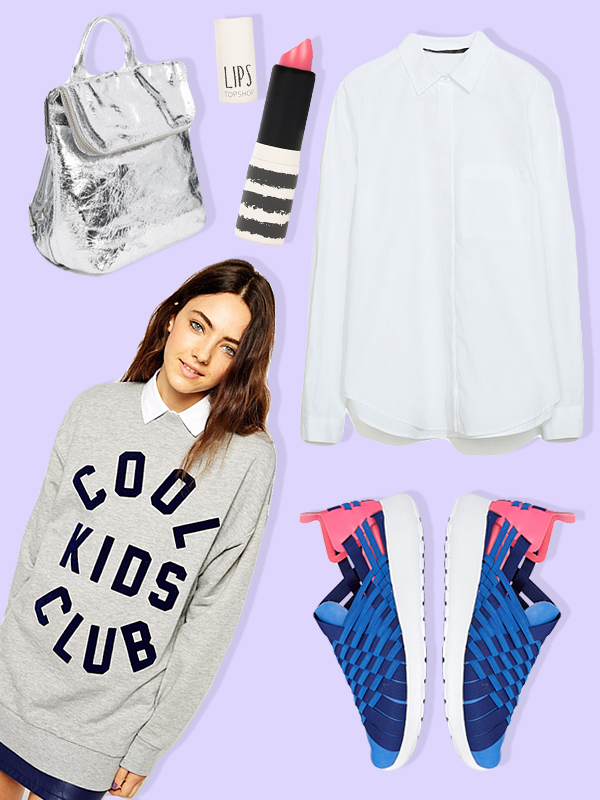 Cool Kids Club Dress/Top (ASOS)//Blouse (ZARA)//Whistles Rucksack (ASOS)//Lipstick (Topshop)//Nike Trainers (ASOS)
I've been loving the sort of preppy chic/simple trend going around and this is why I love this outfit. I've had my eye on the Cool Kids Club sweatshirt dress/top from ASOS for ages and this is such a perfect outfit combination for it. It's still got those elements of something special with the woven trainers which I am pretty much obsessed with, and of course the metallic bag. I'd probably say I'd wear this to the Topshop Unique show because it's always quite a cool and calm atmosphere. I honestly love this outfit, and I think I am going to treat myself to the sweatshirt dress/top when another ASOS code comes my way.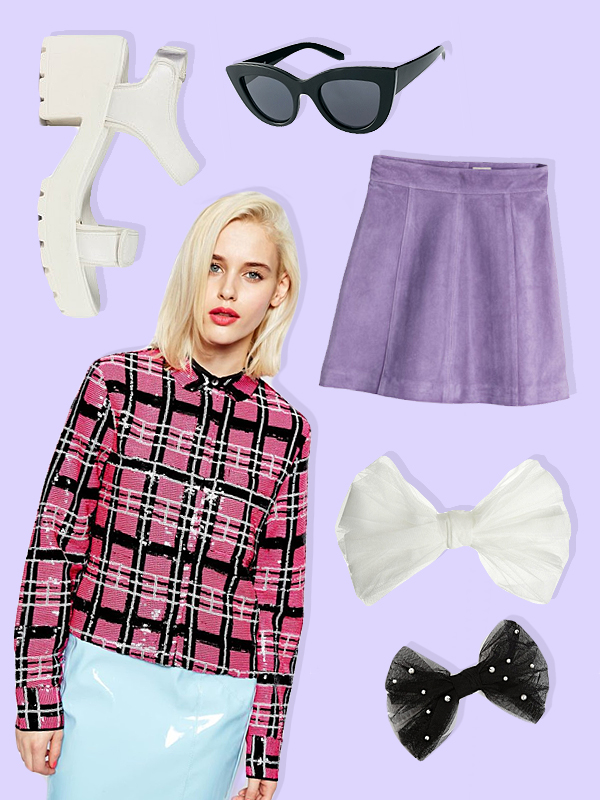 Sequin Shirt (ASOS)//Suede Skirt (H&M)//Velcro Sandals (Daisy Street)//Hair Bow #1 & #2 (ASOS)//Sunglasses (ASOS)
Ever since Ashish's S/S 14 collection, I have been obsessed with fully sequin covered pieces, so this ASOS number is amazing to me. I love the colour *heart eye emoji* This skirt from H&M is also to die for, I love the muted purple colour and the fact that it is suede adds to the whole effect. For shoes I opted for a simple yet chic pair from Daisy Street. I've been loving their site for the amazing range of shoes they offer and these are just gorgeous. I really want to add these to my collection! ASOS have a cute range of hair accessories, so I chose these 2 adorable hair bows. I would usually wear a floral crown but I think these would be a great replacement.
What shows have you loved so far? I will be doing my round-up very soon! The next post will give you a bit of footwear inspiration… stay tuned!
Lots of Love… Tolly Dolly Posh xx