You may or may not have seen on Twitter that sadly my favourite magazine has announced it's leaving the real world for the dark side… aka, the Internet. The matte papered, blogger-loving magazine which is Company, has left the building (or is leaving… in September). So, is it time to say R.I.P to the good old magazine?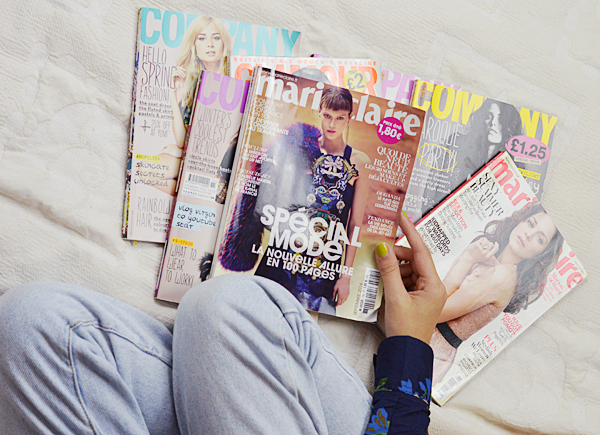 I've always loved magazines, my favourites as a 'kid' (I'm a teen now ya' see), were mainly Girl Talk & Mizz, and like most cool mums, Mama Posh has always had her huge (I mean huge…) collection, – "Don't you dare cut them up!" -. There is something quite satisfying about flicking through the glossy (or matte) pages of nicely dressed people and getting your dose of fashion and celebrity news. It's like a bible of inspiration!
There has always been the negatives though, even before we add in the Internet taking the limelight. One of my biggest hates about magazines is the amount of advertisements that are thrown under our noses. Quite frankly, it's not the airbrushed models that really get on my nerves, it's the fact that quite a lot of the people who buy (fashion) magazines can't afford Gucci or Prada handbags, so why put an ad every 2 pages? In my opinion magazines like Vogue and Elle are just billboards made of paper, with celebrities and supermodels binding them together. I'm sure there are people who agree, which I suppose makes it 1-0 to the web. FYI, I know that advertisements bring in the dough for the publishers…

Not only can readers generally not afford what is offered on these advertisements, they also can't afford it when magazines are more expensive than a nice lunch. I've seen some magazines priced at £15-£20 recently. 2-0 to the Internet. Free content obviously has it's benefits… for now anyway, e-Magazines have rising prices too don't forget!
Speaking of content, bloggers, vloggers and popular sites make magazine content look rather drab. With videos, articles and sometimes interactive features, the Internet provides us with more than we could ever ask for. I believe that there is a great expectation for online publishers to be honest and true to life, yet if magazines are to be a thing of the past, then bloggers etc will fill those jobs and that whole aspect will die. I already see it in my opinion. 3-0.
Unfortunately it's not looking too good for Team Magazine, the only positives seem to be that it is a tradition that we may not let go of for a few more years, or the fact that it provides stable jobs. Being a freelancer is proving more popular, but it's a lot harder especially when you don't know what's coming next in terms of the economy.
As a lover of magazines, especially Company, it is sad to see them loose their charm, but perhaps the online world has something even better up it's sleeves…
Let me know your thoughts, just leave me a comment! I'd love to hear them 🙂 Lots of Love… Tolly Dolly Posh xx