Howdy! I'm back again, with a pretty exciting post! You may or may not know that I recently wrote an article on teen blogging for the blogging magazine (that's a whole lot of blogging), Blogosphere Magazine in their latest Issue #4! I thought I would give you the low down because if I do say so myself, it's a pretty cool issue 🙂 Just so you know, the Company Blog Awards results are in and unfortunately there was nothing for me! 3rd time lucky for 2015? I hope so! Thanks so much if you voted/nominated though, it means a lot! 
Blogosphere is a magazine written for bloggers and by bloggers. From photography to *cough* teen blogging, each issue covers everything you might want to know whether you are a reader or a writer. Don't forget every issue has an awesome cover star and interview, Issue 4 is with Louis Cole, with past issues being covered by Essie Button and Fleur De Force's faces, so you could say it's a pretty high profile publication. They allow bloggers to submit pitches, and mine was one of the few to be accepted! Woop!
Cover Interview (p23) – I never used to really 'get' Louis Cole, but after reading this interview and watching a few more of his vlogs, I finally do. He's so down to earth and generally lovely and doesn't come across as 'fake' as some other vloggers. If you want to know more about how he lives his adventure, I would definitely recommend reading this!
Photography (p63) – I don't follow enough photography bloggers seeing as I love snapping away, and it is so nicely put together! A short piece, but is lovely to flick through!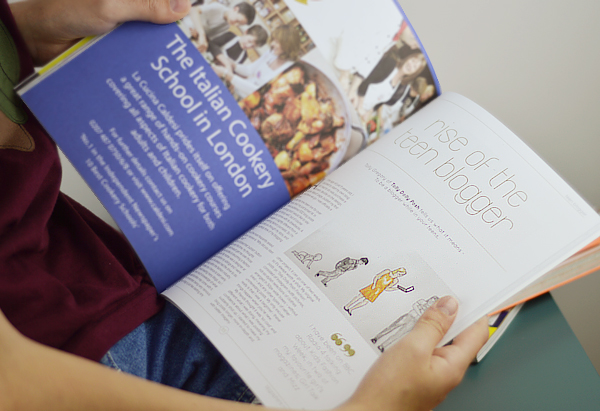 Rise of the Teen Blogger (p55) – Da-dah! The article which was written by yours truly! Pretty snazzy, huh? I decided people need to know the ins and outs of what us young bloggers get up to, and I thought well, why not share it in a magazine? It's a 3 page article (cray cray), where I discuss what I've achieved so far, the pros and the cons, as well as 4 of my favourite fellow teen bloggers. It's accompanied by some of Blogosphere's very own illustrations also! Want a bit of a cheeky snippet?
"Blogging, like anything, doesn't really bring much for a while, unless you know somebody who can get your name under somebody's nose. It wasn't until I was about seven months in that I decided to pluck up the courage to send an email to a brand. I got a reply, and, within the following two weeks, an outfit post on my father's iPhone was published.'
It was really fun to write and finally see it all on high quality paper, with my picture on the contents page. Essie Button (previous cover star like I mentioned) said in one of her vlogs that she was reading the issue… I squealed inside of the thought that she may have read my thoughts… wahhh! Make sure you pick up your own copy here and tweet me your thoughts @TollyDollyPosh 😀
Lots of Love… Tolly Dolly Posh xx