Before I start this new My Style OOTD, I would just like to say how happy I am with my blog right now. I feel very excited about the content I am pushing out and what I have to come. The only thing I would say is that I would love if you guys could give some more feedback! I'd love to know if you enjoy my recent posts as much as I do! It would mean a lot. Thank you guys! Love you all 🙂 Exciting news too… I just purchased some soft box lights for YouTube and taking other kinds of images *gulps* 😀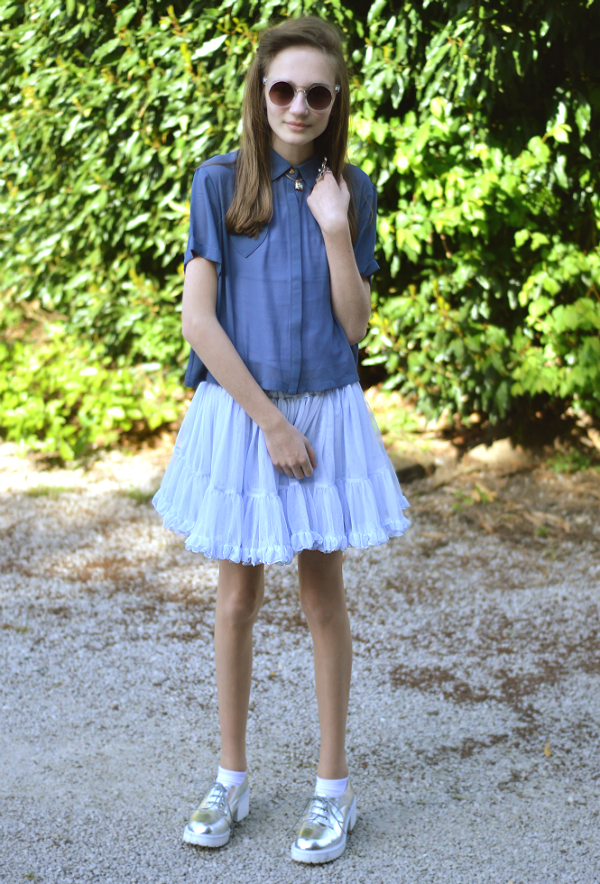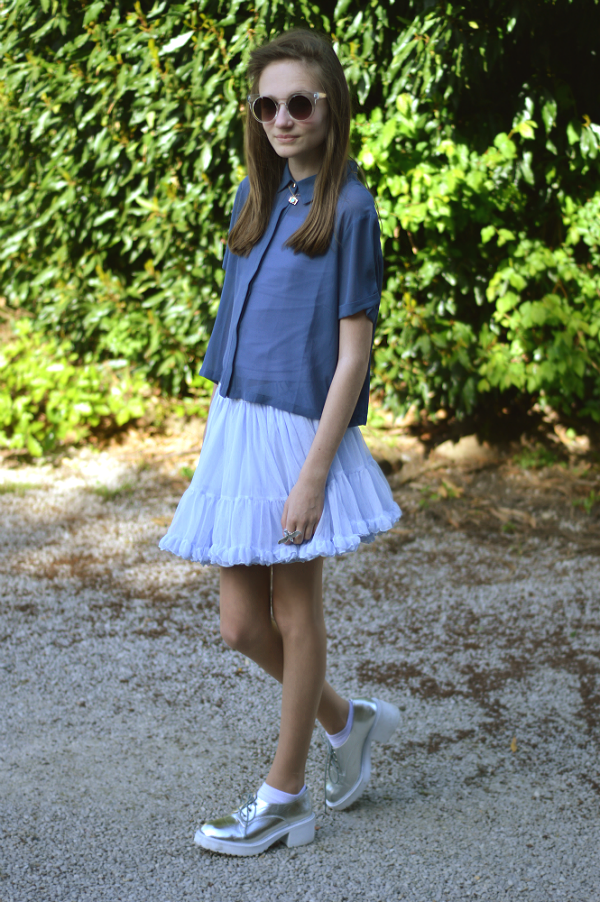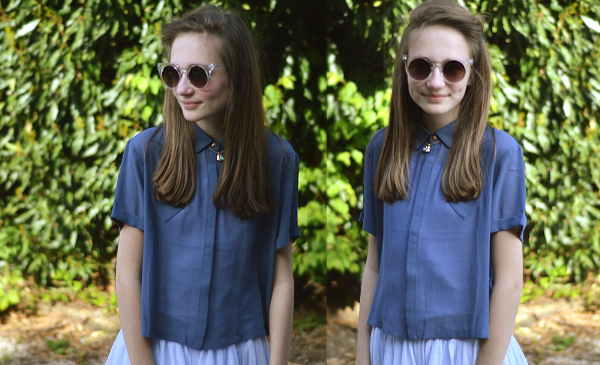 What I Wore: Pretty Pleat Blouse (Sugarhill Boutique)*, Pastel Blue Petticoat Tutu £20.00 (Marks & Spencer), SOLDIER Heels (ASOS), Squared Round Sunglasses (Topshop – Sold Out), Gold Camera Necklace (Gift – Don't know where from!) & Wingspan Bird Ring £5.50 (Rings & Tings)*
As soon as this gorgeous (and sheer – the reason for the vest…) blouse from Sugarhill Boutique arrived, I knew I had to pair it with a light blue skirt. Originally I was going to opt for my ASOS pleated midi skirt, but it was a bit crinkled and I was in a hurry, so I threw on my tutu instead, and I am glad I did! To be honest, this outfit is slightly out of my comfort zone in a way… it's very floaty but I think the way I accessorised it, makes it more me and a bit more funk-ay! The blouse isn't just how it seems though… it has other secrets which I will mention later on 😉 Ooh ooh, I'm wearing my hair how I used to ages and ages ago! I went through a phase of wearing it like this every single day and I'm falling back in love with it!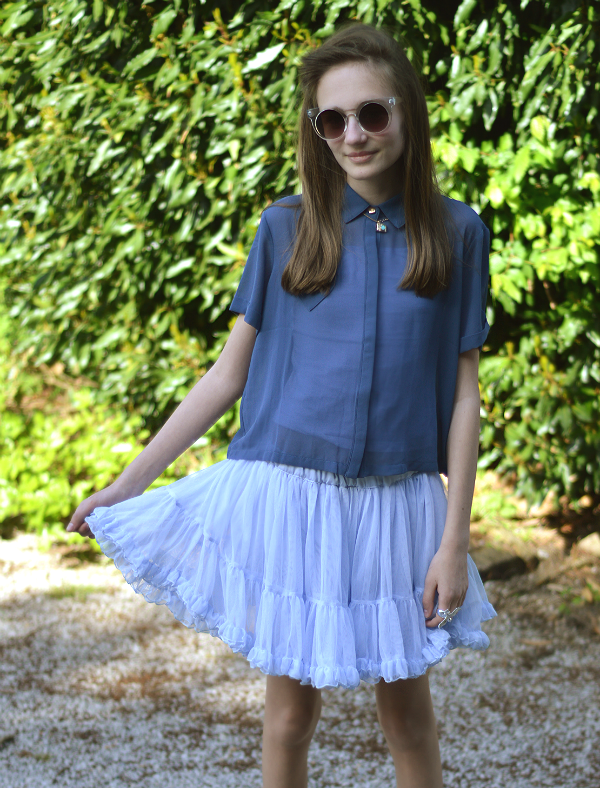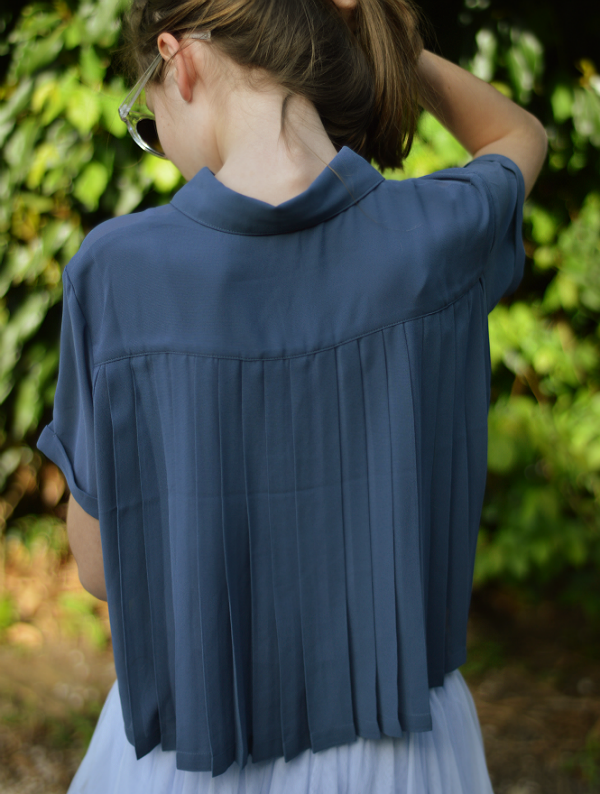 I TOLD YOU IT HAD SECRETS! HOW GORGEOUS?!
It's beautiful! I didn't even realise it was pleated on the back until I took it out the packet. I think it just makes it even more amazing. It looks like a normal sheer blouse from the front (with a cute little heart pocket and matching top button), but then BOOM! A pleated back! As you'll probably know from the amount of times I have said, I'm on a blouse high, and this is such a gorgeous addition. It could be worn in so many different ways, even more casually as the back really does most of the talking. I think when the weather perks up a bit more (saying that, it was beautiful today), I will have to invest in a bandeau because my vest really doesn't make it look particularly amazing… 😉 Unfortunately I cannot wear a 'sex-ay' bra because um…. yup… *cries with laughter*
Let's talk accessories shall we? My beautiful sister (who I can now officially 'plug' because she has her own blog – baby/mummy related) got me this little gold necklace a while back as a present, and I think it is so cute because it has a little camera on (i.e a refrence to my blawg), and it looks adorable with the gold heart button! This outfit was probably one of the first times I have mixed jewellery colours too! I've always thought that gold and silver would look funny together, but I think my ring actually compliments the whole look!
I ordered these awesome (and now sold out) Topshop sunglasses along with two other things (haul coming soon!), after a wish I wished for (ha) got actioned on Crowdwish! If you don't know what I am talking about, Crowdwish is a site where you can post wishes/vote for wishes, and the ones which get the most votes, will be actioned! I've so far got a £30 Topshop voucher, and one of my own personal wishes actioned! Pretty cool huh? You can literally wish for anything as long as you think other people will vote for it too… so don't go wishing for your brother's girlfriend's aunty's granddad's godmother to be able to fly… I wish you good luck on that one! 😉 The sunglasses remind me of the Jeremy Scott wing ones, so I'm really chuffed that I ordered them!
The other day I slipped on my lovely ASOS SOLDIER heels to find out that I no longer fit in them… so I thought. I then realised that I had left the innersoles in them! *slaps forehead* I've been wearing them non-stop this past week, and I simply adore them. ASOS shoes are looking good at the moment! I believe these are no longer available, but if you're wondering just in-case, they're really comfortable and the chunkiness will toughen up any outfit! Oh and can we admire those gorgeous flowers? Such a beautiful array of colours!
That's it for me folks! See ya' soooooon! Only 5 days until the Company Magazine Style Blogger Awards shortlist comes around… let's all keep our fingers crossed that TDPFashion makes it for the 2nd year in a row *crosses fingers, toes and any other 'crossable' body part* 😉
Lots of Love… Tolly Dolly Posh xx