This post is just too exciting in many ways. I'm sorry I haven't blogged in a week (terrible blogger), but I've been waiting for parcels etc etc, but this post should definitely make up for it! First of all, thank you SO much if you nominated my blog in the Company Magazine Blog Awards because… *drum roll* we've been shortlisted for the 2nd year! It would be awesome if you could click here to vote for me! I'm on Tab 8 under Best Teen Style Blog 😀 Another exciting thing is that my soft boxes finally arrived! This is the first blog post using them 😀 Anyway, this post is exciting in itself…
You may remember at the beginning of this year, I did a resolution post (read it here), where I said I wanted to a product collaboration with a brand. Well, let's move down the line, 5 months later, and I've gone and done just that! The amazing people at Makie, a 3D printed toy brand from London, gave me and two other bloggers the chance to create our own outfit and have it sold on their shop. How cool?! It's only small but I am absolutely thrilled to have been part of the project. I feel giddy with pride!
I love promoting innovative brands, and Makie is certainly one of them. 3D printing is something that will be a common household utility in the future, and all the dolls and accessories (excluding the outfits of course) are all printed from a 3D printer. I think it's amazing! You can make your doll look like you, or whatever you want it to look like. They sell lots of different accessories, and now of course, the Teen Couture collection. 2 of my lovely blogging pals, Mia and Lexi, also have outfits which you should check out!
INCLUDED IN THE OUTFIT: TOP, SKIRT, PETTICOAT, YELLOW SHOES & FLOWER CROWN
As you know, I LOVE prints, so my design of course had to incorporate some! I decided on a full panel skirt with an additional petticoat, a yellow high neck, some winged high tops, and of course a floral crown! The prints are inspired by my current loves, including pineapples… obsessed with pineapples!  I also love yellow, so it seemed to right to have a matching top and shoes! I think the outfit really suits my personality and I hope other young girls like it too… or boys of course! It's called 'Posh Prints-ess', because… well… prints!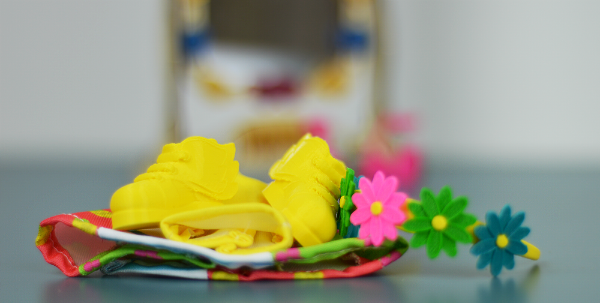 I'm going to treasure this forever. Although it is only a small piece, I would like to say it would be worth a lot in the future… perhaps? It's my first ever product collaboration…. the first ever 'X Tolly Dolly Posh' design. I really hope you go ahead and treat yourself to one. Even if you don't have a Makie doll, you could just keep it wrapped up and make yourself millions in the future… jokes, but you know what I mean! I wouldn't be able to have these opportunities without your support, so thank you, I'm blessed 🙂 I really do hope you like it!
(This is not a sponsored post. Makie sent me the doll and outfit as a gift. I do not make any profit from the outfit being sold, currently. Read my full PR disclaimer here) Lots of Love… Tolly Dolly Posh xx