Hello everyone, WOW 2nd post of the day (first one is here)! If you have been following me on Twitter/Instagram, you won't know that my oldest brother recently moved out, leaving the perfect of rooms for me to have a blog studio! I know it might sound crazy to have a room just for blogging, but I promise I don't just blog in it haha! This post is going to show you round it and a few bits and pieces that I have bought recently! I also made a YouTube video, just to see it in more detail!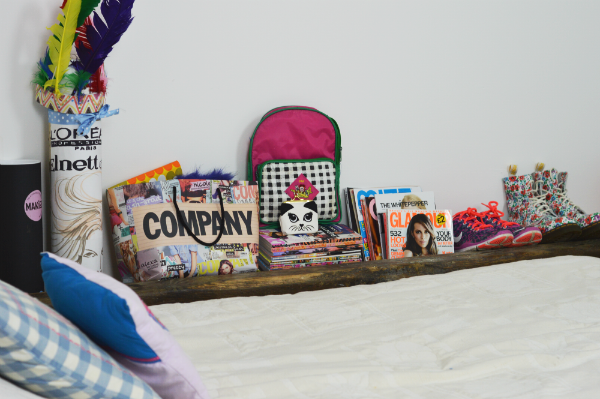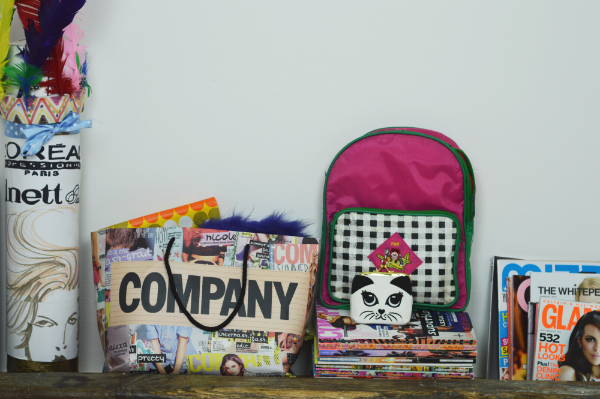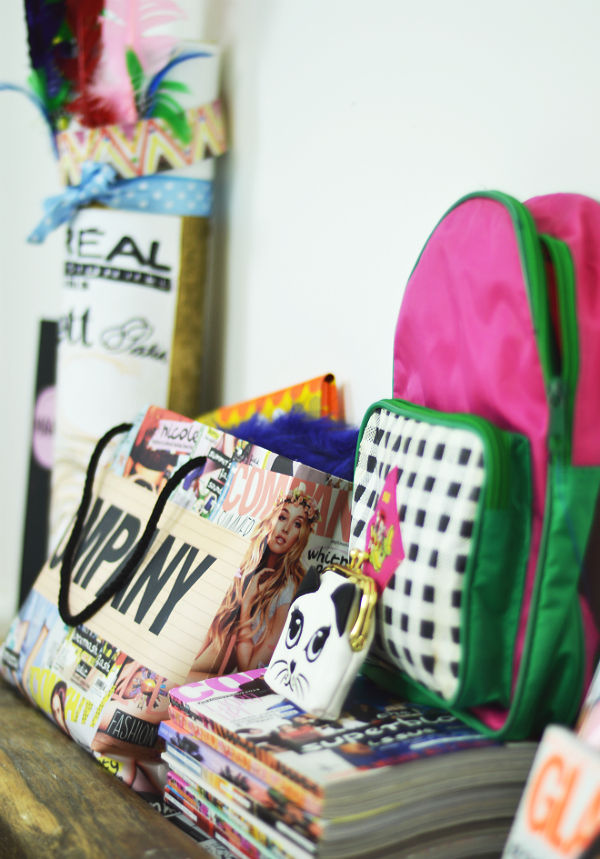 JUMBO HAIRSPRAY (DIY)//COMPANY BAG (BLOG AWARDS)//RUCKSACK (JUMBLE SALE)//PURSE (NEW LOOK)//VARIOUS MAGAZINES//NIKE TRAINERS (JD SPORTS)*//DR MARTENS (MASTERSHOE)*
Backdrop Decor & Bed Area: This is one of the main parts of the room I wanted to focus on. Now I have my soft boxes, I want to start doing more YouTube videos as an added extra, so having a good backdrop space was key. There's a sort of trough against the wall, which is a perfect space for putting bits and pieces, and of course I had to put some of my favourite shoes, magazines and accessories. I think it looks really colourful but definitely still portrays the whole 'blogging room' feel.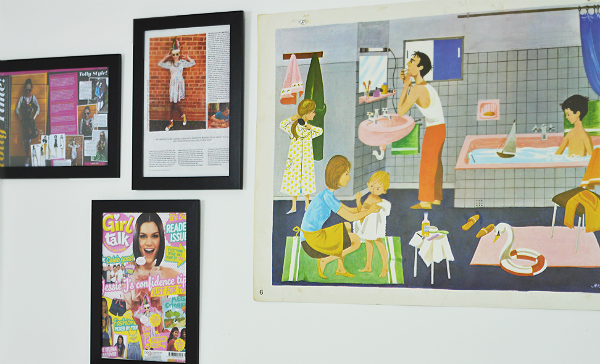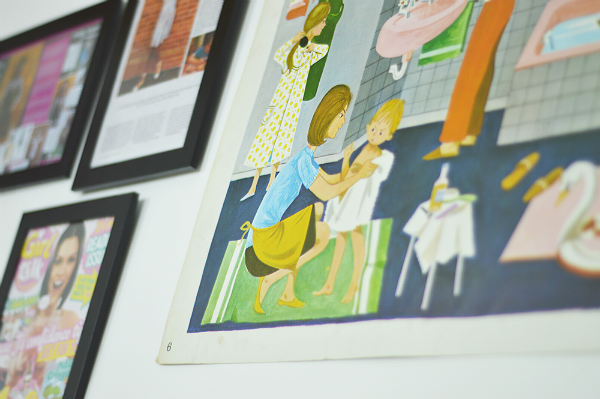 NYTTJA FRAMES (IKEA)//OLD FRENCH PRINT (JUMBLE SALE)
Backdrop Wall: When I saw this print, I was instantly drawn in by it. It has such a nice, fresh, colourful and illustrative feel to it, and it was only 5 euros. It's the perfect size, and compliments my magazine clippings really well. I knew I had to pop these frames up, and they only cost about 6 euros for all three. I would definitely recommend them as they are cheap as chips and aren't too shiny so they don't glare in bright lights – one of the reasons I love them so much for my backdrop!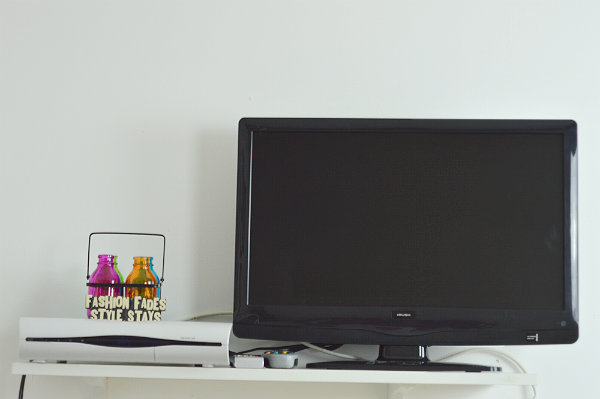 COLOURFUL JARS (JUMBLE SALE)//QUOTE WOODBLOCK//TV & SKY BOX
TV Shelf: Seeing as the room is still being used as a spare bedroom, the TV is staying where it was before. I added a cute little decoration which I stole from Mama Posh (she still hasn't realised… shhh!), and placed my little quote wood block there too. It just makes the shelf a bit less boring and takes the ugliness away from the old clunky Sky box.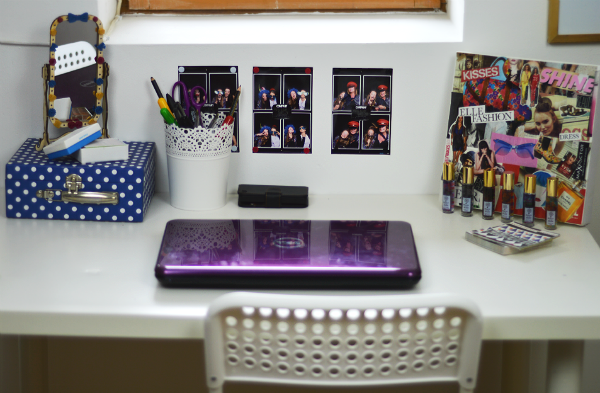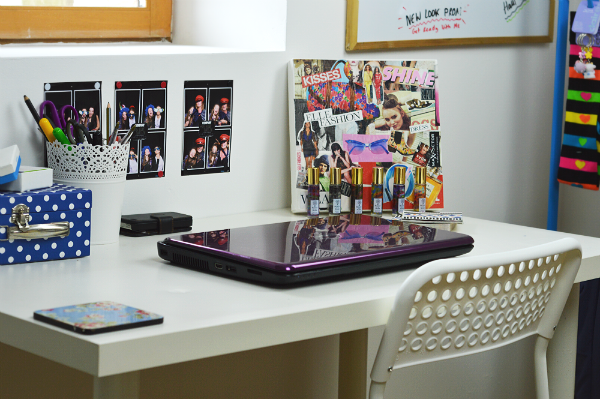 DESK//ADDE CHAIR (IKEA)//SPOTTY BOX//CANVAS (DIY)//MIRROR (MAKIES)*//SKURAR PLANT POT (IKEA)//NOTEPAD (OXFAM)//PERFUMES (MUSIC TO MY NOSE)*//PHOTOBOOTH PICTURES (BLOG AWARDS)
Blogging Zone: This is obviously where the magic happens… or where the blogging happens. I switched my brother's old clunky office chair, for this super duper cheap IKEA chair… less than 10 euros! Don't forget the blogger essential… lace trim style plant pot! I've had this canvas for a while now, it used to be in our living room… slightly out of place, but now it looks perfect! I also love the cute reminder of the Company Blog Awards! It reminds me of why I love blogging so much 🙂 Shame there is no iMac really… one day… one day! The good thing about this area though is that it can be used as a second backdrop! Bonus points!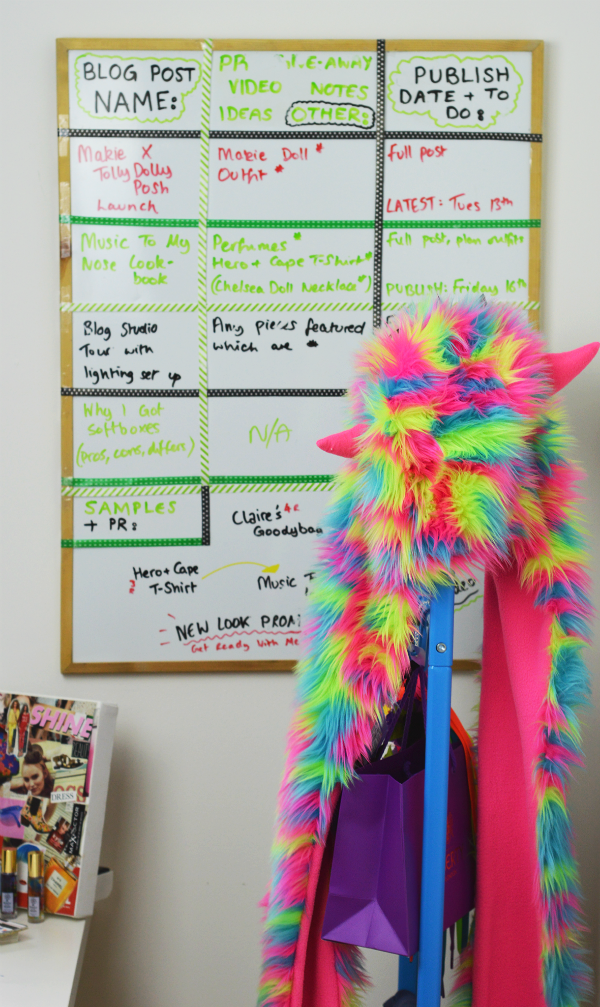 WHITEBOARD (STAPLES)//FRAMSTALA GIFT RIBBON (IKEA)//MALA WHITEBOARD PENS (IKEA)
Blogging Whiteboard: I was going to have to buy a new one of these whiteboards, but my brother was kind enough to leave his for me. Although I use Google Docs to keep my blog schedule updated, this will be super helpful. I can just look up at it and know exactly what I need to do next. I simply taped some of this IKEA ribbon into a grid, and wrote in the spaces! Super easy 🙂 Sneaky peak of my… old schedule haha 😉 I love how the whiteboard pens match the ribbon too… cute details!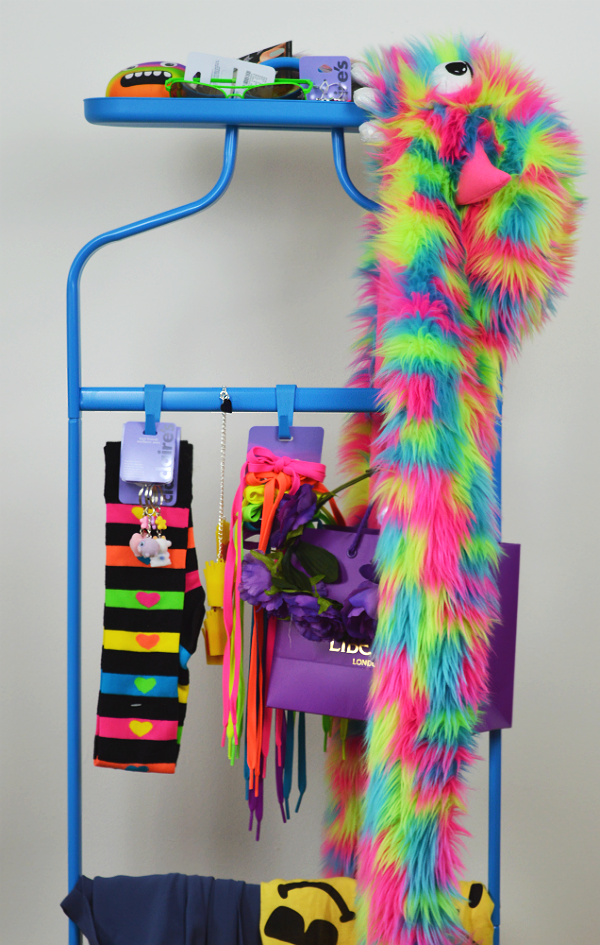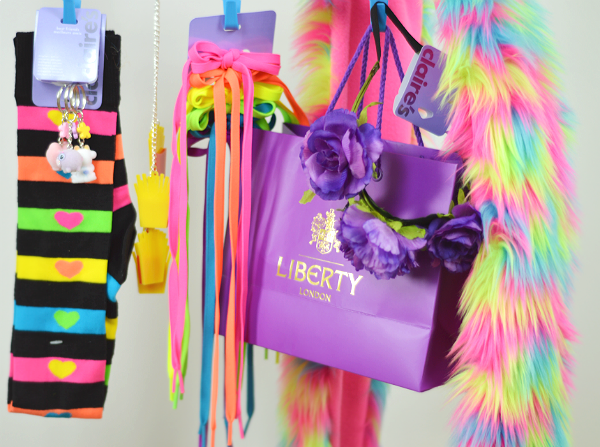 MULIG VALET RAIL (IKEA)//NEON ACCESSORIES (CLAIRES)*//JUNK FOOD NECKLACE (CHELSEA DOLL)*//BAG & FABRIC (LIBERTY LONDON)*
Samples Rail: I hope I don't come across like I am showing off, but I do get sent things as gifts for my blog from time to time (..the things with the * by them..), so having a place to keep track of new pieces is really handy as a blogger. I was originally going to get some hooks, but this little rail is super handy! It has spaces to hang clothes, as well as a space to put small bits and bobs. I love the colour too! They do it in white as well if you're wondering! The one thing I would say is that it doesn't come with wheels! It's super cute though and I can look at all the pretty things on it easily enough 🙂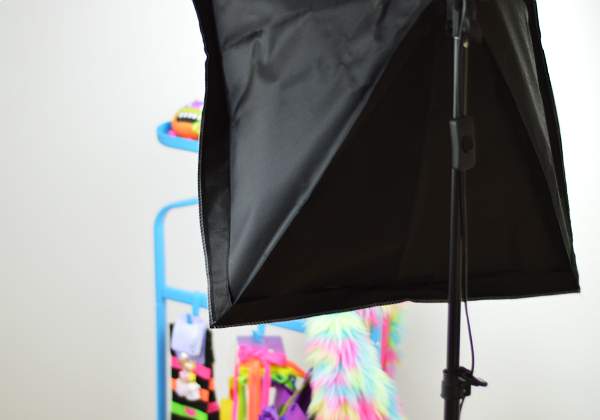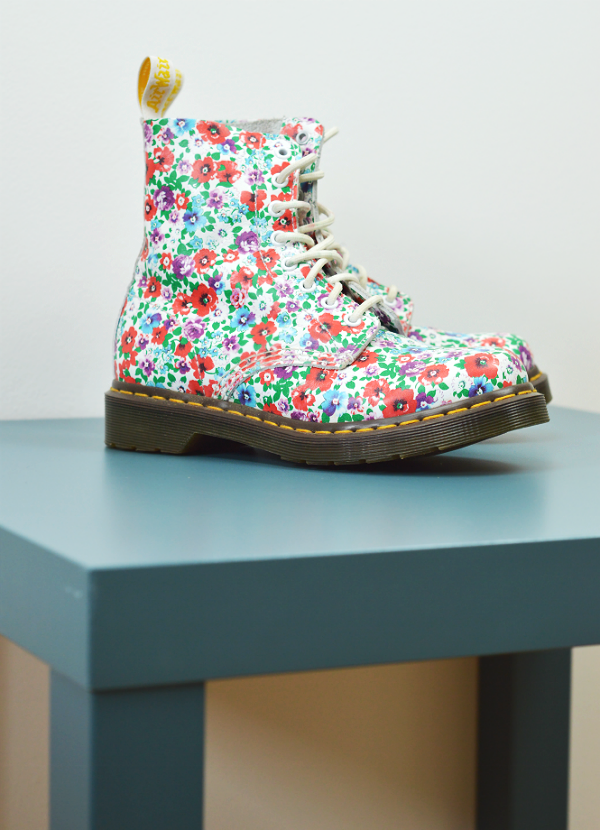 SOFT BOXES (EBAY)//DR MARTENS (MASTERSHOE)*//LACK SIDE TABLE (IKEA)
Photography: As I've already mentioned, I recently invested in some soft boxes. One of my next blog posts will explain why, but I thought I'd show them here too! They've been so good so far, and I'm super happy I got them now! I don't need more clothes… so these sorted that out! Haha! Along with my lights, I picked up one of the IKEA side tables. I never knew they did matte versions, so I chose the blue one. It's perfect for taking pictures of products and makes it look so sleek and professional. I also got some IKEA wrapping paper just in-case I want to swap the blue for a cute print instead. I love the way it looks and I am extremely happy with the colour choice… even after my little panic before paying!
So that's it! That's my blogging room! As I love blogging, I love using it and having the lights up makes me feel extra cool! Haha 🙂 It also makes my bedroom feel much more relaxing than it used to because now it can be my 'chill room'. What do you think of it? What would you put in your blog room? Speaking of blogging, the Company Style Blogger Awards voting end on May 23rd! WHAT?! It would be amazing if you could click here and vote for me on Tab 8! Thank you so much!
Lots of Love… Tolly Dolly Posh xx