What's up people? I actually had to look up other ways to introduce blog posts because I think 'Hello everyone' can get a bit repetitive. Wow, #bloggerproblems at an all time low. Anyway, the actual reason of this post is for me to do my full review of my precious Dr Martens, the 1460 Pascal White Wild Poppy Boots to be exact. I absolutely love them so I thought I would tell you what they are like comfort, style and practicality wise!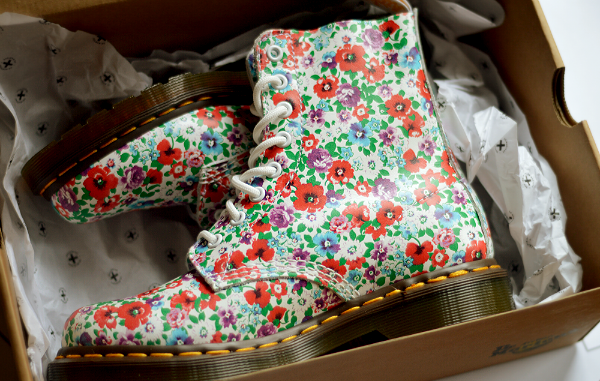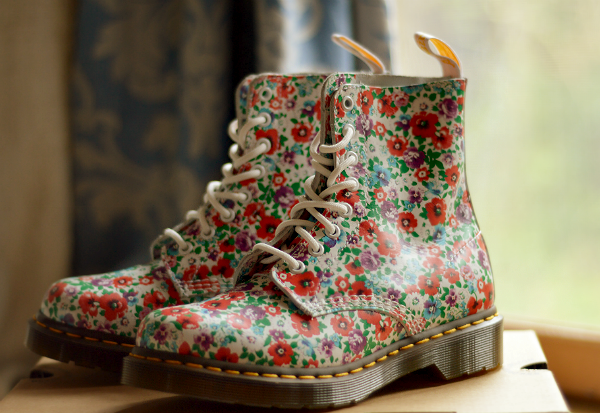 Dr Martens 1460 Pascal – White Wild Poppy £79.99 (Mastershoe MyShu)*
I am obsessed with these. They are literally perfect in every shape and form. They arrived in a lovely box from Mastershoe MyShu, and I couldn't have been more happy! I already have a black sort of grey metallic pair which are perfect and I love them, but these were just the cherry on the top. I got them in the same size as my other pair which is a Size 5 as I do think they come up quite big. I'm more of a size 5½ or a 6, but these fit like a glove. Because they weren't worn in like my other pair, they are SO much more comfortable and I have to say… I would probably recommend getting new Dr Martens than old ones!
The print on these though. WOW. They are honestly perfect. They're like the nicest floral print for all seasons. I could definitely see myself wearing these in the winter with nice thick tights and a plain black dress. They also make me feel like I have stepped out of Tumblr… I think that feeling will grow even bigger when I wear them with shorts. Oh my I cannot wait!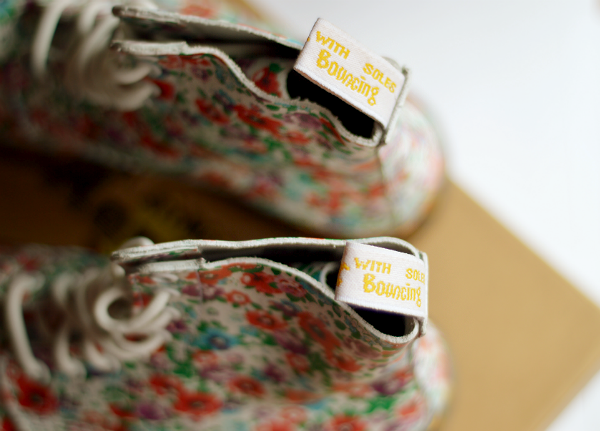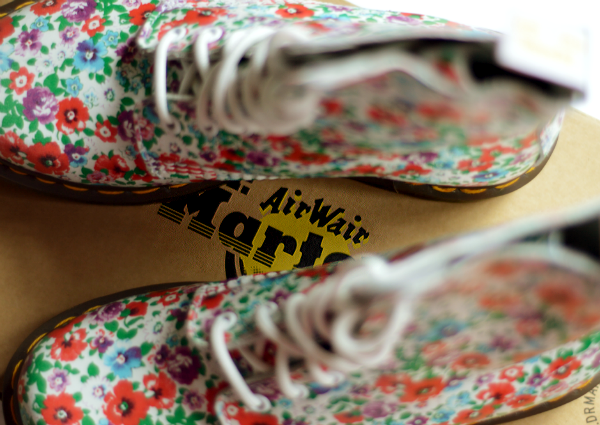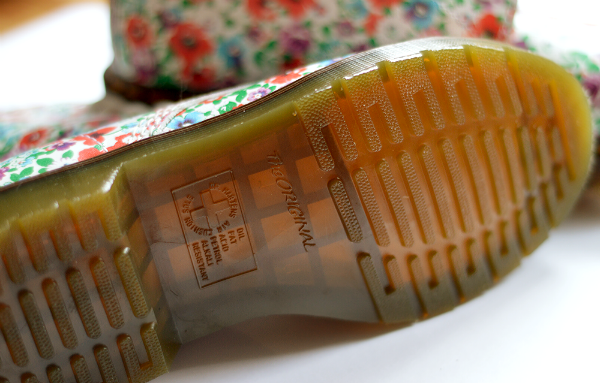 The leather is super super soft, and makes wearing these so comfortable. I'm usually one to say you need to wear thick socks with Dr Martens, but with these, it's probably not a necessity! I get away just fine with wearing sport socks in these, which is good news for summer 🙂 We also cannot forget the 'Bouncing Soles'. These soles are… AMAZING! Honestly cannot believe how comfortable these are to walk in, they are cushioned and cosy. I'm also a big fan of the tag on these, the colour is nicer than the normal black tag in my opinion! …am I the only one who has to have the tag in view when wearing DMs? It just feels wrong not to!
I think I should also talk about price when it comes to these bad… girls…? (In my opinion, these are not male in-animate objects)… I would actually say the price is pretty darn reasonable. Some DMs can hit the £150 mark, so these are like a bargain! For the comfort and style, you are definitely paying for a good pair of shoes, and they are sure to last you a good time! Plus postage at Mastershoe is FREE for the UK, and no more than £10 for the Rest of the World, which I don't think you can say not to!
I thought I would hit on a tip for any Dr Marten bargain hunters. It might seem obvious but when looking for 2nd hand pairs or a good price on eBay somebody might give you a rip off! The way to check is to look at the sole and see whether it has the stamp on the bottom. If not, then you are getting a cheap pair! The real deal is always best 😉

I hope you enjoyed this little review, and if you did, or you have your own opinion on these Dr Martens, then do make sure to leave a comment below! Don't forget you can also nominate me as Best Teen Style Blog here… if you liked this post and all my others! 😉
(This is not a sponsored post. Although I was sent a pair of shoes to feature, I was not asked or paid to write/publish this post. Read my full disclaimer here.)
Lots of Love… Tolly Dolly Posh xx