Howdy! *waves* Today I have another different kinda' post like my last one, and it's all in support of Fashion Revolution as today is the day people! Are you wearing anything #InsideOut? If you are make sure you tweet @TollyDollyPosh and @Fash_Rev with what you are wearing! Anyway, back to the post… P.S There is still time to nominate my blog!

Whilst researching more about where our clothes come from, I found out that Nike had created an app for designers (or everyone in general) to help them make better decisions on what fabrics they use when doing their collections. The App is called 'Making' and you can download it free from the App Store here. It basically shows you what fabrics are best for certain aspects of the process, like power usage, water, waste and even the chemistry behind it. I decided I wanted to use the App to find out which of my favourite pieces of clothes, really should be my favourite.
How did I calculate it? On the App, it gives positions from 1st to around 35th, using these positions, I could make averages which could help me find out what pieces I should really appreciate the most. For a piece which is only made of 1 fabric, I looked at it's positions in each category, added them up, and divided them by the total of categories (i.e an average/mean), and that gave me the average position for that 1 garment. For a piece which is made of more than 1 fabric, I made the averages for each fabric, then multiplied each average by the percentage. So if a piece was 25% Cotton, I would times it by 0.25, then I would do the same to the other fabric(s), and add the totals up! The totals I have, are positions which match to the Nike Making App, so the highest position, will be the best piece in my wardrobe!
NEON EMBROIDERED DRESS (ASOS): 95% COTTON + 5% POLYESTER – ESTIMATE
This is probably one of my favourite pieces in my wardrobe… well one of the newest ones at least. It was such a bargain in the ASOS sale, and I love it! Unfortunately though, the scores didn't make me feel too good about it. For it to be so high on the amount of water it took to make it, and for it too use quite a lot of power, means it wasn't such a great piece after all. Of course, I still love it, and I can't do much about it now, but it's a shame that it really did take such a toll on the environment. Overall Cotton comes in at 21st place (for the 95%) on average, with the Polyester (used for the orange thread) comes in at 1st, which isn't too bad, but that is for just that 5% used.
COMPARING COTTON TO SILK
Power – Cotton uses 69% less Water – Cotton uses 103% more Waste – Cotton creates 6% more
Better option – I can't decide! It's probably 50/50 for this one.
NIKE FREE TR FIT 5.0* (JD SPORTS): 25% RUBBER + 25% EVA FOAM + 25% POLYESTER + 25% COTTON – ESTIMATE
Seeing as I used the Nike App, it would be wrong not to include my Nike Free's. I honestly do love them, and they are super duper comfortable. You can read my full review on them here. Unfortunately I couldn't find the fabric percentages for them, or get an answer quick enough, so I went with a rough amount of 25% for each fabric… Other than the Polyester and Cotton, they come up quite strongly. Rubber is actually the best fabric for shoes according to the App, which I think is awesome! We should all embrace our wellies and what ever other rubber made shoes are called… perhaps?! EVA Foam is the padding you find in some shoes, and especially Nikes, FYI!
COMPARING EVA FOAM TO LEATHER
Power –  EVA Foam uses 91% less Water – EVA Foam uses 22% less Waste – EVA Foam creates 12% more 
Better option – EVA Foam
PINK COAT* (ARK): 80% POLYESTER + 20% VISCOSE
When I received this, I fell in love, and I still love it even if it is covered in cat hairs… naughty Paloma! But… do I still love it after to looking at the results? For the Viscose I had to take it that it would be Rayon-Viscose 'Wood' rather than 'Bamboo', as that is what it usually is according to Wikipedia… In my opinion the results aren't brilliant (aka, they are pretty darn terrible), but because I love it so so much, I think I can forgive it… maybe? It's still awful to imagine that Viscose is actually that bad to the environment… and for the Polyester to be equally as bad too. It's a shame really.
COMPARING POLYESTER TO WOOL
Power – Polyester uses 62% less Water – Polyester uses 40% less Waste – Polyester creates 15% more 
Better option – Polyester
LEATHER SHOES (JUMBLE SALE): 100% LEATHER – EXCLUDING LACES & WINGS
These shoes were quite the bargain for what they are. They're vintage, and cost me less than £20 which is pretty darn good in my eyes, so I was really interested to see what Leather came up as… unfortunately it was 20th. I can't really tell if my shoes came from grass fed cows (sorry veggies…), or corn fed, so I just went for grass… and the results were pretty shocking. 43rd in power? The waste isn't too bad which is a good sign, but I think the rest of them show that really… it's probably not the best to buy leather shoes. As you can see below, when compared to Polyester… Leather uses 518… yes, 518% more power.
COMPARING LEATHER TO POLYESTER
Power – Leather uses 518% more Water – Leather uses 17% less Waste – Leather creates 20% less
Better option – Polyester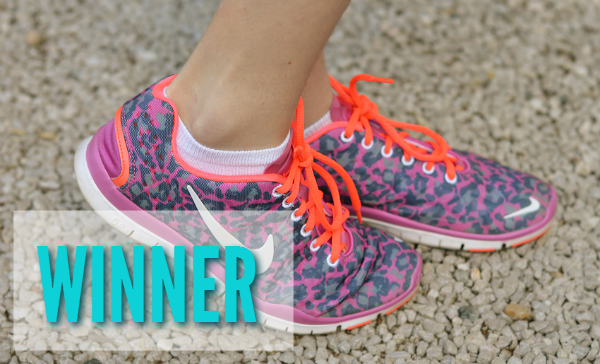 So…. as you can tell… my Nikes came out on top! I officially can love them a tad bit more than any other piece in my wardrobe! YAY! Plus… they look incredible, they're totally up my street! But I don't think I can leave you here, we need to talk about all of this…
Is Cotton always best? Throughout this post, we can see that Cotton isn't a very nice fabric. Are there alternatives? On the Nike Making App, in 3rd place for clothing, you have Polypropylene Fabric, which is commonly used in thermal underwear and base layers. It's strong, heat resistant and good in water. It has better chemistry than Cotton, it uses 11% less power, 57% less water, and only creates 10% more waste, so how come we haven't seen it being experimented on with other garments? Silk is also a good alternative, other than the fact it uses 226% more power… yikes!

Buying new vs Buying old… Whilst doing all of this, I have realised that the options we go for straight away, aren't always the best, which leads me on to the question… should we buy new Cotton, polyester and other bad fabrics? If we buy new, we are putting more money into the specific industries, which means more of these fabrics will be made, and that means, more power and water will be used, and more waste will be created, where as, if we were to purchase second hand pieces, not only are we helping the people we buy from, but also we are avoiding pumping more dough into already unhealthy fabric industries. Even if Cotton is what we usually go for, if it is using so much energy up, why should we carry on funding it? Do ya' get my flow here? Do ya'?
 Go and download the app, and create your best wardrobe. Find out which pieces were really worth the money. Leave a comment telling me what your results were!  Lots of Love… Tolly Dolly Posh xx