I haven't done an opinionated/rant style post in ages! This isn't a rant, but more of a 'what do you think' discussion point post. Seeing as fashion month is done and dusted for another season, maybe this can get you thinking about SS15'… (Images via Pinterest)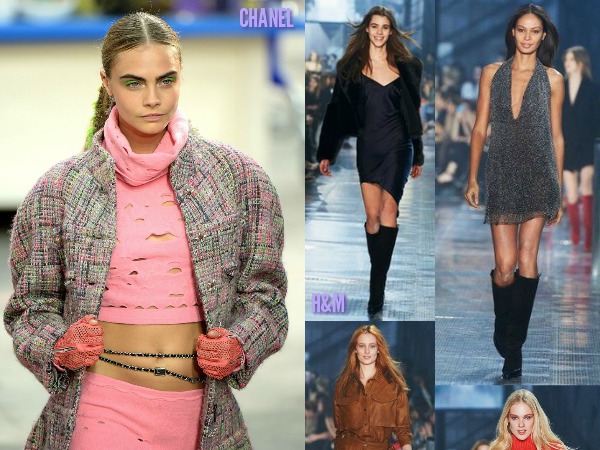 I enjoy watching fashion week on live stream, even if I am not there on the FROW, the live stream feed is the best seat in the house, but something bothers me. It's not anything to do with connection, or how pixelated it is, it's to do with how zombie like the models look. There are two major arguments about this matter, 1 – being that they are all too thin and are not like 'normal people' and 2 – being that if they were to smile they would distract from the collection. The bit that annoys me is the smile point. I do agree with what the designers have to say, but only by a small percentage. If distraction is the reason why, then can you explain why Chanel had a supermarket made up for them and people were more interested in it than the clothing? Can you explain why we have top models strutting their stuff? Can you explain why we allow celebrities to sit in main view on the FROW?
I expect you cannot.
Take what I said about Chanel; for their AW14′ show at Paris Fashion Week, they had a huge supermarket as their catwalk. The aisles were actually stocked with Chanel branded everything, from egg boxes (filled), to vodka bottles, there was even a doormat! I was on Twitter and Instagram at the time of the show, and I saw more tweets about the actual set than I did of the clothing. At the end of the show, up on the speakers, it said 'The store is now closed' but still, people insisted that they would go for a browse. Security guards were put in place to retrieve all of the stolen goodies. Guests were only allowed to take fresh produce from the vegetable aisle…. I'm not saying I don't like the whole 'set' style show, I actually quite like the idea of creating more of a theme, but it's the fact that they think a smile will be a distraction, when you have all of that as a backdrop!
Then there is the top models.
When 'Cara', or Jourdan Dunn come down the runway, more heads turn and more lights flash than any other model (watching live streams = *flash flash, phones up*). Heads will turn and people will become more excited about the person wearing the clothes than what is covering their naked body. If a smile is such a big distraction, then surely we should use less known models which perhaps aren't seen as 'perfect' and as 'versatile' as the likes of 'Cara'.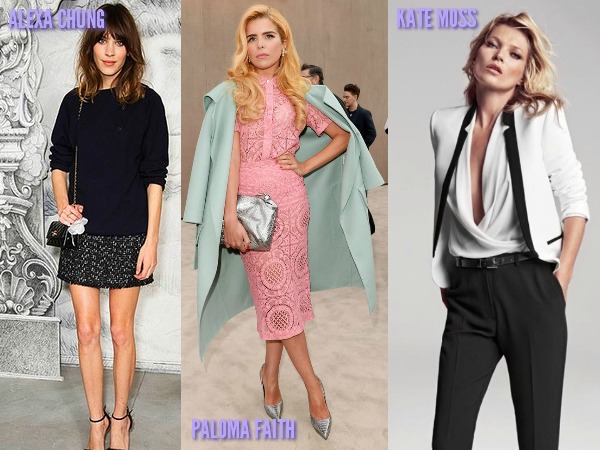 My final argument is all about celebrities.
Nowadays the likes of David Beckham, Harry Styles, the Olsen sisters, Anna Wintour, Alexa Chung, Emma Watson, Paloma Faith, Jessie J, Lily Allen and Kate Moss sit knee to knee across the front bench. The paparazzi storm that is captured on live stream is huge. Hundreds (or a few less) gather round them, snapping away, flashes blazing, blocking the view of whoever is in front of the lens, for a good ten to fifteen minutes, and even when the show is going, the live stream cameras point towards the 'VIPs' a good few times. To all designers out there… you think a smile is going to distract from the collections? You'd rather your models look like lifeless zombies, than healthy, glowing humans? Makes sense… :-/
The reason I think models should be allowed to smile, is because 1 – it will liven up the catwalks and make it a more enjoyable, and less serious place, 2 – it will make the models look more healthy (which is what we all want to promote) and finally, 3 – A small smile, will not distract from a big puffy dress and the amazing headdress, all of the list above, will. I am happy to say that more designers and brands have started to let models smile… but is it just a publicity stunt now? Do they just want to stand out from the crowd? If we want to solve this once and for all, designers, please do let your models smile, and the fashion world will be a much happier place. 😀 🙂 😀 🙂 😀 🙂 😀 Listen to 'Happy' and you'll get in the right mood!
What do you think? Do you think models should smile? Let me know in the comments!
Lots of Love… Tolly Dolly Posh xx