Hello! Well I hope you are enjoying your week! Today I have another My Style blog post! Papa Posh is still getting the hang of my new lens but it seems to be going well so far! There's also a sneaky book review in this one, so if you like to read then this is the place to be! Enjoy me' harties…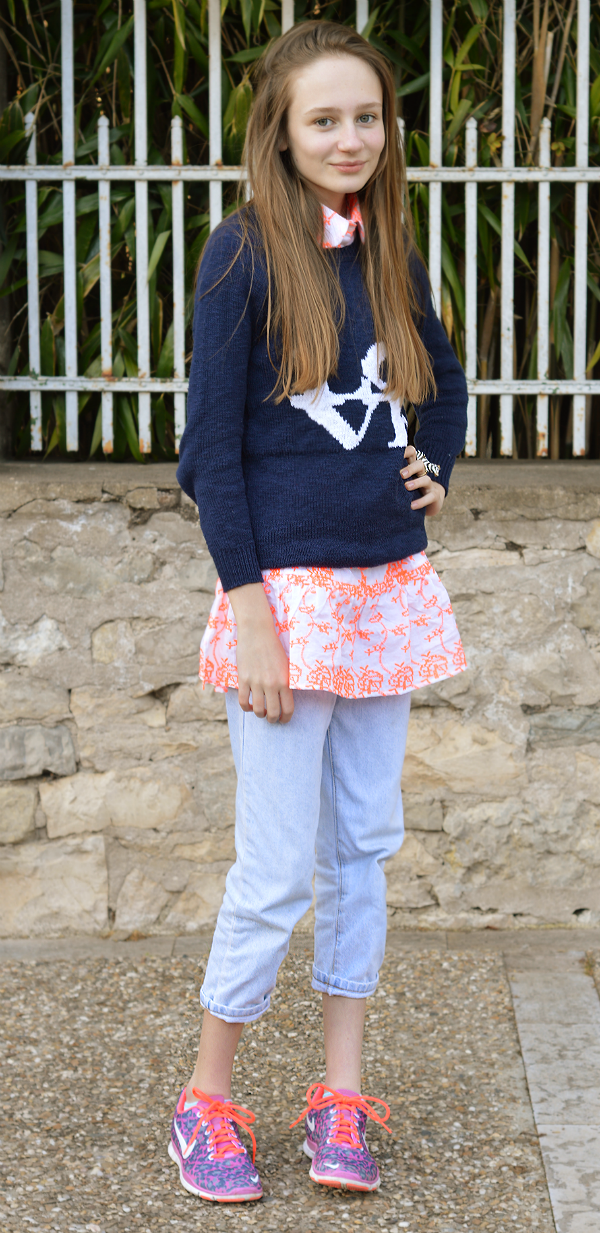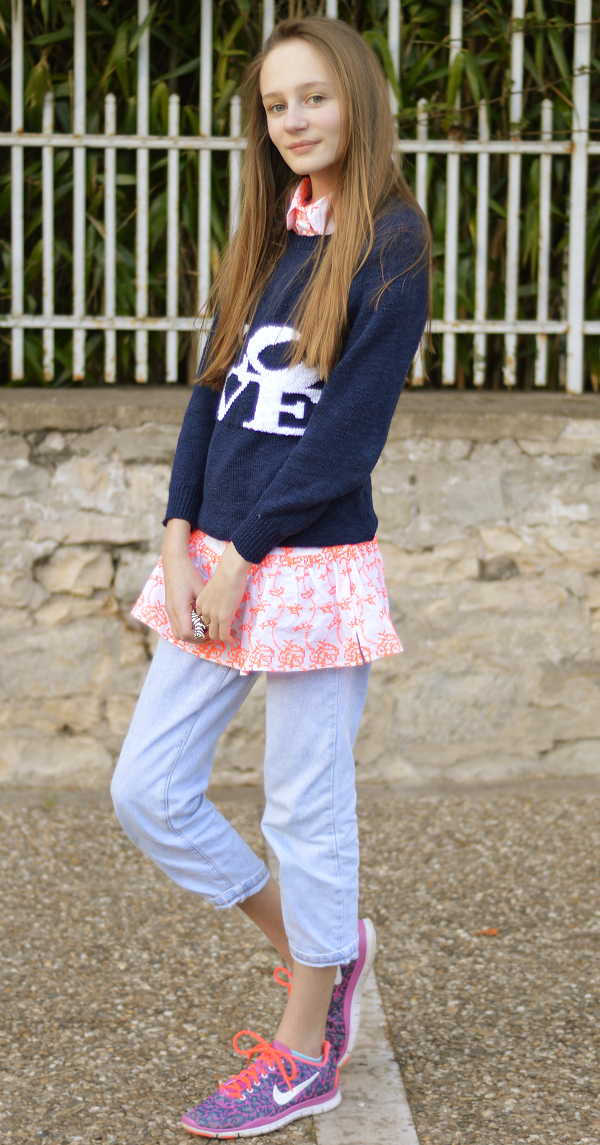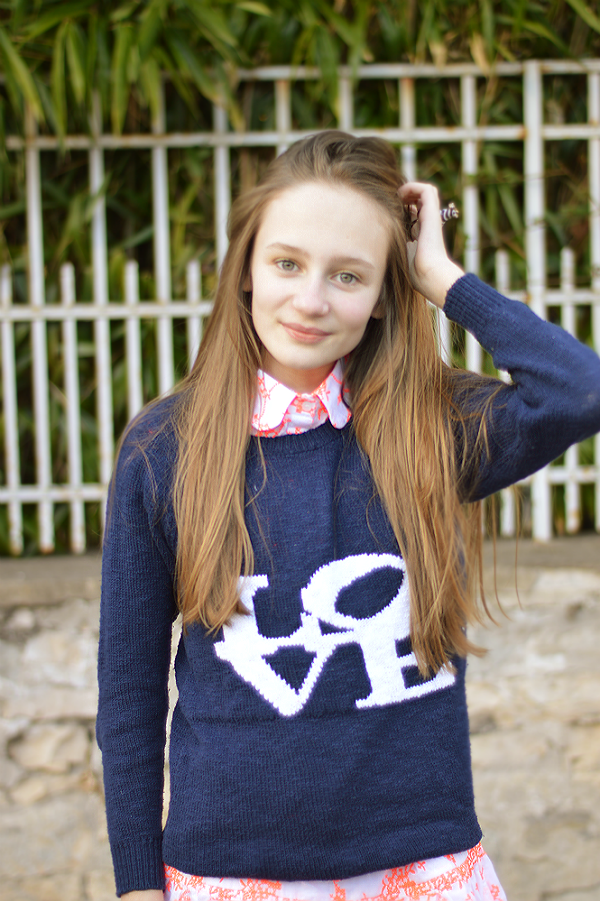 What I Wore: White & Orange Blouse with Drop Waist £11.00 (ASOS), Navy LOVE Jumper £12.00 (Peacocks)*, 'Mom' Jeans (Jumble Sale), Nike TR Fit 3.0 (JD Sports)* & Zebra Double Finger Ring £5.00 (Rings & Tings)*
This outfit is quickly becoming one of my favourites at the moment. It's so comfortable, yet it has that little bit of something that makes it 'chic'. I picked up the drop waist blouse in the ASOS sale (seriously, I picked up a great bargain), and as soon as I slipped it on, it was true love. It's that sort of piece that can really do anything, whether it's in the summer, or in the cold month of February. I think it looks absolutely gorgeous and cute with my lovely (I mean lovely) Peacocks jumper over the top. It's that perfect mix of geek and chic. Seeing as it is still pretty nippy (well, not quite the 8 degrees of the UK… oh sorry did I boast a bit then? 😉 ), I have to pair it with my 'mom' jeans, which isn't a problem really because I simply love them. Don't forget my Nike trainers of course, one of my favourite pairs of shoes, EVER.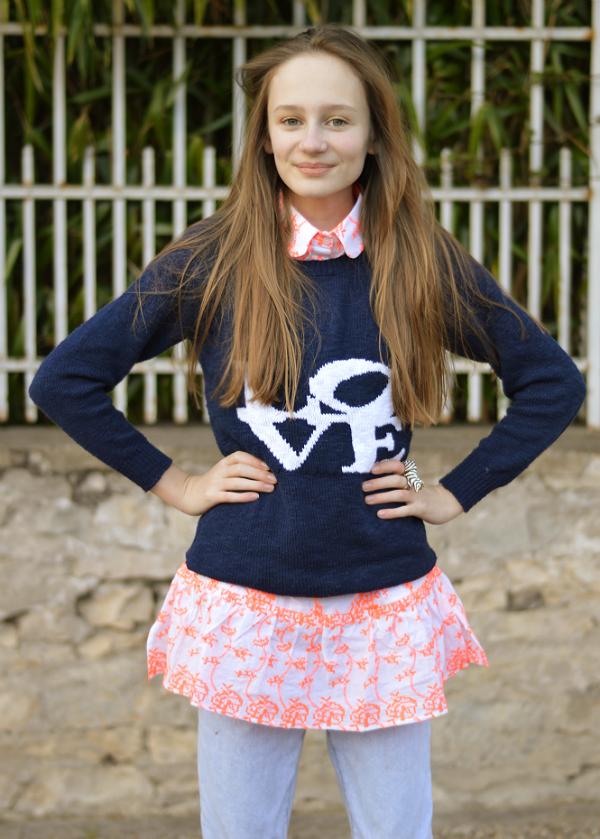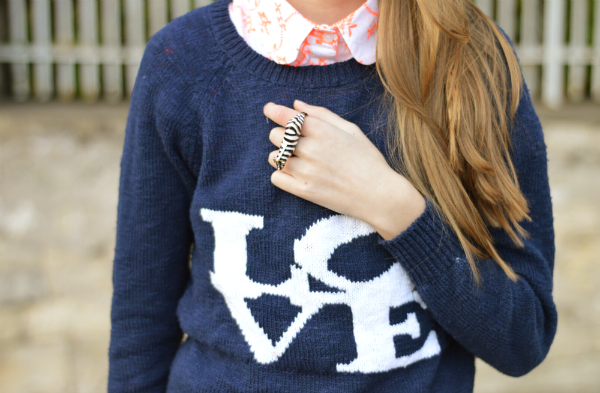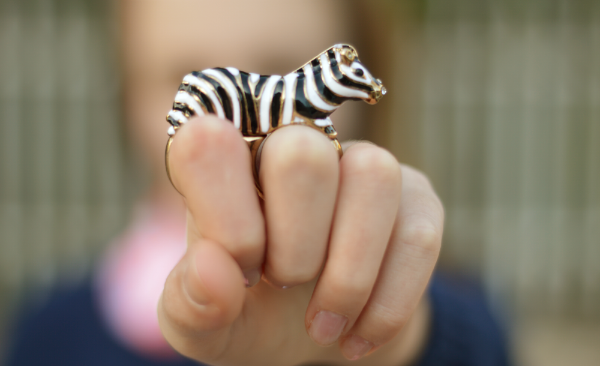 OMG. I broke the blogger rule of not putting your hands on your hips. I'm just terrible aren't I? TERRIBLE (Sorry, I love a bit of sarcasm…). On fashion sides of things though, LOOK AT MY RING. ISN'T IT AWESOME?! IT'S A ZEBRA. I have no idea why but I like to think it's an Australian Zebra. It just sounds good in an Australian accent. Hmm. I will be showing a few other pieces I got from Rings & Tings shortly, so watch out for that! Also on the jewellery front, I have exciting news… my parents have said that next time I go to the UK I can have my ears pierced. FINALLY. They always said that I have to wait until I'm about 14, but to be fair, being home schooled and all, does it really matter when?! YOLO as they say. YO to the LO. Having said that I now have to prepare myself. I'm going to be putting holes into my lobes. HAHAHA, sorry but that just sounds so weird.
What I Read: The Taming Of The Tights (Louise Rennison)*
I quite recently finished this book by the amazing Louise Rennison (the writer of Angus, Thongs & Perfect Snogging), and I thought I would tell you about it! It's the last in the 'Misadventures of Tallulah Casey' series, and although I hadn't read the previous, it is quite funny either way. It's very relatable to all young teen girls out there, with Tallulah running into all sorts of boy and school troubles. She's torn between this wild guy, Cain, and the nice chap, Charlie, and she takes us on her adventure. 1 of my favourite things about the book is Matilda (one of the character's dog), because every time she does something, it made me giggle. I must say that the book gets better towards the end of the book which is annoying, but if you are looking for a chilled out, relaxing book (something you'd take on holiday), then I would definitely recommend this one!
Lots of Love… Tolly Dolly Posh xx