Hello everyone, today I am starting a new series. Now, don't get me wrong, we all know that I am bad when it comes to blog series' because I never seem to complete them, but I promise that I will. I hope that I can write a blog post every week or fortnight for this series, which is an A-Z Fashion Guide. It's going to be to do with terms, designers and anything really, from A-Z. The first instalment is Appliqué. I hope you enjoy it…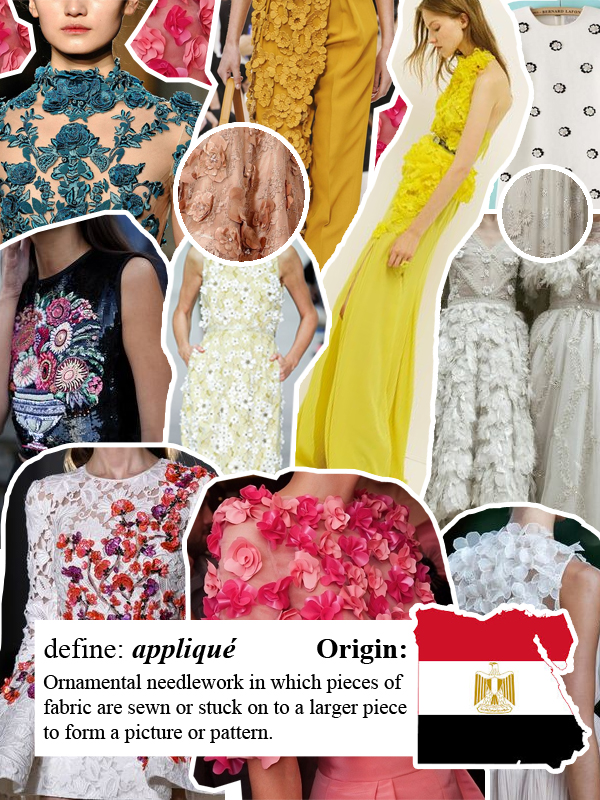 Appliqué is a French word, for 'applied'. It basically means, 'application'. Anything you add to a piece of fabric or garment, is 'applied' which means it is a form of Appliqué.  The actual way of adding a piece of fabric or detailing to another piece of fabric, has been around since 980 BC, and one of the first pieces of Appliqué which we know of, came from Egypt, so although the word is derived from the French vocabulary, the actual 'art form' comes from Egypt. At first Appliqué was to cover up patches of worn or frayed garment, or to decorate house hold things like curtains.
In the 1800s coloured fabric became more and more popular and Appliqué was used to create historical murals to remember great battles and ceremonies. It was mainly used for quilting, until more recently when designers and artists have used it in clothing. There are different techniques of appliqué, but mainly it just consists of stitching one piece of fabric, to another! There is also reverse appliqué which is where the main piece of fabric is cut and you apply layers of different fabric from behind.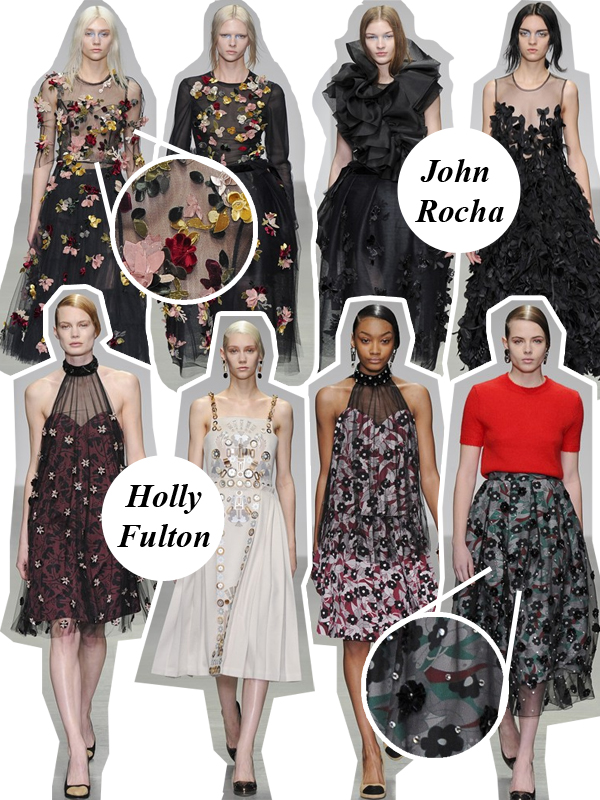 To fit in with London Fashion Week, I have chosen 2 designers which have showed some form of Appliqué. John Rocha & Holly Fulton have both applied 3D floral detailing to their designs, as well as basic Appliqué on Fulton's beige dress. I will go into these collections more in depth when I come to do my London Fashion Week Review for A/W 14. My favourite way of doing Appliqué is actually the 3D flower, so I do really like the way they have done this, especially Rocha's metallic detailing onto mesh. The way Holly Fulton's Appliqué has been done on the beige dress though, almost looks seamless and like a print, but up close is actually slightly lifted off the fabric and looks really nice in different light.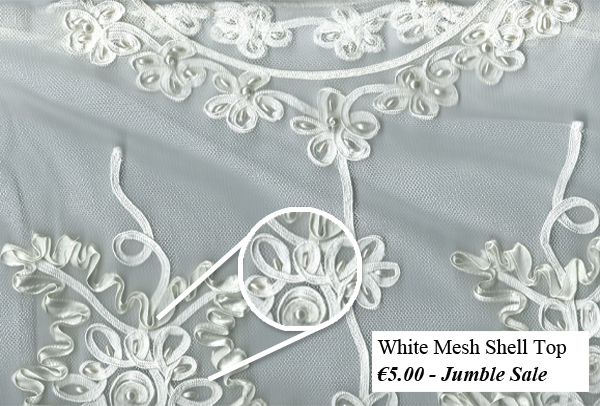 I thought in this series I would show you a piece of clothing from my wardrobe which shows the 'terminology' being used. This is my mesh top I got from a jumble sale after seeing Susie Lau – *takes a moment to appreciate the fact that she follows me on Twitter* – wearing a coloured mesh dress on her blog. It's really pretty and looks so nice over floaty dresses and printed things. You can see me wearing it in this not-so-brilliant OOTD. It was a bargain though and I am very happy with my purchase. *Laughs because she cannot believe she scanned in a top because her parents were out using the camera* *Mentally uses the hashtag: #LifeOfAFashionBlogger*
So, I hope you liked this post! I will try and link it somewhere on my blog so the series is easily accessible, but for now, good bye! Enjoy the rest of LFW!
(Images from Pinterest & Vogue)
Lots of Love… Tolly Dolly Posh xx