Hello everyone, I hope you are all well! Today I have another 'My Style' instalment with a nice bit of tartan! I'm currently listening to Daniel Bedingfield (old school tunes) and drinking a nice warm cup of tea whilst my fingers struggle to get from Q to P on a very cold keyboard. P.S If you pop over to my Facebook page, there is a give-away going on to win a leather watch! Go go go!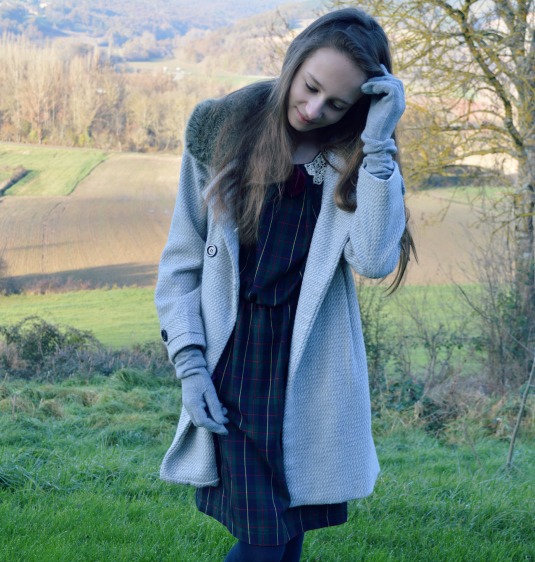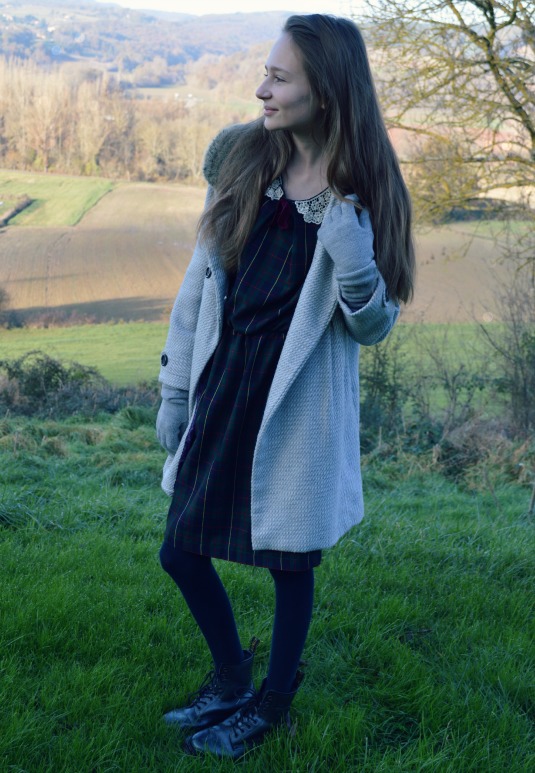 What I Wore: Grey Coat with Faux Fur Collar (John Lewis), Tartan Dress* (Uncommon Nonsense), Super Soft Long Gloves £5.00 (ASOS) & Dr Martens €35.00 (Jumble Sale).
Before I begin… I finally have some warm gloves! My fingers have been turning into icicles, but after having a browse on ASOS, I decided on these, and they live up to their name, because they are certainly soft and long! Moving onto the main outfit though, this is like my coat. I love it so much and I'm sadly starting to grow out of it, so please John Lewis, can you bring another version out! I received this dress from the lovely people from Uncommon Nonsense, and I had no idea what it was going to be like, and I do really like the tartan, I must admit, but the size is way off for me, but that is only because I am usually a Size 4/6 in 'bigger' dresses, so this is just a tad roomy for my liking. It's nice layered up though, especially with my fluffy jumper.
Can I just say that our grass is looking rather 'lush'? Just a fact… lol. *back to the dress, Tolly* Oh yes… I like how it has a little bit of detailing so when I wear it with my fluffy jumper it pokes out the top. The dress also came with a faux fur collar, but unfortunately it doesn't sit perfectly 🙁 so, that's why I opted for my 'collared' coat. (I'm currently typing but unsure what is happening with my thumb, I believe it has lost all feeling and has gone a bit odd. Very strange sensation going on here!)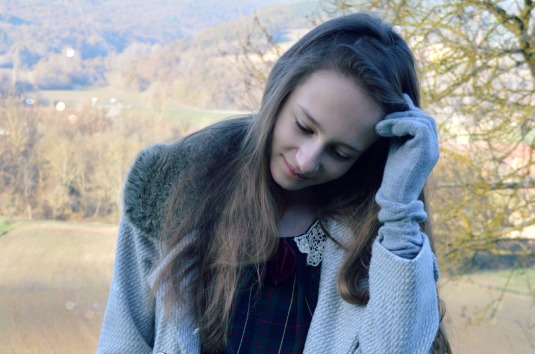 N'aww, isn't Papa Posh a nice photographer? 🙂 So yup, if you did enjoy this post, make sure to give it a bit of love by leaving a comment! As I said at the beginning, there's a give-away on my Facebook page, so make sure you take a look at that! Good day my lovelies! (I have a numb thumb – I'm a poet and you know it  – to sort out!)
Lots of Love… Tolly Dolly Posh xx