IT'S CHRISTMAS! …time! It's official, even to you grinches out there, that it is Christmas!  The tree is up, the decorations are out, and the films are on AND I have snow falling on my blog (so festive)! So, what's better than a bit of a novelty Christmas OOTD? Excuse the cray-cray hair… it was windy okay! Oh and FYI, I have tights on!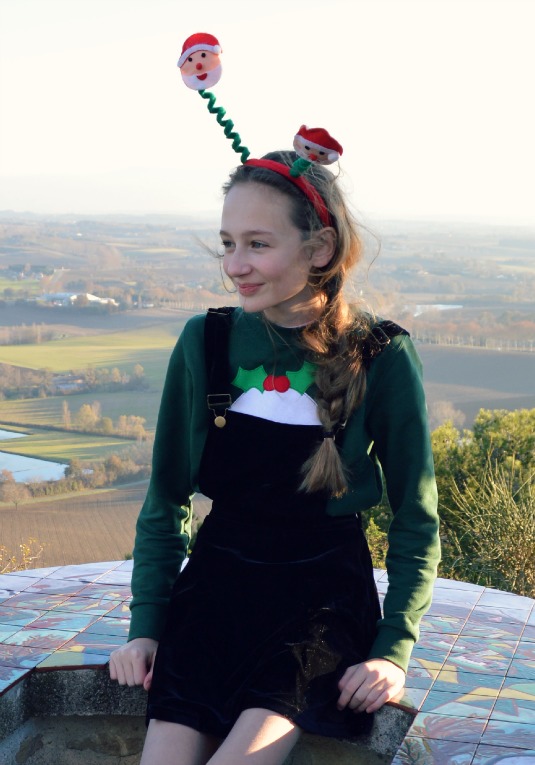 What I Wore: Christmas Pudding Jumper £18.00* (Not for Ponies), Black Velvet Pinafore £22.99* (ARK, Hearts & Bows), Bobbly Santa Headband, & Chelsea Boots (Jumble Sale).
As I said this is a 'novelty' outfit, but I actually quite like it… I'm not sure these windy pictures really do the pieces justice, but all of them are really comfortable! I've always wanted a pinafore skirt, and this velvet one is perfect! It's a really nice velvet too, the inside isn't scratchy and it's adjustable which is a plus! It looks like a skort in these pictures, but it's just a plain skater skirt bottom, and I think even with a light t-shirt this could be an all year piece! (PLUS You can get 25% off at ARK with the code: TOLLY25 so happy shopping!) The jumper though… maybe just for winter! I love Not For Ponies, and this jumper is so so warm and snug! I love it to bits! The full appliqué is a Christmas Pud with a moustache! A moustache… I mean?! #christmasswagger
I can't remember where this is from, or when I got it, but I love my bobbly santa headband! I walked in to McD's to get a quick snack and by my surprise nobody even smiled at it which sort of made me sad, but oh well! Yes, I do wear it out… Look at that view though? So beautiful! We had a quick drink at this lovely cafe/bookshop and it was very cosy, and they had gorgeous twinkly lights! I really do love this time of the year and I can't wait for the rest of my family to come over! 😀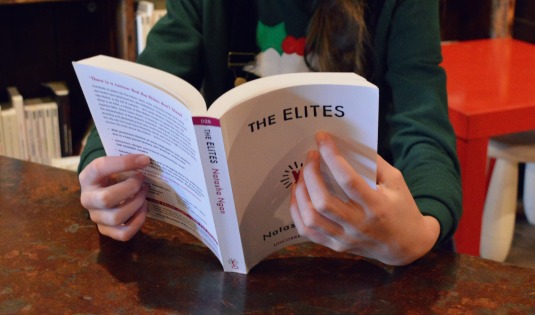 I never really do book reviews on here, but I got really excited about fellow blogger, Natasha from The Girl In The Lens' book, I just had to let you know about it! If you are a fan of The Hunger Games, you will love this book! 'THE ELITES' is about a city in the future and the two main characters, Silver and Butterfly. Silver is a 'Red' and has even more of a struggle through the troubles she gets into, and Butterfly finds out more about his past. It's a really interesting book and had me hooked the whole way through! Natasha is so nice, and has let me ask her a few questions about her writing…
When you were writing The Elites, did any of your past personal experiences go into it? I didn't intentionally include events or experiences from my past, but I'm sure they affected how I wrote the book. The racial issues are definitely influenced by me being mixed race and having been brought up in two very different countries and cultures, and my time spent in Malaysia (where my mum is from) and travelling with my parents also inspired the cultural landscape of Neo-Babel. Especially all the food references!
Throughout The Elites you are extremely good at using metaphors, personification etc to describe things, what would be your biggest tip for keeping that up throughout your writing? Oh thank you! I'm so glad you thought so. My biggest tip for varied and unique description is to really immerse yourself in every scene. Imagine you're there. Feel the slap of the wind on your face, the roar of the air rushing past your ears. Taste the bite of the wind-blown saltwater on your tongue. Just really try and put yourself in each and every scene, noticing every little detail. Then, when you come to describing it as you write, you'll have so many different sensory experiences to draw from!
Who is your favourite character in The Elites? (Mine has got to be Butterfly!) Butterfly has pretty much been everyone's favourite so far, which is great, as he's one of mine too! I love how grounded and strong he is in his values, and how he keeps Silver steady, helping her through the darkest of times. People keep telling me off for giving Butterfly such a tragic story, since he's such a nice guy!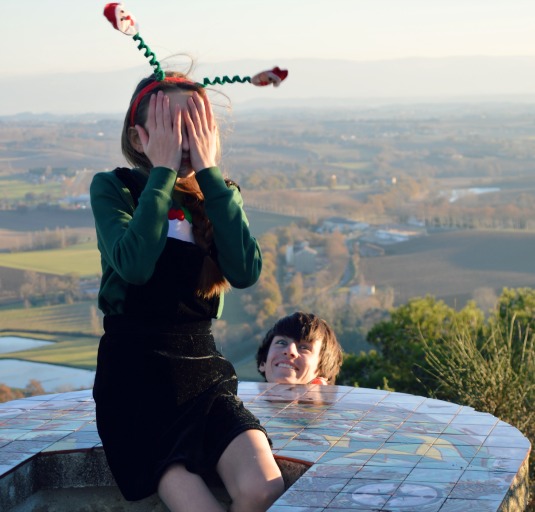 I'm not sure whether my brother really wanted this out on the internet, but I just had to put it up! He is a bit silly when I am trying to get good pictures… grr! I was so annoyed I had to clearly express myself *face palm* Hahaha!
Lots of Love… Tolly Dolly Posh xx