Well hello there, how are you? It's been a whole 2 weeks since I sat down and wrote a blog post for you guys, and I have missed it. This post will explain the slight changes you may have noticed, exactly why I was away for 'so long' and, of course, a cheeky little give-away thrown in too 😉
Most of you probably won't know, but my now, old, banner has been on this blog since the very day it began. That was when I was 11 years 'young', and I am now 13. I may not be completely different, but I definitely feel like I have changed in my style, so I felt it was the right time to change a few things around here. I had to say goodbye to the old and hello to the new, and I quite like this 2nd chapter so far. It's still bright and fun, but it's a bit more laid back and simple than before. Of course I had to keep the TDP headband in there, because that is part of me. The outfit with the headband is actually quite special because it includes 2 things which have been a big part of my blogging story, which are my ASOS jacket and my blue sunglasses. Sounds a bit random, but I wore the jacket to the #stylebloggerawards and it was also my 13th birthday treat, and the sunglasses were from the awards themselves so they have a nice memory with them.
Some of you may not like the new banner, but I do. I feel like it portrays me now more than my last one, and I think it will be a nice fresh way to start the new upcoming season. I definitely couldn't have kept my old one for much longer, because I'm 13… things will change… #awkward… Also, the content of my blog is going to change slightly, i.e there is going to be way more designs, and fashion trends, more inspo posts, and fashion-y things. I hope you will enjoy it!
Moving on to the reason I was away; If you have seen on my Instagram, you may already know, but for those of you don't then, here you go… this October, I won't just be a sister, a daughter, granddaughter or niece, I will become an aunty and a godmother. I am extremely excited about the new addition to the family, and I felt it would be weird to keep such a big thing from you. My family were all over in the south of France these past weeks, soaking up the sun, and enjoying each others company, and I loved it!
Now to the give-away!  I'm sorry this post is so long, I needed to update you all!
So, I haven't done a give-away in like… ages. The reason is because I was waiting for the right time, and I think it's probably the perfect time now! This give-away is a thank you to all of my loyal followers who spur me on in reaching my dream. It's not a fancy prize, unfortunately, but it's just a few small things which I hope you will enjoy.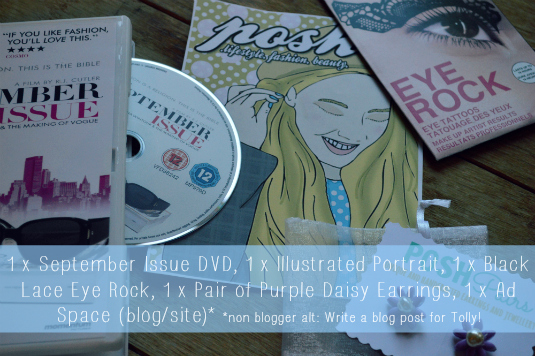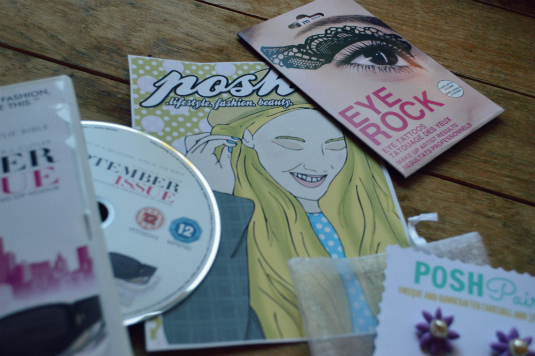 Prizes: 1 x The September Issue DVD (Rating: 12), 1 x Illustrated Portrait by myself, 1 x Black Lace Eye Rock, 1 x Pair of Purple Daisy Earrings, 1 x Ad Space for your blog/site (Non-blogger alternative: Write a blog post for Tolly!)
THIS GIVE-AWAY HAS NOW ENDED!
The winner was … Laura Jarvis
That is it! Good Luck everyone! Thanks for sticking with me these past 2 weeks! I look forward to blogging again! I really do 'love' the support you guys give to me, it is so helpful, and you are da' bestest. *virtual hug* Lots of Love… Tolly Dolly Posh xx