I don't usually do Lifestyle posts on here, but I thought I would change it up!  If I do re-decorate my room, I usually have a browse round John Lewis Home & Garden section, as it always seems to have some really cute things! So, I thought I would make a Wishlist!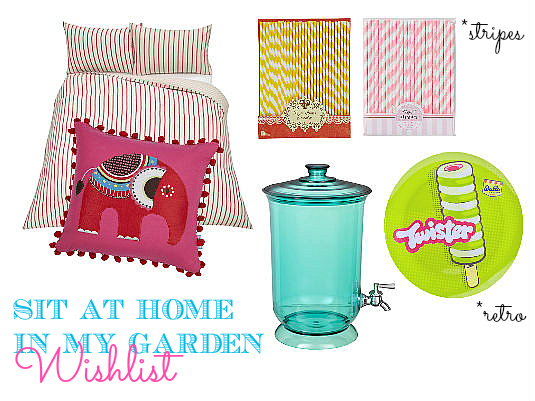 John Lewis Logan Flannelette Duvet Cover in Red From £30.00, Talking Tables Truly Scrumptious Straws £4.00, Talking Tables Pink 'n' Mix Paper Straws in Pink £4.00,  Pioneer Drinks Dispenser in Bright Opal £15.00, Wall's Twister Plate £5.00 & Little Home Abbey Elephant Cushion £15.00 (All from John Lewis.)
Duvet Cover:If I ever re-design my room, I think I want to go for a more simple style because at the moment, let's just say it's a little bit… 'busy'. I'm not really a red person, but I think the stripes make it a bit nicer. I also like the cream colour on it, because it makes it bit less harsh than white.
Straws: These are just too cute! Look! They're paper, and stripey! I could imagine using these for a BBQ in summer, or just for a nice addition to the dinner table!
Drinks Dispenser: Living in the South of France, there is a LOT of wine around, and in the shops, you see wine held in dispensers, which I think is pretty cool! It's practical, it also looks cool, and it's just more fun! Now, I am not going to be drinking any wine, but I think it would be nice to keep fresh juice in or just to put water in! Fun, pratical and cute!
Twister Plate:I LOVE TWISTERS! I seriously LOVE them, so it is not surprise that this is on my Wishlist! I wouldn't get all of them, as for £5 it is quite a lot, but for a cool present, I don't think you can go wrong!
Cushion:Now, I am not a child (well I am, but you get the idea), so don't think I love kiddy things, I don't. BUT! This cushion is soooooo cute! It has an Elephant on it! And it's pink.. and red! It maybe from Little Home at John Lewis, but I am still putting on my list!
So, whether you're looking for BBQ skewers, or a cute throw for your new bedroom or perhaps some pretty cushion covers, you should definitely check out the John Lewis Home & Garden section! It's pretty cool!
(This is a Sponsored Post on behalf of  John Lewis. You can read the full disclaimer here.)
Lots of Love… Tolly Dolly Posh xx