A couple of days ago we went out to a town near us called 'Castres' (Click the link to see what I got up to there, last time!) and we went to see a Venetian 'Masque' Parade, which at first looked terrible, it just looked like a few men dressed up on stage singing old Venetian songs, so we were pretty annoyed as I had bought my real Venetian 'Masque' to wear, and my snazzy-ma-gee camera to take pictures of the whole event. We decided to go round the corner to the well known 'Musee Goya' or 'Goya Museum' which is dedicated to the artist 'Goya'. A few Police men passed our way whilst walking to it, and then we saw police cars, and people sitting on the side of the road… we then looked through the gates of the museum, and saw the most amazing looking costumes ever. Get in, I did have a blog post to write! Anyway, as you can imagine it was pretty exciting to find it all, so I took some pictures, and did an OOTD for you. Sono così brillante! (I'm so brilliant! – Sarcasm, okay?!)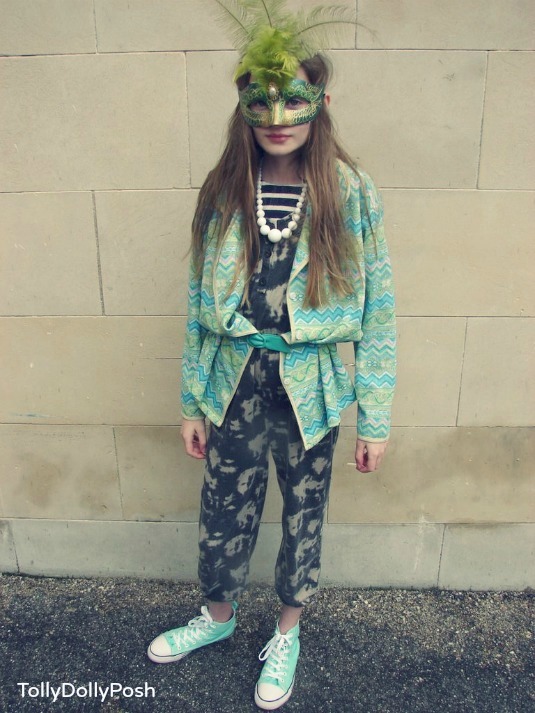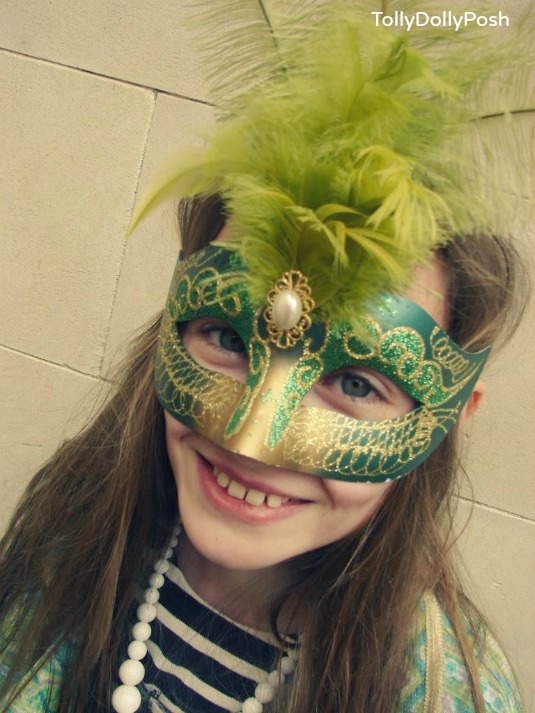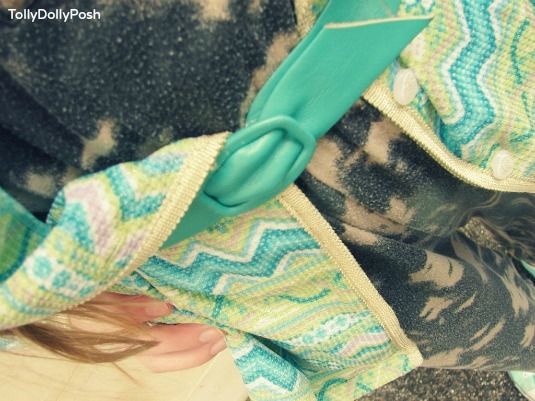 What I Wore:Aztec Blazer £1.50 (eBay – Copper Garden), Jumpsuit (Matalan), Leather Belt (Charity Shop), Stripey Top (Saint James), Converse Style Trainers £7.99 (H&M) & Real Venetian 'Masque' (VENICE!!). Please excuse the messy hair, it was raining, and I was wearing a mask okay?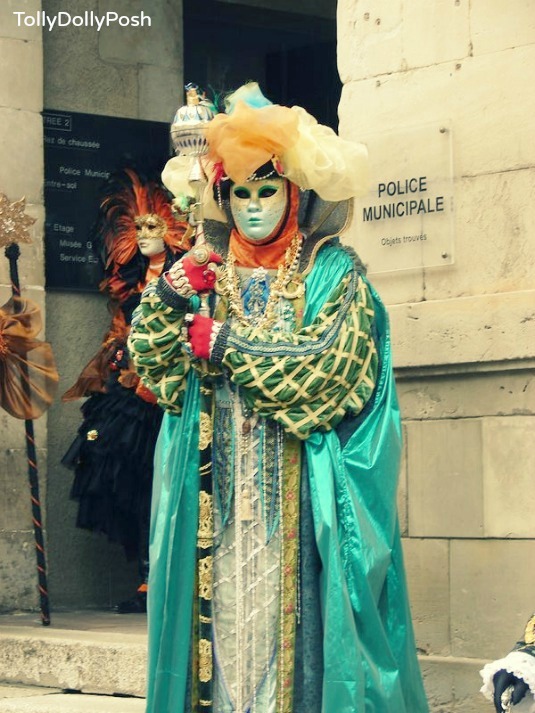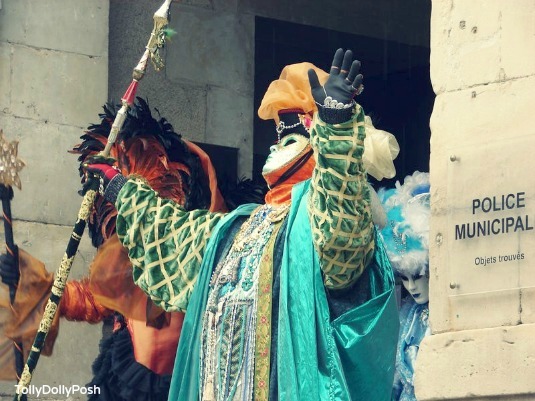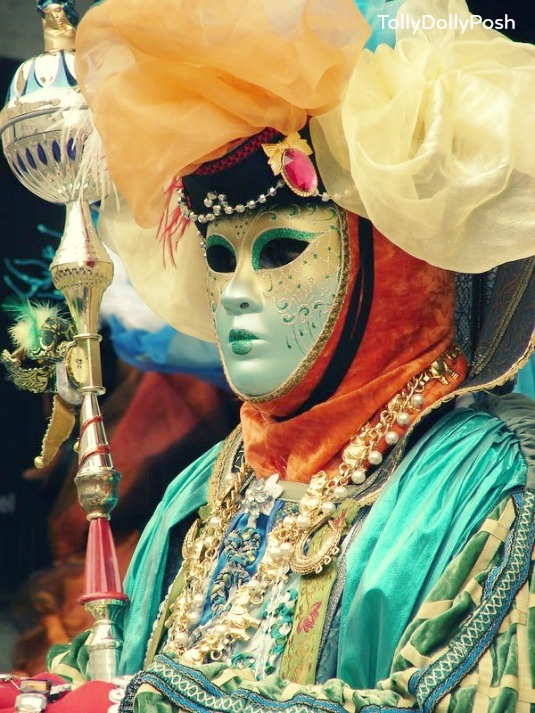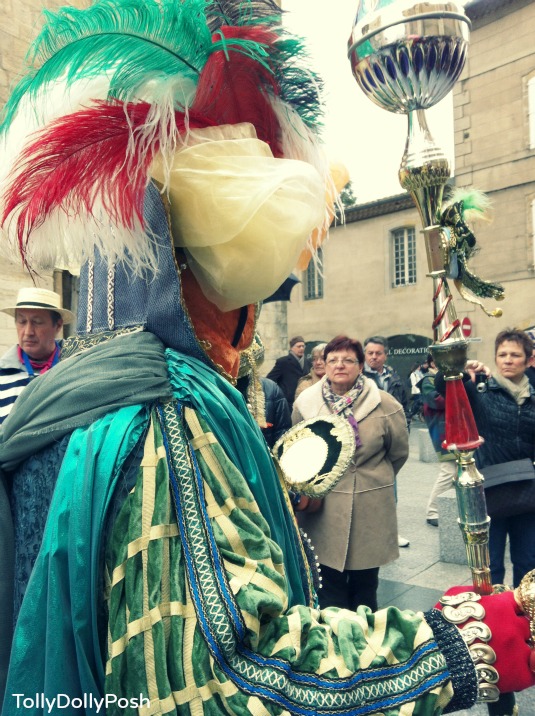 This dude, okay I officially love you man (Haha, that's a film if you exclude the officially and okay), I love the prints and the necklace 🙂 This design actually reminded me of Daniel Lismore (Hi, if you're reading this!), because of the amazing fabrics etc, maybe you could get some inspiration for the next collection?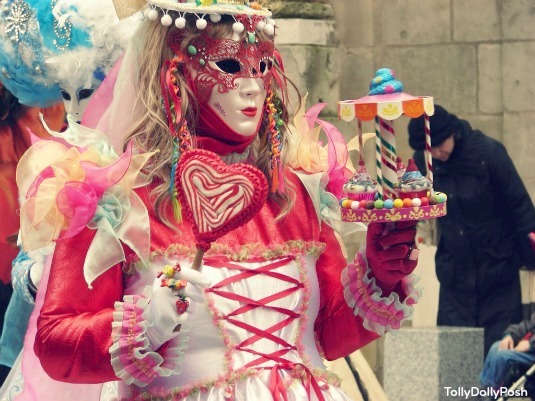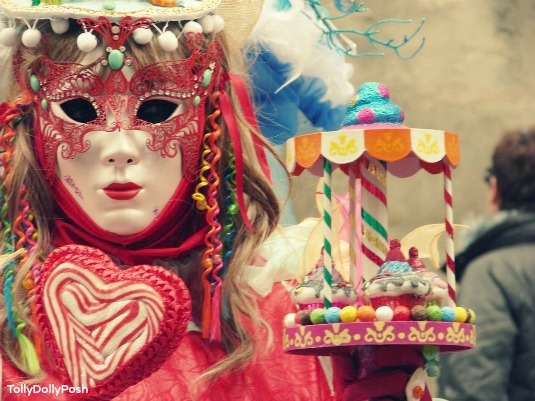 WOW! I love cupcakes, and I love colour, again, I now officially love you. The colour of the dress was incredible, seriously incredible. You can see how much time and effort has gone into these costumes (They are all handmade by the person wearing them). I wish I could've eaten one of those cakes… yum! (I know they're fake, a girl can dream)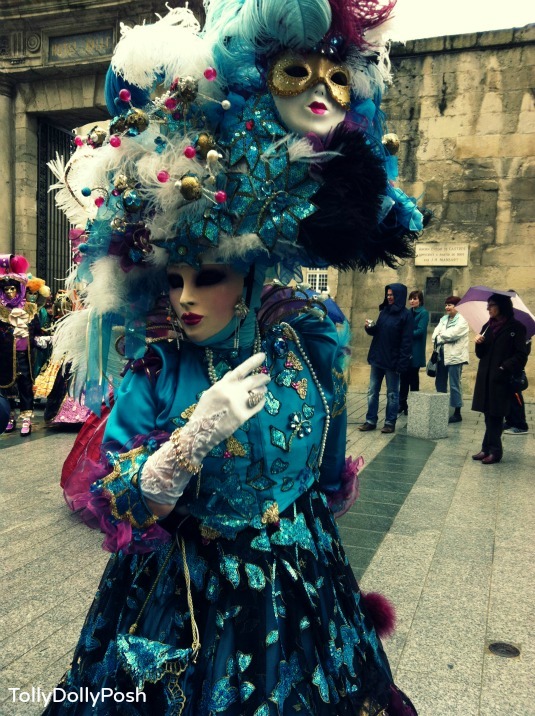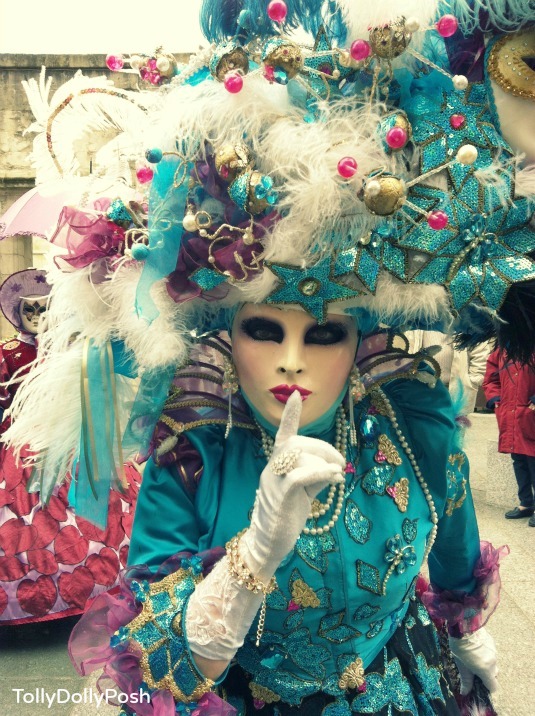 Now this lady, she was special. She played music through her head, you see that massive hat with all those amazing feathers in? Yeah, well that had a speaker in it! Heavy! Ouch! I really like the top, and actually I do like the skirt, I perhaps wouldn't wear them at the same time, but I sure would love them both! #WANT.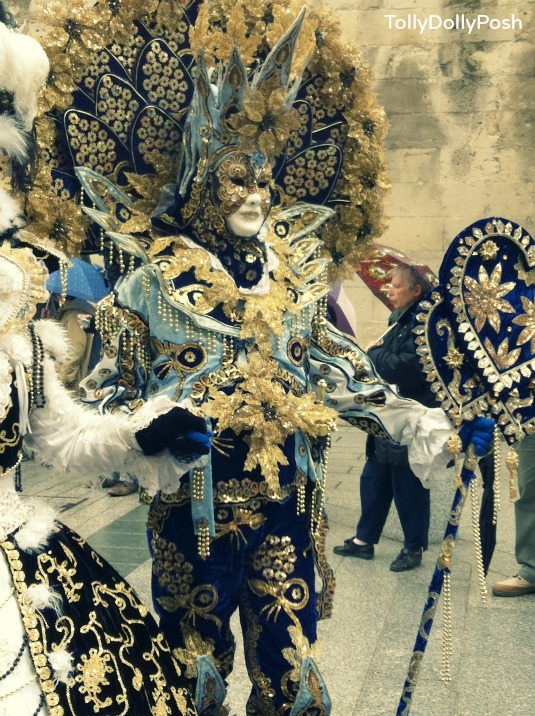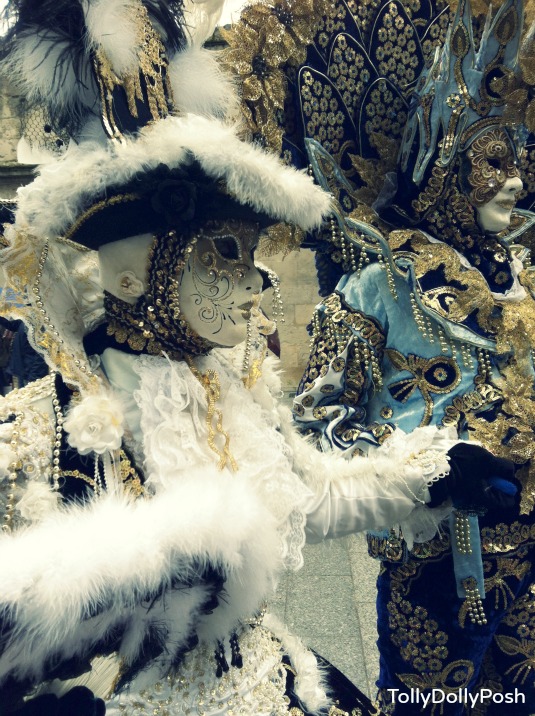 Stop right there (Thank you very much, I need somebody with the human touch)! I need those trousers. Need! I don't want, I need them. They are so cool! I don't even care that they have been worn by a man, I wish I could be him in that picture. Seriously, if anyone knows where I can find a pair similar, message me!
There are LOADS more pictures, here they are below in a gallery if you fancy a browse. They really are extravagant and I just love them all! You really should take a look:
If you'd like to use any of the images above for any particular reason, please Contact me by using the Contact Form here, please use the Subject: 'Parade Pictures'. This is so I know where they will be used, even if the images have got my watermark on them.
Aren't they all just fabulous?! Except from the rain, it was such a cool event, and one day, I will design a collection inspired by it all! Just you wait! *Optimistic Fairy*
If you believe I am worthy of it, please nominate my blog as 'Best Teen Blog' in the Company Style Blogger Awards. Please use the URL: http://www.tollydollyposhfashion.com Thank You.
I am now offering Blog Button Designs as a service! Prices range from £2 to £4.50, you can find full information here.
Lots of Love… Tolly Dolly Posh xx