As a young child myself and possibly one of the youngest fashion bloggers, I thought that this post would be a brilliant thing to write about. As Fashion Weeks end for another season, we begin to forget about what has just happened, we begin to think about booking holidays (well, I am obviously not, I am only 12, remember?), swimming in the warm seas, and covering up with all the sun 'screen' that you look like an albino, but there is one thing which is definitely not on our minds! Kids Fashion Week. This week, the very first 'Global' Fashion Week dedicated to Childrenswear happened in London. But, is this just a bit too much? Or, are we are embracing the younger generation?
(Images from Pinterest)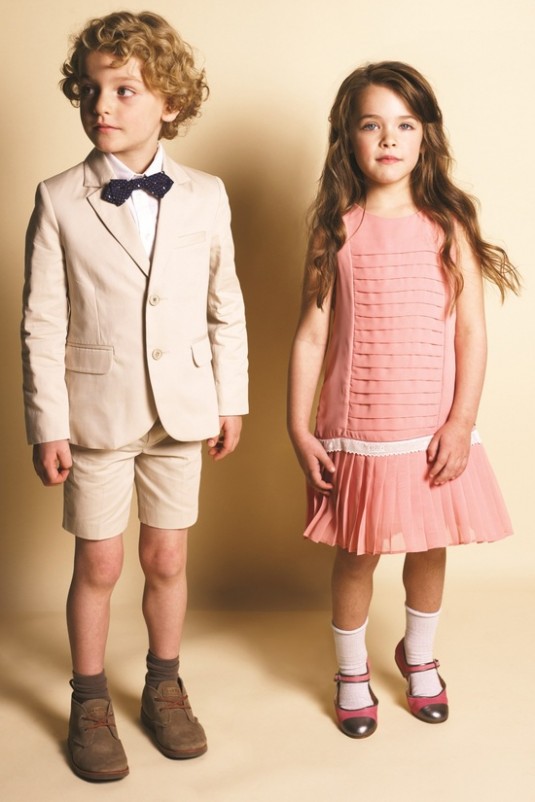 Kids Fashion Week is here to show off that kids can have style! They don't have to wear a hoody that has been worn a billion times, and they don't have to wear a mini pair of jeans, they can rock their stuff, how they like! Oh yeah! And I love that! That's why I'm here, right? The thing which I find hard to believe though is that, some of these kids, don't want to be modelling? They want to be sat at home playing with their Barbie dolls (okay, maybe now it's more like playing Nintendo Dogs). Some of these kids, my age and younger are being forced by parents to be walking down the catwalk. I think it's terrible. Yes, they may still have time to play and do what they want, but why should they be forced? I'm not forced to blog, I just love blogging! Fashion Week should be for children who want to be modelling, and I know that sounds strange, but I feel it's how young models should be judged. If they want to model they model. If you've ever watched 'Toddlers & Tiaras', you'll know where I'm coming from. The screaming, ratty children being forced into having spray tans and having to shave their legs at an absolute ridiculous age, could be not just coming from pageants, but from Fashion Shows.
When I saw this picture (above), I actually said out loud 'How disgusting'. This girl, I would say is near my age, and she may have a happy face, but do you think it's exceptable for her to be on a catwalk with a bikini on? I know it's the only way they can showcase what it will look like on, but I think that should be left for online. It's not just the fact that she is wearing next to nothing, it's the fact that she might think, that's how she has to look. They grow up thinking 'I have to have nice clothes, I have to wear my hair like this, I need make-up!'. It shouldn't be like this.
I think the need for Kids Fashion Weeks are there. To be able to showcase clothes and to boost the market, but I think there should be a point where it is just too much. I believe that children in the modelling world should not wear make-up and should know what is right and wrong. They should know that the people in the magazines are airbrushed but it isn't how everyone should look. Talking about airbrushing, I did a post on the petition about airbrushing, and the news is in! They won! How fantastic! Read the post here.
What do you think about young models? What do you think about Kids Fashion Weeks? Make sure to leave a comment below!
Please nominate for me as Best Teen Blog, if you believe I am worthy of the award. You can nominate here: Company Magazine Blog Awards. Please nominate the URL: http://www.tollydollyposhfashion.com Thank You.
ADVERTISE FOR COMIC RELIEF: Advertise your Blog/Brand for £10, and 100% of the money will go to Comic Relief. Please email: tdp(at)tollydollyposhfashion.com and use the Subject: RND.
GET 20% OFF AT CASE-APP: Use the code 'TOLLY' at the checkout!
Lots of Love… Tolly Dolly Posh xx