Let's get straight into it… I love iPhones. My whole family do really, they're handy, they are a nice size, but most of all, you get to make them look all pretty! I have an iPhone 3, which is very slow and weary at the moment, and I do like giving a bit of loving care with a case, but seeing as it was Mother's Day not long ago, I gave my mum an iPhone case! She used to have a glossy one which was chipped and broken, and was getting a bit tired, so I decided that she needed to change it up! Case-App allows you to add any pictures you like, text you like, and shapes etc that you like to a case! You can put a couple of pictures or just one, it's up to you! It's Fashion for your iPhone!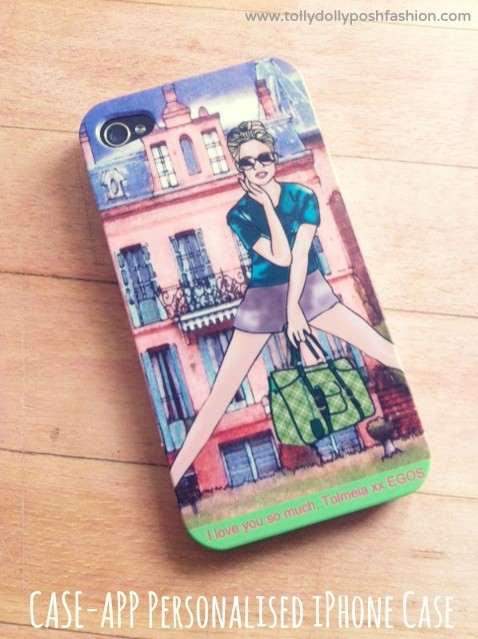 My mum or 'Mama Posh' is a very artistic person, and is also a former Mulberry accessories designer (Pretty cool, huh?), but at the moment she does illustrations including this one above! I thought it would be really nice if she could showcase her work in a different way, and it looks great! The finish is matte but parts of the detailing are a bit more shiny, which creates a more 'textured' feel. The colours are perfect and came out just how I wanted them to! I also added a short message at the bottom which I think adds and even more personal touch. (If you want to know what EGOS means, well, you can't, it's a secret! Mwah ha ha ha) You can add what ever colour font you'd like and choose from a selection of different coloured backgrounds like the green at the bottom.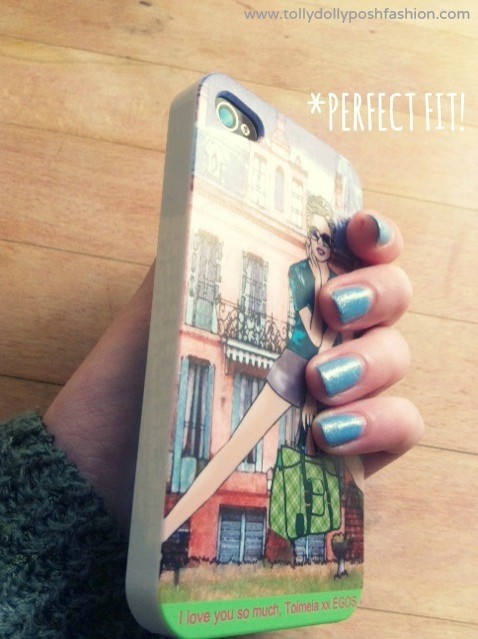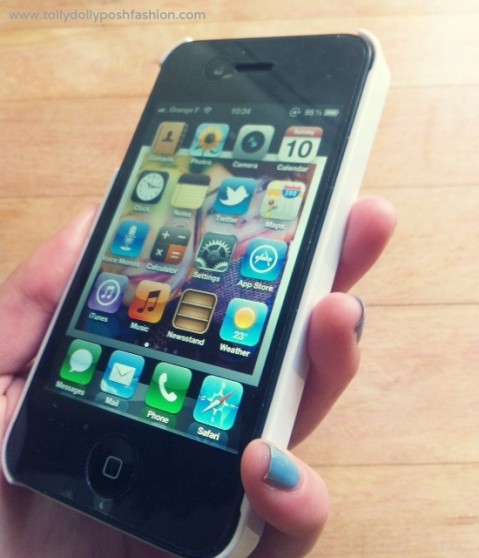 It fits really well and you can be sure that it won't come off! That was sort of a problem when I tried it on Papa Posh's iPhone, as it took a bit of fiddling, but I don't think that is a major issue. As you can see the sides are plain white, which I wasn't quite sure about, but looking at it now, I think it makes it look a bit smarter than having coloured sides. It doesn't have any protection on the front, which I like as it means you don't have to worry about it getting dirty, or it fading where you hold it. Overall it looks really nice and this is what my mum said about it….
"I think it is exceptionally good quality and the detailing on my design is fabulous. The colours are exactly how I'd like them, and it is great seeing what my illustrations would look like on a phone. I think it is well worth the money, and I would rate it 10/10. Well Done Case-App!"
That is all true, she actually said that all! I would totally agree, it is really a good quality case, and I am so glad that I decided to give it to her, as it put a smile on her face! I think it would be a really good present for anybody, and even a nice treat for yourself, and your iPhone! You can get a Case-App Personalised iPhone Case for any iPhone 4/4s or iPhone 5 from the Case-App store! Plus… it's free delivery! AND, you can get 20% off with the the code 'TOLLY' at the checkout! 
(This is a * marked review. I am very grateful that Case-App gave me an iPhone Case to review. All opinions are 100% honest, including the mini review by Mama Posh! 'We' wouldn't lie to you – would we? I wish Case-App the best of luck this year.)
If you believe I deserve it please nominate my blog as the 'Best Teen Blog' in the Company Style Blogger Awards. Use the URL: http://www.tollydollyposhfashion.com Thank You.
Lots of Love… Tolly Dolly Posh xx