Unfortunately, I am not blogging from the FROW of the catwalk right now. I am sat at home, looking out the window at the blue skies, wishing for that one day when I will be there… *sigh*…. I then thought, 'Suck it up. You have live coverage online, that means you can stay in your 'jim jams' and have as many cups of teas as you want whilst watching it. It also means you can mute the live play and listen to your own music – probably David Bowie or Katie Melua on repeat (I love them at the moment). Anyway, I may not be there now, but one day, I will be. I will make it happen. I will not take no, for an answer! But, I need to plan what I would take, right? I know it might be a long time, until I get to LFW, but I think there is no time better than the presence, to plan what you would take!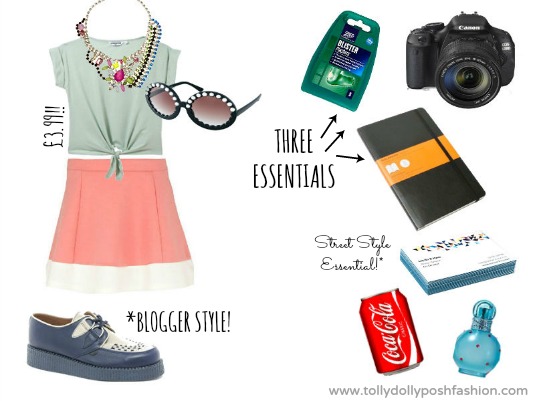 Girls Coral Contrast Hem Skater Skirt £10.00 (River Island), Teens Mint Green Roll Sleeve Tie Front T-Shirt £3.99 (New Look), B Store for Underground Leather Creepers £87.00 (ASOS), Round Sunglasses With Pearl Highbrow £18.00 (ASOS) & Spring Stone Necklace £25.00 (ASOS).
I love River Island for my style & aged clothes. They just have things which I really like! I fell in love with this skirt when I first saw it, and new I had to put it in this post! It's very vintage, and I think it could work well with a lot of different colours. This £3.99 Tie Front Top, – yes, £3.99! – is a bargain! It's Mint Green – favourite colour of the month – and again, it could go with anything! For spring, I would wear it on top of a stripey long sleeve top, and for summer, I would wear it on its own with a skirt, just like above. These creepers are to. die. for. I love them! The colour and the leather looks so good, and really works well with the pastelly colours in the top and skirt. The statement necklace & sunglasses sew the look together and get you ready to rock!
Canon DSLR 600D, Ruled Soft Notebook (Moleskine), Moo Business Cards, Boots Pharmaceutical Blister Plasters £3.60 (Boots), Britney Spears Circus Fantasy Eau de Parfum 30ml £22.00 (Boots) & Coca Cola.
Next up are my essentials… First is the Canon 600D, it looks like a miracle camera for any blogger. I will try and save up for this but, quite frankly I wish I could just buy it right now! Moleskin Notebooks are also key, they look good, feel good, and they do the job good, what could be bad about that? Next are Moo Business cards. No, I haven't secretly started up a business, I use them for Street Style (Which I haven't started yet!)! If you ask someone to stop and have a picture taken, you should always give them something so they know where to find where it's going, otherwise they'll be on a random strangers site, which could be to do with anything! I think Moo ones are best, as they feel so matte, and they are great quality. They also have a free thing, where you get 10 per household for a starter set. There will be a post on this, so watch out! Next are Blister Plasters! I know, not very glamourous, but if you're at an event for a long time, in new shoes, you might well need these beauties! Finally, we come to the perfume! This is one my favourites, I don't really care that the name 'Britney Spears' is on it, as long as it smells good, I love it! Oh, and you have to add on the best beverage in the world, right? Uh, yeah! Coca Cola! If I'm out and about, or at an event, I have to have one. I'm not an addict, but it does boost your energy, and refresh you!
What would you take to LFW? Would any of your essentials be the same? Have you ever been to LFW, or are you there now? Leave a comment below!
Lots of Love… Tolly Dolly Posh xx