One of my favourite YouTube subscriptions is FleurDeForce, i.e Fleur! She does Beauty & Fashion posts, including Hauls, Reviews and Tutorials! Recently, I watched her tutorial on a cute nail art look using tiny little hearts, and I just knew I had to try it out! As you will know from my very recent post (Nail Art Brush DIY), I am beginning to love the craze! So, I decided to try it out, and it took me ages! I still haven't mastered it, but I think for a first try, it's pretty good…?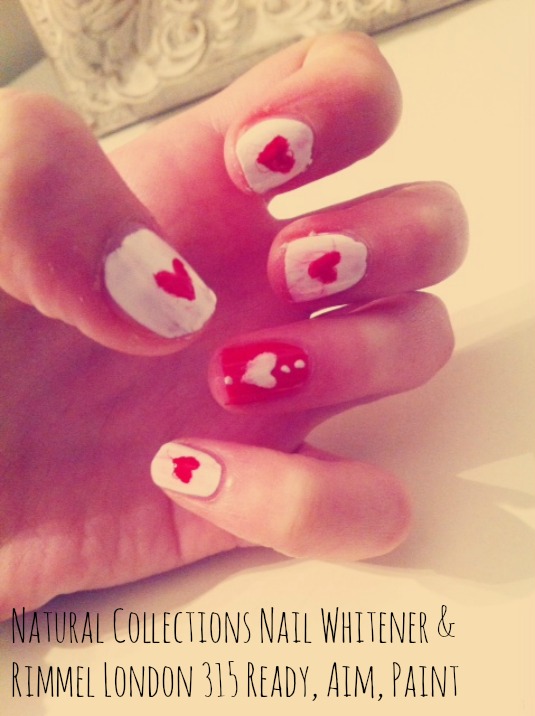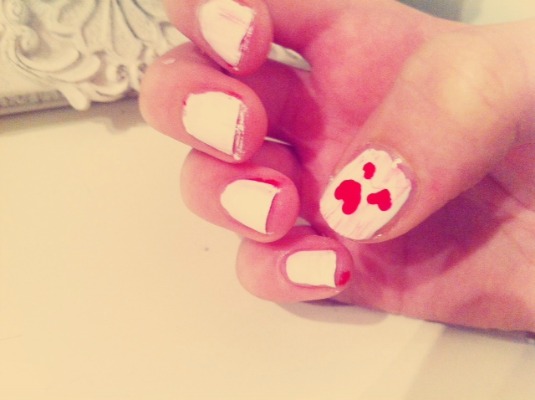 As you can see I didn't really let the different colours dry, so some of them are blended to gether, but as I said, this is my first attempt! Fleur said to use a toothpick/BBQ Skewer to create 2 little dots, then bring them together with another small bit of paint. I did it quite well on my left hand, but I just couldn't do it good enough on my right! I did manage to do the thumb, but I had to leave it at that, because, seriously, my arm was going to fall off! I really like the finish of my right hand though. Especially the ring finger, which I added a few small dots too

Find the full tutorial on Fleur's Channel here.
 Have you done any tutorials which I might like? Or have you tried this? Make sure to leave a comment!

 RECEIVE A FREE VALENTINE'S GIFT HERE.
 QUICK NOTE: If you see a difference in editing of the pictures, it is because I am starting to use Photoshop to use them, as I have just found out how to use 'Curves & Levels'. Please don't think I'm just switching & changing! I know some of you don't like that! (This picture has not been edited differently though.)
Lots of Love… Tolly Dolly Posh xx