Halo! I thought I would start a new series (Yup, another one, which will probably never be finished!), and this one is going to be about Nail Polishes and the ones which look like the most beautiful ever creations on this earth. The first lot of polishes I am going to start with on 'The Nail Polish Rack', are the Mavala ones. I have used Mavala mainly for Nail Care, but have never used their polishes, so I took a look, and found some of the most delicious looking colours, ever. You're going to love this…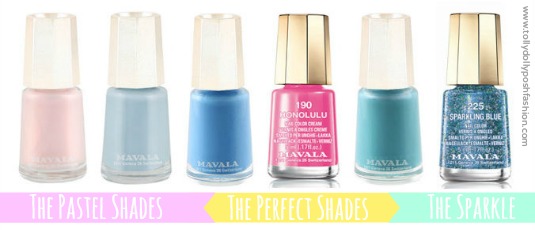 The Pastel Shades: Osaka £3.61, Blue Mint £3.61, The Perfect Shades: Cyclades Blue £3.61, Honolulu £3.61, Blue Curacao £3.61 & The Sparkle: Sparkling Blue £3.61 (Mavala at Beauty Bay).
Aren't they all gorgeous?! And look at the price! I am so tempted to buy one, but I must not! Let's start with 'The Pastel Shades'. I am not much of a nude/light colour nail person, but just recently I have had the craving for them! I really like this Osaka shade, I haven't got the Essie colour which is similar to this because it is like 2 times the price, so I may have to invest in this. As I said I have had a recent craving for light colours, like Blues & Mint Greens, I think this is probably because I know Spring is coming! (We've had 3 clear blue skies, 3 days running!) This Blue Mint shade is almost like Duck Egg, and I think it would look really nice with someone who has a tan, as it would compliment their skin tone. I received my £6 ASOS Midi Skirt  – post coming soon – in a similar shade to this today, so I think this would match perfectly!
Next are 'The Perfect Shades', by perfect I mean, literally perfect. If you look up at the sky, it is usually a perfect blue, and this first colour is exactly that. I think if you used a nice Matte Top Coat, it would look so nice, and you could wear really nice rings with it! Don't get me started! This Honolulu shade is also perfect, and is just that sort of Pink, that anyone could wear! I also really like the name too! Again, Blue Curacao, is such a lovely shade, that I am sure anyone could wear, I love colours which are a mix between Blue & Green


The final colour is 'The Sparkle'. This shade – Sparkling Blue – is so pretty! Unfortunately this is a top coat, but in some ways that is even better, because you could create a really nice Ombre effect with this. Just a gentle touch to glam up any nail colour!
I hope you liked the beginning of this series, and that I didn't bore you too much! Make sure to remind me to do the 2nd post, because I am certain to forget! Also, watch out for some more Nail Art & Reviews because I have ordered a nice Practice Nail Ring off of eBay which should make the posts look a bit more crisp!
What's your favourite shade from above? Have you got any of these colours? What polishes are you craving at the moment? Make sure to tell me in a comment below!
Lots of Love… Tolly Dolly Posh xx