I haven't put anything on My Wishlist for yonks! I'll tell you why, it's because I really haven't been loving the highstreet! This is very bad. I usually love everything they have, but right now I just think that they aren't doing great! But! I have a solution…. H&M! I don't think I have shopped at H&M for about…. 2 Years?! No joke! After being told I need to look for some summer clothes, I got stuck on where to look. Then the two letters popped into my mind, and I am going to show you the 3 amazing finds! Plus a book which I am dying to get my hands on!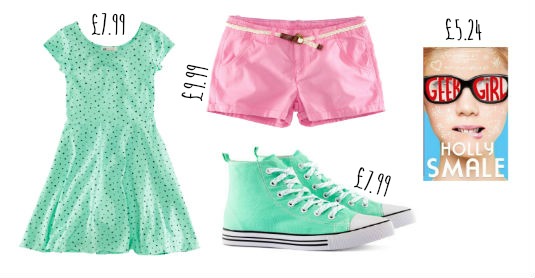 Dress in Mint Green £7.99, Shorts in Pink £9.99 & Basketball Shoes in Mint Green £7.99 (H&M) & Geek Girl £5.24 (Amazon).
After finding these bargains, I am now in love with Mint Green, and I am sooo ready for Spring & Summer! I seriously, NEED & WANT these converse style shoes. I have some old sparkly ones, but my feet have grown 🙁 I also think that shorts will go with both the shoes, and the dress, as if the dress is short, I can always pop them underneath! I will probably wear a floral blazer with the dress too, to add a preppy look 🙂 Hopefully when Papa Posh (Do you like that? I think I may stick with that!) goes over to the UK, he can buy the H&M stuff, as the french H&M site doesn't have them on there, and you can't buy anything on it anyway! I am also really looking forward to the release of Geek Girl, which I will hopefully get for my birthday! 😉 *hint hint*
What do you want this February? Is it your birthday soon? Tell me in the comments below! Also, if you want any specific posts done, do let me know! Or, if you want an extra speedy response, Tweet Me!
ADVERTISE: Have your blog in my side bar, from £1! Just fill in the form here, and I will take a look at your blog!
Lots of Love… Tolly Dolly Posh xx