One of my gorgeous Fashionista's of February is Lynette from Lovely's Vintage Emporium, a Vintage Emporium run on the Isle of Wight (my old, old home town!), which also has a site and a blog.
1.    What inspired you to start your Blog? Mine is part of my vintage fashion online boutique Lovely's Vintage Emporium and I included it on there as I want people to be able to come to the website not just to shop but also to have fun and be engaged. The blog covers all topics from the latest vintage looks to memories about chocolate bars eaten in the 1970s, top films of the 1980s, what supermodels used to wear and more. It is just a great place to come to for a good read.
2.    Why did you choose fashion? I have always been fashion obsessed and it made sense to set up a fashion website and fashion blog alongside it.
3.    What are you top tips on starting a Blog? Work out who your audience is – ie who you are talking to and then blog away! Only blog about what you love as then your 'voice' will come through. The best blogs are the authentic ones where you can tell the writer of the blog is totally into their subject and that way your readers will be too.
4.    What are your Blogging Targets for this year? I don't have targets, I just hope people enjoy reading what I write.
5.    Who are your favourite fellow bloggers? I enjoy The British Beauty Blog, Liberty London Girl and Sighs & Whispers.
6.    What trend are you most looking forward to working, this S/S 13? Stripes, stripes and more stripes. I have already bought a vintage bold striped black and white shirt.
7.    Where's your favourite place to grab a bargain and why? Well, as I am buying stock for Lovely's Vintage Emporium all the time there is always something I end up keeping for myself so I rarely need to shop in any other way now. When in London I do always pop into Bang Bang on Goodge Street that has lots of seconds and vintage pieces. I sometimes shop online at The Outnet & Secret Sales.
8.    What's your favourite piece of clothing, accessory etc that you have ever bought? My favourite is a vintage Ossie Clark red dress from Lovely's Vintage Emporium.
9.    Who is your favourite designer and why? I love so many. My favourite is probably John Bates for Jean Varon a vintage designer from the 1960s-1980s as his dresses are just exquisite. The detailing on each one is so intricate and his designs were and still are so innovative. We do have a few left on the website (here).
10.   What's your personal style and what do you do to work it? My style is definitely designer meets vintage as I like to mix it up. So I will wear some recent Stella McCartney black trousers with a vintage Halston top.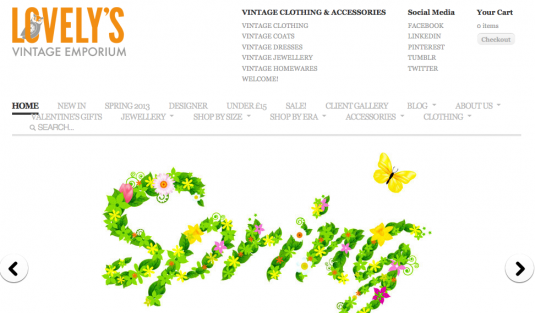 If you want to appear in a post like this, visit the Advertise page and fill out the form! March is all about Make-Up! You can have a button in my side bar from just £1! Plus+ on your 3rd time round, you can get a discount if you use the Mini Dolly Package! Also, I my GOLD BROGUES SIZE 3 are still for sale! I would be looking for at least £8 but I am open to offers! Please comment if you're interested.
Lots of Love… Tolly Dolly Posh xx