This post is especially for you bargain hunters. Those of us who are holding onto our pursestrings this credit crunch. It's all about, how you can find better things, in the shops which smell of moth balls, and are full of the t-shirts in size 26 in the powder blue colour, you never thought you would even think of touching. Yes, you thought it right. The Second Hand Shop. The shop of dreams. The shop which is summed up in one phrase, 'Don't judge a book by it's cover'.
(Image from Pinterest, this is not Bath Frock Exchange)
Second hand shops or Charity shops are so over looked. These shops are usually placed at the end of the high street, or the 'dodgy' end as we used to say in Cheltenham, next to the old cinema which has been closed down for over 30 years, or the public toilets, I don't even need to explain them! But, sometimes, your trip to the worst bathrooms in the world, might just be your ticket to your most treasured item of all time. Also, most of the time, they are Charity Shops, so your doing a lot more than going to a M&S (who have recently lost their designer, who worked for only 5 months!) to get the same jumper. To be honest, I reckon I have more Charity Shop clothes than I do high street. Recently, I came across my first French 2nd Hand Shop, and my mum found me one of the most amazing coats ever, and I also found a classic hand bag, which I have actually been wanting for ages. Okay, it may not be a Chanel handbag at the dirt cheapest price, but it's still a bargain, €8 to be precise. But, it's not just basic 2nd Hand Shops which are amazing, it's the Premium Pre-Owned ones, which may be more expensive, but I think you may just come out with something…
Bath Frock Exchange is obviously in Bath and has been running for over 25 years, it was previously known as 'Mrs Simpsons', but was taken over in October, and is now even better. Their ambition was to brighten it all up, and put in things that they never thought they'd be able to afford. They are still trying to source specific items, and premium brands, so if you have an old Chanel handbag not in use, pass a message over to them! Bath Frock Exchange is great, because they also have Beauty Rooms, so not only can you go and see what they have, but you can relax and take some time out. Also, it's not just for us girls, it also for you boys! Yep, they do pretty much everything. From day to evening wear, massages to menswear, you are sure to have come out with something. So, I got the lovely people there to message me across some pictures, and now I am going to do a couple of outfits with their amazing pieces…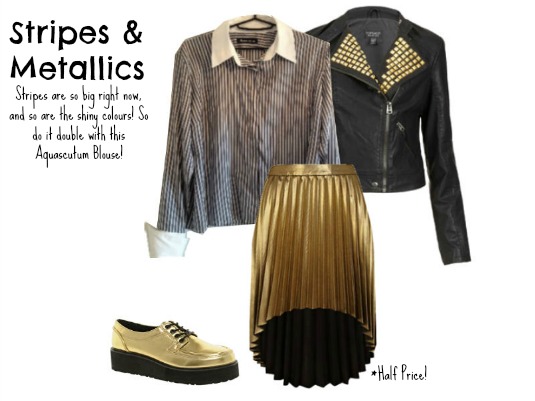 Gold Metallic Dip Hem Skirt £17.00 (River Island), VILLAGE Flatform Creepers £35.00 (ASOS) & Gold Studded Clean Biker Jacket £30.00 (Topshop).
This Aquascutum blouse from Bath Frock Exchange is perfect, because it works so well with the Dip Hem skirt. Add some creepers, and a nice biker jacket (which goes with anything), and you will look amazing! Metallic Madame!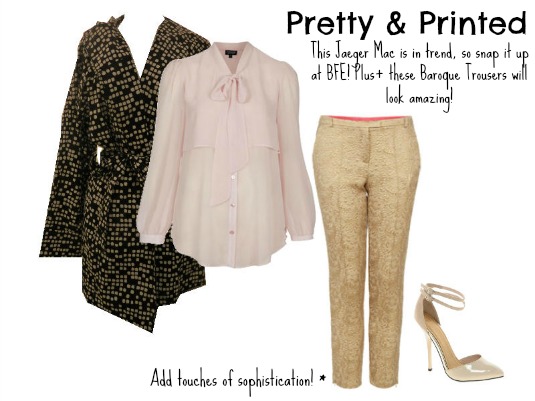 Gold Jacquard Trousers £50.00 (Topshop), Cape Pussybow Blouse £36.00 (Topshop) & PRIOR Pointed High Heels £45.00 (ASOS).
This look is really sophisticated, and simple. These trousers will look effortless and adding the pointed heels will make it look even better. The Jaeger Mac is great, because it is printed, and this S/S, Prints are Perfect!
So, as you can see there are some nice things which you can buy from Bath Frock Exchange, and they are much cheaper! Make sure you take a look at their site!…
Another of my favourite 2nd Hand Stores…
Watch out for more outfits using Bath Frock Exchange clothing…
Lots of Love… Tolly Dolly Posh xx