PART 1 – At the moment I have a major obsession with Vintage Fashion. It's partly because I watched Restless on BBC and I loved the whole look of the film. (You can see the post I did on that here.) But, it's also because I watched Dark Shadows once again, last night, and found that I enjoyed the look of that too. I also really want to become obsessed with a TV Series because I feel I need to have something to look forward too in this time of boredom. (Yes, I still haven't found a school, but we will do soon!) So, here's a few pictures and things that I think are cool, and perhaps you will find inspiration from them too…
I think this picture kind of sums up the 40s style, because it shows the elegance that the women still had during the war, it also shows the simplicity during the time, because of lack of materials, and also the cost. I also love the Faux Fur hem, which is also quite in trend at the moment 😉
Obviously this picture is in style of the era, but I think it shows the people of this modern society that you can work the look in a nice classy way, without looking to Vintage. So, I decided to create an outfit, in style of this picture… but with a modern twist!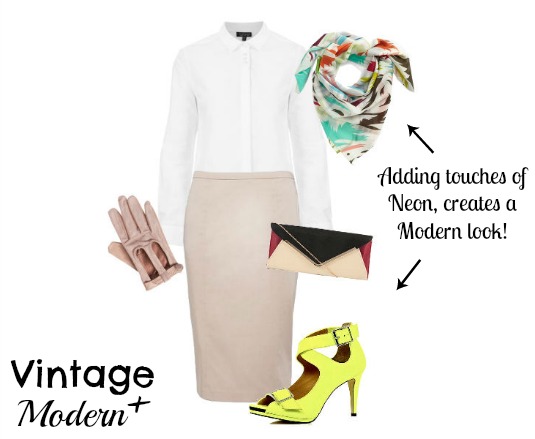 Longsleeve White Shirt £22.00 (Topshop), Cotton Rich Knee Length Pencil Skirt £25.00 (M&S), Yellow Neon Strap High Heel Sandals £70.00 (River Island), Front Row Society 'Keep Flowing' Cotton & Silk Scarf £24.91 (Nord Storm), Miso T Bar Leather Gloves £8.00 (Republic) & Red and Black Colour Block Envelope Clutch £15.99 (New Look)
Like I wrote on the image, adding touches of neon adds that modern feel to the outfit. Also, add tones of light blues for a more vintage look as well. This skirt may not be the exact same feel, but it has the right colour to match.
Be sure to watch out for Part 2, where I will be doing some outfits on the 50s & 60s… including, Audrey Hepburn & Marilyn Monroe! *Oooh*
(Pictures from Pineterest)

Lots of Love… Tolly Dolly Posh xx