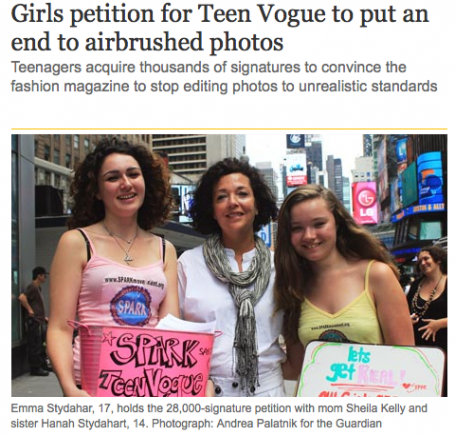 I am so glad I came across this post on the Guardian! I totally agree with these Teen Vogue readers.
Girls who read Teen Vogue, need to be encouraged to feel good in their natural skin. Seeing pictures of teen celebrities, air brushed and pampered, is not what they need to be seeing. Like the latest TV ads from Dove, about girl's self esteem (Click the link for more info!), it shows that girls are worried about what people may think about how they look, and how they feel, and seeing people who look 'perfect', is not a great way of boosting their confidence. If you want to feel safe in their own skin, then models and teen celebrities should be natural to the public. Air brushing is a way of showing off no natural beauty, and covering up it all. Yes, the magazine companies want their magazine cover to look the best it can, but maybe it can look great without the Photo-shop editing!
I am totally on your side girls!
Lots of Love… Tolly Dolly Posh xx